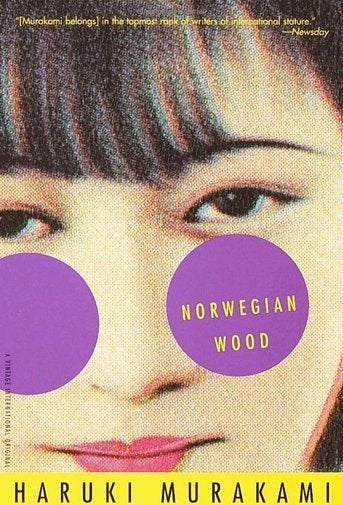 In a month from now, multiple organizations nationwide will participate in "Banned Books Week," an annual event that celebrates first amendment rights and the freedom to read anything and everything. This year's event takes place September 24 through October 1, and judging from the events of the past few months, they're going to have a lot to talk about.
Earlier this week, the Gloucester County Times reported that the Monroe Township School District in New Jersey had removed Haruki Murakami's "Norwegian Wood" from their 10th grade Honors English summer reading list just days before the school year was set to begin.
The decision came after a handful of local parents complained about a "graphic depiction of a lesbian sex scene between a 31-year-old woman and a 13-year-old girl," which occurs in the book. The school also removed a senior honors class selection, "Tweak (Growing up on Methamphetamines)," after parents complained about the descriptions of a "homosexual orgy."
"Norwegian Wood," which was released in Japan in 1987 and translated to English in 2000, has sold millions of copies, and made Murakami a superstar among Japanese youth. As he told The Age in 2006: "it became a phenomenon."
Speaking to reporters on Monday, Superintendant Chuck Earling seemed to waver between standing by his decision, and acknowledging that he understood the controversy.
Fox News Radio also spoke with Peter Sprigg, of the Family Research Council, who referred to the situation the "intersection of parental values being offended, the hyper-sexualization of our youth and the homosexual agenda being pushed."
Sprigg went on to say that the original inclusion of these books on the summer reading list "illustrates why a lot of American parents are not willing to entrust their children to the public schools anymore."
Knopf, the American publisher of "Norwegian Wood," also released a statement in response to its removal.
"It is unfortunate the parents felt the need to dismiss such an important work of fiction and regrettable the school district would succumb to such pressure and disregard the recommendation of its own professional educators."
Just last month, a school district in Republic, MO made headlines when they removed Vonnegut's classic, "Slaughterhouse-Five" from their curriculum, and another young adult novel, "Speak," from their school library, after a parent complained about the questionable language and anti-Christian imagery. That same district is now embroiled in a controversial rape case involving two students.
Related
Popular in the Community