You'll never believe what these scary-looking contraptions are: they're nose-shapers.
While there definitely seems to be a niche market for these bizarre nose-straighteners and lifters, we can honestly say we were a little shocked to see the reality of some of these non-surgical, nose-shaping products. After noticing the four-pronged Hana Tsun Nose Straightener (and subsequently scratching our heads in confusion), we decided to see what other similar items were on the market.
The HDE Nose Up Bridge Straightening Beauty Clip is billed as the "bestselling item in Japan" and requires users to wear the device for 10 to 15 minutes a day. Some reviews of the $5 product that we read offered tips like making sure your nostrils are symmetric (something we never thought we'd have to think about) and encouraged other users to brave the pain for results:
The first nose up I bought the rubber was very soft (that one is very comfortable to use) HOWEVER; there is the same nose up but with a hard plastic (quite uncomfortable)that I ended up getting the second time BUT it gives very very quick results. The longer you can stand it the better. I don't know how to distinguish which one has the soft plactic or the hard....but I recommend the hard one if you can stand it :) Good luck!
It sounds like these are not for the faint of heart. But there are some unexpected side benefits of nose-shapers -- someone using the HDE Nose Up Lifting Shaping Beauty Clip reported that it can "relieve a tension headache." But even though these bizarre products are funny to look at, we can't help but wonder why people feel the need to endure daily pain for the chance to alter the shape of their nose. Or maybe it's no different than braving stiletto heels to lengthen the line of your leg. Either way, it looks like these products have enough of a fan base to stick around.
What do you think of these nose-shapers? Check out some of the strangest ones we found in the slideshow below and tell us what you think.
Check out some of the wackiest nose-shaping products we've seen!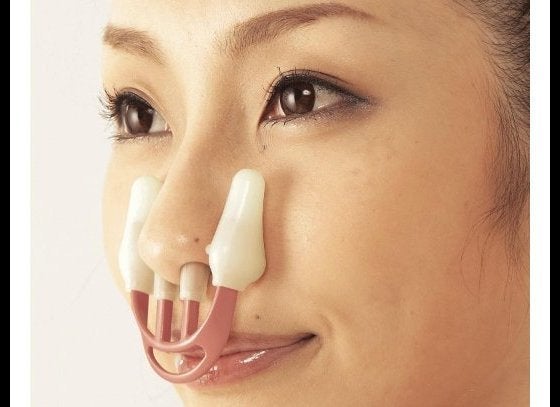 Bizarre Nose-Shaping Products
Popular in the Community