Not since Dan Akroyd introduced Saturday Night Live audiences to the Bass-o-Matic ("Throw in a bass -- that's the whole bass) has there been a commitment to making culinary use of the entire animal. However, in our finicky attitudes about what constitutes fair game as far as anatomical parts go, we've been overlooking fine cuts of meat, tasty delicacies and, of course, the spice of life -- variety.
Lately, there's been a shift in thinking. As chefs have become more creative and as foodies have sought to explore more adventurous and novel dishes, a movement has developed in which formerly discarded parts are now fought over like the wishbone at Thanksgiving dinner. Synergizing the movement is a philosophy that we have drifted too far afield from our food supply; a sense that is embodied by the fact that meat has become industrialized and is now perfectly portioned into pink patties, shrink-wrapped in plastic and resembling in no way whatsoever any known animal.
Some chefs are embracing this philosophy at their restaurants by making several-course meals that incorporate different parts of the animal or by whole-roasting the animal. It is as if pop-up restaurants are popping up at restaurants on a monthly basis.
One of the places offering monthly whole-animal roasts is Tender Greens in Hollywood. One of the unique things about Tender Greens is that every restaurant is unique. Each chef brings his own specialties to the menu. In Hollywood, Chef Eric Hulme uses a Chinese roasting box to slow-cook a whole animal. It works essentially like a Dutch oven. This summer Hulme has roasted a pig and a lamb. I attended the June Beer Garden and Whole Animal Roast on the rear patio, where a few dozen foodies turned out for a buffet featuring White Dog IPA and Citra Pale Ale courtesy of El Segundo Brewing Co. (and even a few swigs of Hulme's powerful home brew).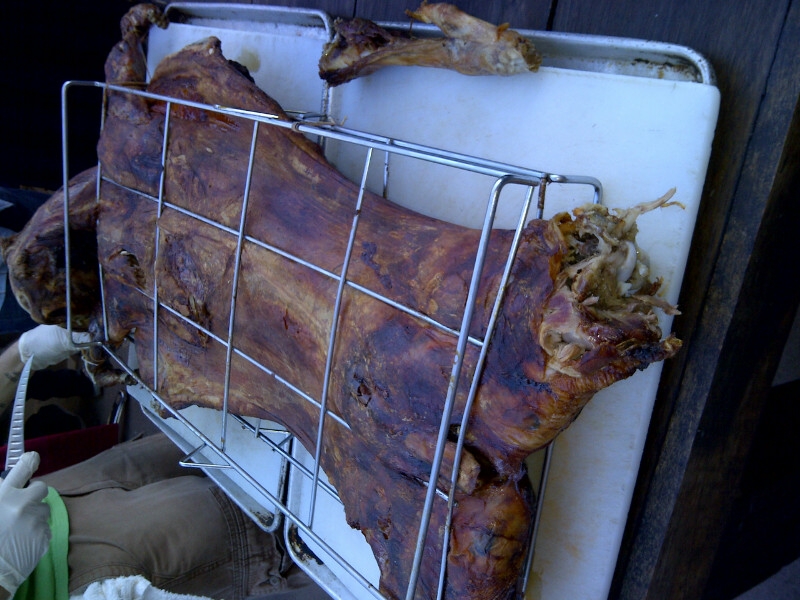 Hollywood Tender Greens Chef Eric Hulme's roasted lamb. Next month's menu features roasted goat.
Photo by Scott Bridges
The menu featured an array of dishes, beginning with appetizers -- including a crostini of veal tongue, gribiche and watercress, chilled almond soup with figs and Marcona almonds. One of the best dishes of the evening was a baby eggplant with house-made ricotta, basil and pine nuts; another was roasted squash, grilled peppers, fried capers and a balsamic reduction. Of course, the meal was highlighted by a Re-Ride Farms spring lamb served with a charred tomatillo relish, and oven-roasted king salmon with wild fennel, spring garlic and lemon.
This sort of chef-driven approach goes on at each Tender Greens location. Chef Sean Canavan at the Walnut Creek location, for instance, has a passion for meat-curing and creating pates, sausages and charcuterie. He buys grass-fed beef from Fallon Hills Ranch in Tomales.
"It's what beef should taste like. It's what it did taste like before the introduction of corn feeding in the 1950s," Canavan says.
He says he recently obtained a 185-pound side of beef, which he plans to butcher and make, among other things, his own pastrami and Texas-style beef sausage. The tenderloin, which he's used to make steak tartare, he plans to use for a pho-style dish. Canavan is also an avid home-brewer.
At Haven Gastropub in Pasadena, Chef Greg Daniels is adhering to the whole animal philosophy, and recently offered a whole-roasted suckling pig to a crowd of foodies who broke bread around a communal table at the restaurant/brewery in the Old Town section of the city.
Sponsored by radio station KCRW 89.9 FM, the charitable event (for Share Our Strength) drew food lovers from all across Los Angeles. A fine selection of craft beers, including Haven's own labels, was consumed alongside one of the best mac-and-cheeses ever and now-ubiquitous Brussels sprouts. The pork was as good as it gets -- the fall-apart tender cola-glazed Berkshire pork in particular: spice-rubbed, braised in cola and Golden Road's "Get up offa that Brown Ale." Another treat was the pork rillettes, served in a mason jar with crisp sourdough on the side.
Meanwhile, at Locanda del Lago in Santa Monica, Executive Chef Gianfranco Minuz is fulfilling another aspect of the whole animal movement. On the last Thursday of each month, the Third Street Promenade restaurant offers Morso della Bestia ("Bite of the Beast"), a multiple-course menu celebrating a particular animal.
I recently dropped in for the five-course Santa Barbara Seabass meal, highlights of which included a creamy risotto with white seabass and Coleman Farm pea shoots; and roasted white sea bass encrusted with olives. Last month's meal showcased De Bruin Brothers rabbit, fattened on alfalfa, oats, wheat and barley. The meal included roasted rabbit loin; shoulder and belly risotto; rabbit liver and roasted leg. The final course was a rabbit-free chocolate cake.
These are just some of the restaurants partaking in a movement that is rapidly gaining a devout following. Look for more tasting menus in the coming days. Suggest it to your favorite restaurant. Whether for philosophical/ethical reasons or for mere aesthetic ones -- namely, your taste buds -- there is more to the animals we eat than what you'll find in your grocer's freezer. Enjoy the variety.
Look for Locanda del Lago's next Morso della Bestia menu Thursday, July 26 for a celebration of buffalo. Tender Greens Hollywood will host a goat roast on Sunday July 22, and Chef Greg Daniels seems to always be doing something eventful (and charitable) at Haven Gastropub Pasadena or Orange locations -- check out the blog on Haven's website for the latest details.
Popular in the Community