In one month, I am swapping coasts from San Francisco to New York City in order to begin graduate school for a degree in art history. The impending move east has stirred up feelings of nostalgia for my beloved San Francisco and sadness in leaving my job as a registrar at the San Francisco Museum of Modern Art. In early April, SFMOMA announced an acquisition of critical artworks from the collection of Giuseppe Panza di Biumo, an Italian businessman with a penchant for collecting postwar American art. Among works by artists such as Robert Barry, Joseph Kosuth, Lawrence Weiner and others, are a group of five pieces by conceptual artist Bruce Nauman completed during his early years in the Bay Area. It got me thinking about his art and relationship with San Francisco and I soon realized that many of my own favorite art experiences here have involved his work. Admittedly, I did not become impassioned with his art until I saw A Rose Has No Teeth: Bruce Nauman in the 1960s, the Berkeley Art Museum exhibition in 2007 that explored pieces he created while in graduate school at UC Davis and as a working artist in San Francisco. The BAM show was memorable not only for its unique roundup of his earliest works, but also because it told the story of how Nauman investigates the nature of art and the role of the artist in an honest and at times hilarious way.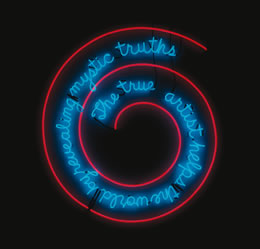 The show included pieces such as, The True Artist Helps the World by Revealing Mystic Truths (Window or Wall Sign), 1967, a circular neon sign originally hung outside his San Francisco studio, that invites interpretation and bemusement. The statement seems laughable at first, yet upon contemplation one begins to find meaning within it. Whether or not the viewer does in fact agree with the statement is secondary to the engagement that happens between the object and the viewer. This active dialogue is what I love about his art. Nauman has worked in various media including film, photography, sculpture and video, yet whatever medium he arrives at to express an idea always seems a logical and intuitive choice.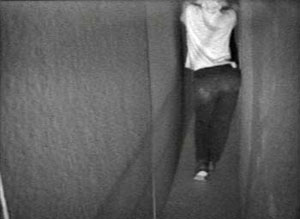 Walk With Contrapposto, 1968 is a video installation of Nauman acting out contrapposto, the exaggerated pose of classical sculpture, as he walks down a narrow, plywood hallway constructed in his studio. The theatricality of the recorded event is comical and unsettling, as the viewer watches the awkward procession unfold in a confined, claustrophobic space. I remember laughing out loud in the gallery and noticing other viewers having similar reactions.
One photograph below that was exhibited in the BAM show, Self Portrait as Fountain 1966/67, depicts the artist impersonating a classical nude spouting water, highlighting his experimentations with artist-as-art-object and further exploring the conventional role of an artist.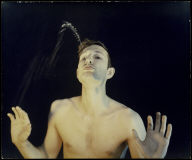 Another indelible encounter with Nauman's art in the Bay Area was my trip to Oliver Ranch. Steven Oliver, eponymous founder of this dedicated ranch-gallery, began commissioning site-specific installations by artists such as Richard Serra, Ann Hamiton, Martin Puryear, and Bruce Nauman on his property in Alexander Valley. The opportunity to visit his ranch presented itself fortuitously, when my then-employer had a few extra spots on a private tour. The day involved close friends, dazzling art, sunshine and wineries - a huge success in short. At the very end of the tour, we approached a flight of stairs originating from the hillside at the top of a grassy knoll. White concrete steps unfurled downward, paused briefly for a moment at a dirt road, and continued over another crest. The outdoor staircase, Untitled, 1999, informally referred to as "Stairway", is Nauman's resolution to the site-specific commission, taking into account the topography of the land: the height of each step is determined by the fluctuating slope of the hillside. Navigating up or down the staircase is a meditation on self-awareness, as the participant must pay careful attention to the variegated rhythm of each step. Nauman reflected, "I guess it's the intention that changes it from a stairway to a stairway as a work of art." I was able to dig up some photos from the trip - below is a great shot of the stairway.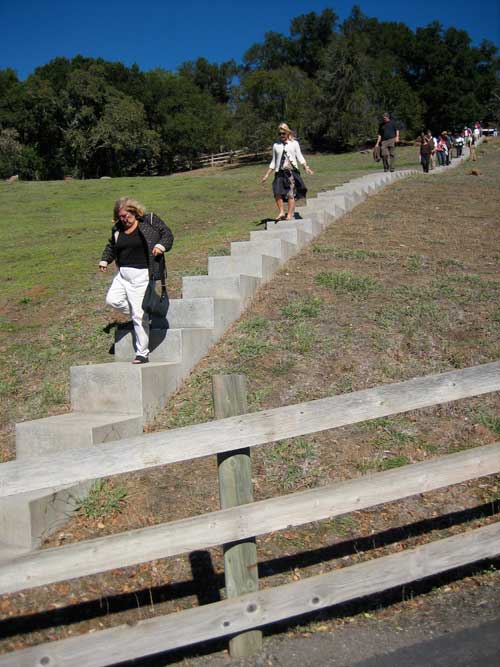 All of these memories explain my excitement, and nostalgia, around the acquisition of the five Nauman works into SFMOMA's collection. Executed between 1964-67 during his Bay Area tenure, these works give meaningful contextualization to Nauman's oeuvre as a whole by illuminating the development of his thought and processes. The only painting in the group, and purportedly the only one of its kind in existence before he shifted away from the medium completely, employs a shaped canvas and muted color scheme. Also included in the acquisition are two sculpture pieces fabricated while he was a student at UC Davis and two conceptual objects from his artist years in San Francisco. This major acquisition for SFMOMA is a fitting end to my employment there and a reminder of how my life has been impacted by Nauman's art. I can't wait to go back and visit when the works are on display.
"Identity." Art 21 Series. Prod. Susan Sollins. PBS. 2001.
Related
Popular in the Community