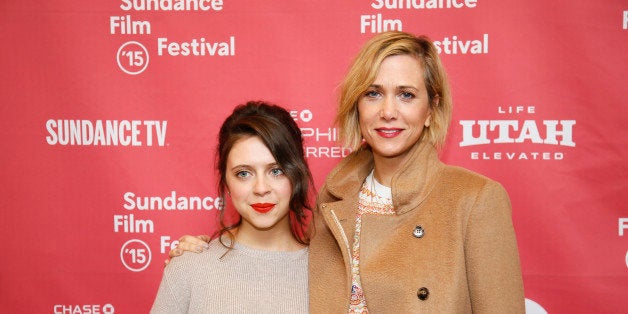 The Diary of a Teenage Girl is an astonishing movie about a 15-year-old girl as she discovers the power and pitfalls of her sexuality. Minnie (Bel Powley) has an affair with her mother's 35-year-old boyfriend, Monroe (Alexander Skarsgard), who in legal terms commits statutory rape; yet she does not see herself as a victim, nor does she behave like one. Minnie is ravenously sexually hungry, yet her appetite is portrayed as utterly normal. The surprise of this movie, based on the autobiographical novel by Phoebe Gloeckner and set against the backdrop of 1970s San Francisco, is that it portrays Minnie as someone in control of her body and her life -- even when her surrounding circumstances may lead us to conclude otherwise.
Minnie's mother (Kristen Wiig) raises Minnie and a younger sister alone, and she more or less leaves the two girls to figure out growing up by themselves. When she parties and does cocaine with Monroe and friends in her living room, the two girls are right there with them.
For Minnie, acting on her sexual desire is transformational. Her mother says, "You have a kind of power -- you just don't know it yet." But indeed, Minnie does know, and she acts. She is a sexual agent who refuses to be manipulated. When another lover, a classmate, doesn't have a clue how to give her sexual pleasure, Minnie simply gets on top, much to his obvious dismay.
Sexist judgment surfaces. How could it not, given our cultural condemnation of sexually active young women? Yet Minnie barely reacts when a female classmate calls her a "slut." She is too busy making her own choices to care.
Minnie confuses everyone in her life. She doesn't fit their idea of a 15-year-old girl. The classmate she's involved with tells her that her intensity scares him. "You're just so passionate," he says with a frown. Minnie not only confounds expectations sexually; she also is a talented artist, and the movie is enriched by animation that gives us insight into her fiercely creative mind.
Eventually Minnie's mother discovers Minnie's diary (recorded not on paper but audiocassettes), and (spoiler alert) ends her own relationship with Monroe. Minnie runs away with a female lover who lives on the streets -- until the girl she thinks of as her savior tries to pimp her for drugs. For the first time, her sexuality is used truly against her. When she returns home, she is ready to be a child, and her mother is ready to be a parent.
Is Minnie victimized? Yes, but not by whom or what you may expect. Her previous stepfather, we learn, had instilled fear in her mother over Minnie's developing sexuality; as a result, her mother had stopped touching her. Minnie says to her diary, "My mother doesn't touch me if she can avoid it. She used to touch me a lot when I was little." Minnie craves touch, plain and simple.
The Diary of a Teenage Girl shows more than anything else the need for children to experience touch from their parents or guardians -- and what could happen if touch is withheld from them. Yes, touch can be dangerous. But it is as essential as food and air. In one scene, Minnie comes home to find her mother stoned and lying on the living room floor. Minnie lies next to her; her mother embraces and kisses her. The intimacy between them is stronger than that between Minnie and any of her lovers.
At the end of this achingly moving film, touch between Minnie and her mother is restored. Her mother has seen the consequences of the absence of touch, and she recognizes her role in Minnie's behavior.
If Minnie's sexuality had not been policed through the deliberate withholding of parental touch, would Minnie have had the affair with Monroe? We will never know, but either way, you can't help but marvel over the irony. Minnie's stepfather and mother stopped hugging and kissing Minnie as she inched closer to adolescence because they worried that her sexual potential was dangerous. Yet treating her as potentially sexually dangerous became a self-fulfilling prophecy. It's a lesson we would all do well to consider when we tell young women to cover up their bodies and hide or quash their sexual desire.
Popular in the Community