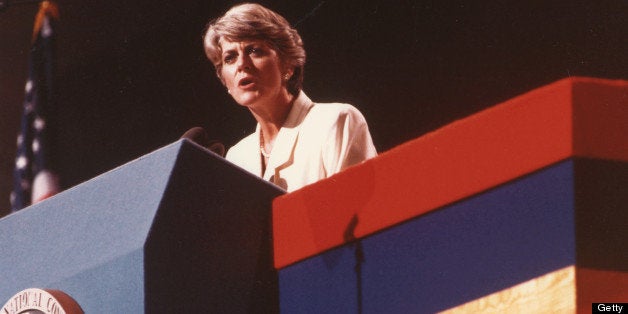 Today marks 30 years since Geraldine Ferraro became the first woman to join a major party's presidential ticket. When she joined Vice President Walter Mondale's presidential ticket in 1984, Geraldine Ferraro didn't just make history, she changed the political world for women -- for women as candidates and as participants in our democracy.
During the campaign she said, "This candidacy is not just a symbol, it's a breakthrough. It's not just a statement, it's a bond between women all over America." And she was right, having women run for office isn't about symbolism -- it's about having a truly representative democracy. Everyone needs to have a voice at the table.
That's what we work toward at EMILY's List. EMILY's List got its start in 1985, building on the momentum for women that Geraldine helped kick start. The women we see in the House and Senate today owe a great deal to Geraldine -- she showed voters that women could compete and be tough under pressure while still being likable. Her candidacy gave credibility to women in all walks of life.
Her running mate Mondale said "I thought that putting a woman on a major-party ticket would change American expectations, permanently and for the better." And he was right.
Thanks to Geraldine's willingness to blaze the trail, so much has changed in the past few decades. So much progress has been made for women. We now have countless women serving in public office who are qualified and ready to be on the presidential ticket in 2016, 2020, 2024 and beyond.
We've had women chairing House and Senate Committees, serving as Speaker of the House, as cabinet secretaries, as Supreme Court justices. But only one other woman has been on a major party's presidential ticket, and no woman has been elected president or vice president since Ferraro's campaign began. We still have progress to make.
As much as things have changed for women, too many things have stayed the same.
Women still earn less than men for the same job. Women earn just 77 cents on the dollar. That gap grows even larger for African-American women who earn just 65 cents, and Latina women who earn just 54. Gender discrimination in pay doesn't just affect women -- it affects every American family and our country's economy as a whole.
Too many women are working for a minimum wage that they can't live on. Women are a full two-thirds of minimum wage earners, and many of those women are working hard to support their families, but can't make ends meet no matter how many hours they put in.
Americans across the country are starting to see what happens when we elect women to office. The historic number of women in the Senate ended the government shutdown and helped construct and pass a budget, a transportation bill and a farm bill. Women in Congress pushed through the reauthorization of the Violence Against Women Act, and forced our nation to have long-overdue discussions about sexual assault in our military and on our college campuses.
The Democratic women in the House and Senate are working to make sure every family has a fair shot at getting ahead, not just getting by. That's the kind of leadership that Americans are looking for.
Our government is slowly starting to look more like our country -- and we're seeing just how great that can be. But, women still make up less than 20 percent of Congress, despite being 51 percent of the population. We need to elect more women at every level of office. And it's time that representation reached our nation's highest office.
In 2016, we have the chance to change all of that.
And the women whose names you're hearing in the 2016 mix are already leading our nation and fighting for a fair shot for all Americans. Hillary Clinton has made a career out of championing the middle class -- working for women and families at home and abroad, and bolstering American jobs as a First Lady, U.S. Senator and Secretary of State. Women like Senators Elizabeth Warren, Kirsten Gillibrand, and Amy Klobuchar have fought for better policies for families -- things like financial and consumer safety, fair pay policies and better healthcare options.
It's been 30 years since Geraldine made history. And it's been 30 years of women making history since. Now, it's time for a woman to break that last glass ceiling and bring a strong voice for women and families to the White House. It's long past time -- there must be a Democratic woman on the ticket in 2016.
Calling all HuffPost superfans!
Sign up for membership to become a founding member and help shape HuffPost's next chapter