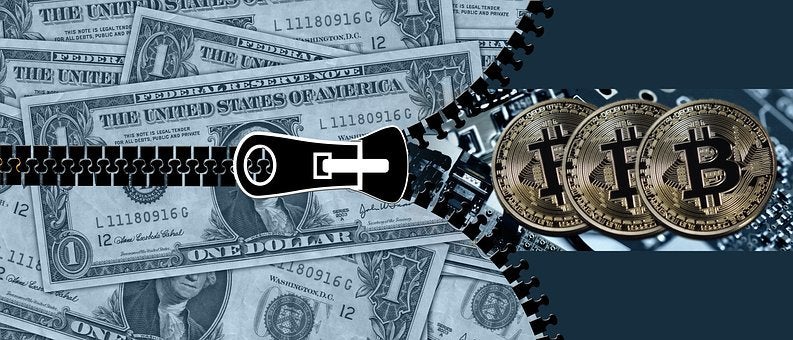 Whether you are a small business owner, or the CEO of a large Fortune 500 firm, the conversation around accepting Bitcoin payments is one to consider. With the progressive growth of Bitcoin (currently valued at $14,075.00), the conversation around Bitcoin as a form of payment is top of mind for many entrepreneurs . The currency was initially created by the mysterious Satoshi Nakamoto as "a purely peer-to-peer version of electronic cash that would allow online payments to be sent directly from one party to another without going through a financial institution."
However, the question of whether Bitcoin is yet a viable currency or an asset has yet to be determined. I've recently encountered a variety of business owners sharing different mentalities on how they are utilizing the currency in their business. Here are three entrepreneur's perspectives and reasons to consider accepting your first Bitcoin payment.
Reason 1: "Bitcoin serves our customers purchasing needs."
Nils Goldschmidt, founder of Terra Exports, an innovative firm that distributes fresh fruits and vegetables, along with strategic market intelligence to its customers, sees cryptocurrency as a "game-changer that is here to stay". Goldschmidt's top reason for accepting Bitcoin payments stemmed from a commitment to provide whatever their customer needs today, so they can focus on what matters to them. Goldschmidt stated "if accepting Bitcoin facilitates this, then we are happy and proud to make it happen."
The company completed its first Bitcoin transaction in early November when a customer mentioned they were looking into using cryptocurrency at a business level. Goldschmidt and his team learned about the entire process together with that client, and since then have had a few other Bitcoin transactions completed successfully. Their team has learned a lot over the last few months about the new currency and it has supported the company's philosophy of embracing change and enjoying the process.
As far their future goals, Terra Exports will continue to accept payment in cryptocurrency as long as their customers require it. However, being a fiscally-conservative, they will immediately convert each transaction into USD until the currency has proven stable overtime.
Goldschmidt shared, "Offering the ability to be paid in Bitcoin goes hand in hand with our entrepreneurial vision, but it's not something we are pushing onto our customers. If they ask for it, then we can do it – that's pretty much our company's philosophy anyway!"
Reason 2: "Bitcoin saved my business when we first launched with it."
Elyse Peterson, founder of Tealet, a B2B marketplace for independent tea growers to market their products to international wholesale buyers, says that Bitcoin became the many way the company converted their website visitors into customers when they first started. Peterson was an early adopter of cryptocurrency, and began accepting Bitcoin in late 2013, and was able to quickly connect with the Bitcoin community, gaining support for Tealet because the company supported peer to peer business and transparency.
"I met Cody Moniz from a hacker social network in Hawaii, who started to build the software for Tealet. At the time, it was a subscription box for consumers, but we quickly pivoted to a wholesale marketplace. Cody was a huge advocate for Bitcoin and introduced me to Coinbase, a Bitcoin exchange with an API that allowed us to accept Bitcoin, alongside credit cards on our shopping cart. We were able to convert the BTC immediately to USD with a zero percent fee. I understood taxes would get more complicated if I held the BTC, and I didn't have an intention to use BTC as an investment tool. Within a few days of making the decision to accept BTC, it became 85% of our revenue", Peterson shared.
Tealet has processed hundreds of Bitcoin transactions since 2013, and expects to continue to do so as it remains the main way the company sends payments to its growers in the marketplace. Due to the extra accounting required to calculate capital losses and gains, Tealet converts BTC to USD immediately (without being charged a fee using Coinbase). Tealet also converts USD to BTC when the company sends payments out of country to have the BTC converted to the local currency of its tea growers.
Something to note is that Tealet experienced retail sales drop for BTC because miner fees have increased, so it becomes unfavorable for consumers to use it for retail purchase with potential $20 transaction fees. Regardless, Peterson sees new cryptocurrencies evolving that are better suited for transactions on the way as a result of this. "Bitcoin has become so valuable, it is now the best coin for savings, like gold. Other cryptocurrencies will come about that will be used for retail, and this can potentially localize economies, allowing consumers to keep their money within their community.
Reason 3: "Bitcoin is an investment in the future."
Nicholas and Amanda Bayerle, founders of The Billion Dollar Body, which helps businessmen prosper in their health, wealth and relationships, sees Bitcoin as the beginnings of the inevitable evolution of money towards cryptocurrency. The Bayerle's began accepting Bitcoin in their business in August 2017, and have currently processed one payment due to ease of use, but are looking forward to accepting many more payments in 2018.
The Bayerle's have decided to hold onto Bitcoin, instead of converting the payments to USD with the significant rise in value seen in 2017. Nicholas stated, "We decided to accept Bitcoin as payment because cryptocurrency is the future of money. From the merchant fees to the decentralized money, it makes sense. And to be honest, with people doubling their money all the time, we want to make it easy for them to invest it to change their life, which is what we do at The Billion Dollar Body."
The Bayerle's believe cryptocurrency will be the future of all business transactions, and that nothing done big or small will be done through a normal credit or debit card based off of our current economic system anymore.
REAL LIFE. REAL NEWS. REAL VOICES.
Help us tell more of the stories that matter from voices that too often remain unheard.
This post was published on the now-closed HuffPost Contributor platform. Contributors control their own work and posted freely to our site. If you need to flag this entry as abusive,
send us an email
.