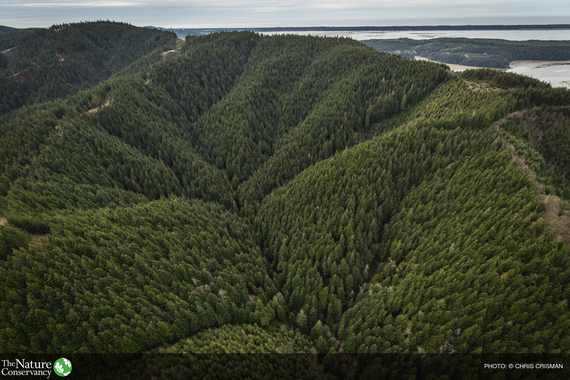 The UN's International Day of Forests is on March 21. While some people might see this as merely a day for tree-huggers to crunch their granola a little louder, this day is important for celebrating one of the most valuable ecosystems -- not to mention commodities -- that our planet has. Forests clean our air, enhance water security, support critical biodiversity and serve as the world's oldest and most proven carbon storage technology.
But on this International Day of Forests, as the world continues to see significant forest loss globally, I want to spotlight one important issue: we can't ensure a sustainable future for forests by simply striving to protect them from development. We must also engage the forestry sector in sustainable forest management.
We rely on these forest businesses to deliver products such as timber and paper that we use every day. And whether we like it or not, we also rely on them to safeguard our forest resources, and ideally enhance the environmental services these working forests can deliver. Too often this does not happen, as economic gain is put far ahead of the forest's other crucial contributions to the environment and society. This is where we must focus our collaborative energy.
The power of sustainable forestry is that it balances the needs of the environment, communities and economies -- and the good news is that it is possible. Research conducted by a team of scientists including my Nature Conservancy colleague Bronson Griscom, shows that selective logging can retain 85-100% of a forest's biodiversity and at least 75% of its carbon (Putz et al., 2012). Plus, well-run production forests also do a better job of safeguarding surrounding protected forest areas from illegal logging. In other words, one of the best forms of forest protection is managing better forest production.
To be clear, there remain important challenges to achieving sustainable forest management. But exciting new developments -- new science, technology and tools, and business models -- are enabling us to address many of these challenges today.
Science and technology take on the carbon challenge
One important scientific challenge has been measuring accurately the carbon emissions caused by logging. It's easy to see and measure a large section of standing forest, or destroyed forest for that matter, by using satellite imagery. But it's much harder to see and reliably measure what's happening under the canopy of a managed forest -- even if the degradation is dramatic on the ground. Compiling this crucial data requires precise measurement tools, careful monitoring of the forest floor, and collaborations at multiple levels of the industry across the world -- a massive effort.
My colleagues Bronson Griscom and Peter Ellis have made a significant step forward in the area of measuring and monitoring by recently developing a carbon equation model that calculates a margin of error for each of the many scientific variables in play on the ground. This more finely tuned model is a big move toward achieving higher quality information needed to effectively inform and influence forestry decisions.
Equally important is including that data in forest management carbon baselines so that we can then determine successful carbon reduction over time. Many forest operations haven't yet made room to include carbon emission values in project plans and evaluations. But successful forest management isn't just about the number of trees standing. By accounting for carbon emissions data as well, forest managers will have a more detailed and accurate snapshot of a forest's environmental role and economic potential. All comparisons of sustainable forest management practices versus intensive commercial logging operations should be making space for this data.
One sustainable forest management practice that has me particularly optimistic is Reduced-Impact Logging for Carbon (RIL-C). The strategy balances environment, community and economy by reducing forestry impact while maintaining the timber commodity and providing jobs. RIL-C investigates multiple aspects of logging -- such as the width of skid trails, the direction that trees land when they fall, and even the extraction equipment loggers use -- and optimizes them to minimize landscape damage while keeping carbon emissions down. In Indonesia, for example, we believe that we can cut logging carbon emissions by 40 percent through greater adoption of RIL-C.
But, to prove out RIL-C success, we again need reliable measuring and monitoring. One exciting tool, LiDAR, has the potential to literally sweep across the globe -- LiDAR involves flying a specially equipped airplane that beams lights to generate a three-dimensional map of forest cover. The tool quickly produces highly accurate maps that can help in identifying sensitive habitat and landscape features that hamper wood production. To support our sustainable forest work in Indonesia, we have combined satellite forest loss data using satellite LiDAR with forest degradation data obtained from field monitoring to estimate net carbon emissions for the entire 2.1 million-hectare district of Berau (or 5.2 acres, an area roughly the size of New Jersey) from 2000 to 2010.
While upfront costs for LiDAR are a consideration, these costs are coming down with economies of scale and the introduction of new technologies for deployment, such as drones.
Economic gain holds the key to scale
The last challenge I'll touch on is the scaling up of sustainable forest management. This hinges on our ability to demonstrate the short-term and long-term financial benefits of these practices.
This is a big topic, as I've written here. But one thing is certain: the historically maligned carbon credit conversation needs to significantly evolve. It is high time that we begin to value the crucial role our forests play in delivering a suite of environmental services, from cleaning up the air and storing more carbon to enhancing water security and protecting biodiversity in addition to the economic value of logs produced and jobs created. This requires that we align incentives and put a price on these environmental services so that forest owners and operators optimize production and protection practices based on a broader picture of economic opportunity that includes profitable environmental benefits.

Today I'll point to one promising example. California's Climate Change law includes a market mechanism that allows companies to buy carbon credits from anywhere in the United States -- and potentially from other countries in the future -- that can include credits from sustainable forest management.
The Nature Conservancy's Clinch Valley Conservation Forestry Program has seen its own sustainable forestry progress accelerate due to the California climate law. The Clinch Valley program closely tracks carbon emissions across more than 22,000 acres of managed forest in Virginia and Tennessee. Over 50,000 carbon credits have already been received, which is roughly equal to the carbon dioxide emissions from 5.6 million gallons of gasoline.
As I've written before, carbon markets are helpful in leading change, though insufficient on their own. But when we create opportunities to align multiple incentives for switching to more sustainable management, this can garner global forest conservation a new level of attention. For example, forest products certified to be under sustainable management practices carry demonstrably higher price premiums. Combining forest certification with carbon markets means even greater financial returns.
Forests to protect, cherish, and celebrate
The key to tapping into the potential of sustainable forest management is seeing that it doesn't just impact one stand of trees -- it impacts economies, communities, and the environment. In just the past two decades we've taken great strides in making sustainable forest management a reality in different places around the world. But we've still really only scratched the surface. Much of this isn't glamorous work. And the scientific details and economic incentives remain critically important to get right. But with the promising progress we've made and the new science, tools and financial models emerging today, I can envision a future International Day of Forests that gives us truly global cause for celebration.
Calling all HuffPost superfans!
Sign up for membership to become a founding member and help shape HuffPost's next chapter