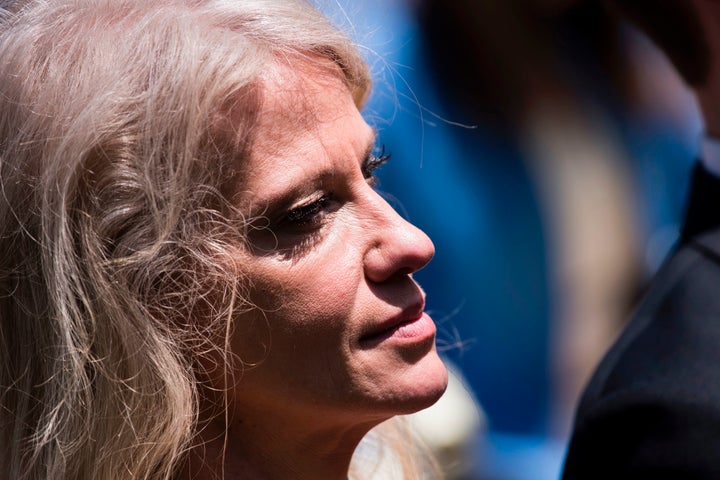 "If [Medicaid recipients are] able-bodied and they want to work, then they'll have employer-sponsored benefits like you and I do," said White House counselor Kellyanne Conway, appearing on ABC's This Week with George Stephanopoulos
Kellyanne Conway's heartless remark came just after this statement on ABC on Sunday: "You know, Obamacare took Medicaid, which was designed to help the poor, the needy, the elderly, the sick, the disabled, also children and pregnant women, it took it and it went way above the poverty line and opened it up to many able-bodied Americans who should probably find other ― should at least see if there are other options for them."
Heartless ― and wrong! But Conway's sentiments are probably what many Republicans think: Stripping millions from Medicaid rolls, as the Republican House and Senate healthcare bills would do, is not serious because as the thinking of Republicans goes, those denied government coverage can get a job that provides health benefits.
Unfortunately, it is not that simple. A bit of history and a few statistics may help explain where Conway errs.
On July 30, 1965, President Lyndon Johnson signed into law the bill creating Medicare and Medicaid. Originally, Medicare was the much larger and more controversial program. But over the years, Medicaid grew to cover more than 74 million people nationally as coverage spread to the following groups: Low-income families, pregnant women, people of all ages with disabilities, and people who need long-term care. Today, about 20 percent of Medicaid spending goes toward covering long-term care, such as in nursing homes. Most private health insurance does not cover long-term care, meaning the elderly have to pay for this service out of pocket. When savings run out, many elderly ― many of whom are middle-class ― fall back on Medicaid.
The Affordable Care Act expanded Medicaid eligibility to individuals under 65 with incomes up to 138 percent of the federal poverty level. Medicaid expansion aimed at the working poor who did not have employer-sponsored health insurance and were unable to purchase coverage on the federal exchanges because they paid little or no income taxes (subsidies on the exchanges are tied to an individual or family's taxes). Without expansion, these people would have fallen through the cracks, earning too much to qualify for Medicaid (as traditionally defined) but too little to afford insurance under Obamacare. This is precisely what has happened in 19 Republican-controlled states that declined the Medicaid expansion provision. It is estimated that roughly 10 million people have received coverage in the 31 states and the District of Columbia that implemented the expansion. (Hard figures are difficult to come by because, while it is easy to determine how many people are newly enrolled in Medicare, it is unclear how many of the newly enrolled are newly eligible under the rules of Medicaid expansion.)
According to the Henry J. Kaiser Family Foundation, nearly eight-in-ten adults with Medicaid coverage (excluding those over 65 and the disabled) live in households where someone works and a majority (nearly six in ten) are working themselves. The problem is not that they do not work, but that they work in low-paying jobs ― sometimes temporary or part-time ― that do not provide health benefits. More than half (51 percent) of adult Medicaid enrollees who work are working full-time for 12 months, but they often are employed by small firms that cannot afford to insure their workers. The Kaiser Foundation found that 1.4 million restaurant workers, for example, are on Medicaid. Nearly a million Medicaid recipients work in construction. Other industries with large numbers of workers on Medicaid include elementary and secondary schools, hospitals, grocery stores, department stores, child daycare services, and nursing care facilities. Many of these industries typically do not provide health insurance to their workers.
Both the House and Senate bills to repeal and replace Obamacare would end the Medicaid expansion, though the Senate bill does it more slowly than the House version. Throwing the working poor off Medicaid allows Republicans to cut taxes implemented under Obamacare. The tax cuts in the House bill amount to $700 billion over a decade, with about $33 billion funding a $7 million annual benefit to each of the 400 highest-income families in America. The Center on Budget and Policy Priorities estimates that the tax cuts for these 400 wealthy individuals and families equal the cost of paying for Medicaid expansion in Nevada, West Virginia, Arkansas, and Alaska. In other words, congressional Republicans want to eliminate Medicaid for the working poor ― people with jobs that do not provide health benefits and who cannot afford insurance on their own ― to fund a tax bonanza for the richest Americans.
No wonder President Trump called the House bill "mean." But, apparently, Kellyanne Conway did not receive the memo.
Calling all HuffPost superfans!
Sign up for membership to become a founding member and help shape HuffPost's next chapter
BEFORE YOU GO