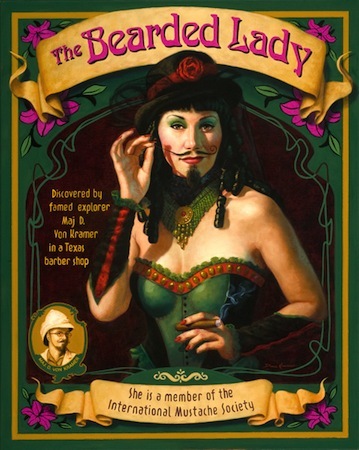 As I got to that "certain age," somewhere between menstrual cramps and hot flashes, I was prepared for things like lip lines, upper arm fat and the fold of blubber that shows up right under your butt. But somehow, someone along the way forgot to warn me of one of the other scourges of aging: Chin hairs.
The first time one of those suckers appeared, I thought it was an anomaly: an eyebrow hair that fell out of my forehead and reimplanted in a pore on my chin. But as I got further into my 40's and more and more of those hairs appeared, I realized that some dormant hair follicle gene from one of my ancestors who lived during the Neolithic period had been awakened and if I didn't do something drastic, I was either going to start to resemble the bearded lady from the circus or a Yeti.
Just to clarify, I am neither a hairy person nor particularly masculine, so the sudden appearance of these evil chin hairs was kind of a surprise. That being the case, when things started to get noticeably fuzzy, I made an appointment to see my dermatologist to make sure I hadn't developed some kind of little known chin hair disease, and also to figure out how to get rid of the darn things.
As my doctor peered at my chin with her magnifying mirror and oohed and aahed at my goatee, I wondered if she was going to diagnose my condition or just take pictures and sell them to the National Enquirer.
"So what's the deal?" I finally asked.
"You definitely have chin hair," she remarked.
I glared at her and wondered if I was actually going to have to pay money for this observation.
"I wasn't really coming for confirmation," I explained. "I was coming for a solution."
"Well, it's definitely hormonal. As your estrogen level drops you get an increase of dihydrotestosterone in the hair follicle and that causes increased hair growth in places like your chin and upper lip."
"Yeah," I sighed. "Not really caring about the cause, either. Just want to know how to get rid of them before my kids look at my husband and me and start to wonder which one of us is their dad."
"Well, you can laser, wax, use depilatories, or try electrolysis, but with all of those, you have to wait for a certain amount of hair growth before you can remove it."
"So, you're saying I have to get really hairy before I can get unhairy," I wondered.
"Any other options?" I asked.
She shook her head. "Sometimes you just have to say, 'pluck it.'"
Tracy's new book, "Lost in Suburbia: A Momoir. How I Got Pregnant. Lost Myself, and Got My Cool Back in the New Jersey Suburbs" is now available. To get a copy for you or a cool mom you love, CLICK HERE
REAL LIFE. REAL NEWS. REAL VOICES.
Help us tell more of the stories that matter from voices that too often remain unheard.