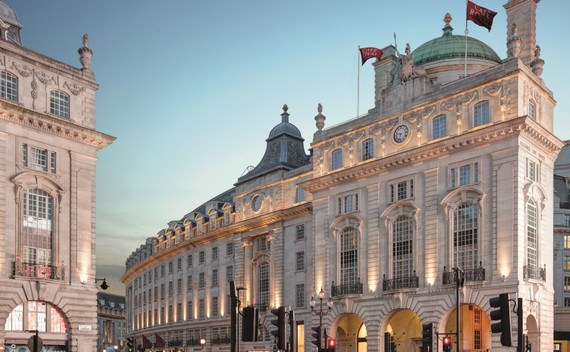 The otherwise powerful U.S. dollar has yet to make a dent in the pound sterling, so prices have not made London quite so easy to love these days as Paris, Rome or Madrid. Nevertheless, a recent trip to London indicated that restaurateurs and hoteliers are more sensitive to price, competing for the 17 million tourists who visit. This means more hotel package deals, a lot more creature comforts, and better fixed-price meals.
The Café Royal London, opened in 1865 on the curve of Regent Street (above) by a French émigré who Anglicized his name to Daniel Nicols. Within the hotel he built what was said to be the world's largest wine cellar of its day.
Over the next century the Café Royal had more than its share of celebrated visitors, from Arthur Conan Doyle and Graham Greene to Brigitte Bardot and Louis Armstrong. It was here, in 1867, that the Earl of Lonsdale and the fifth Marquis of Queensberry, set down "The Queensberry Rules for Boxing."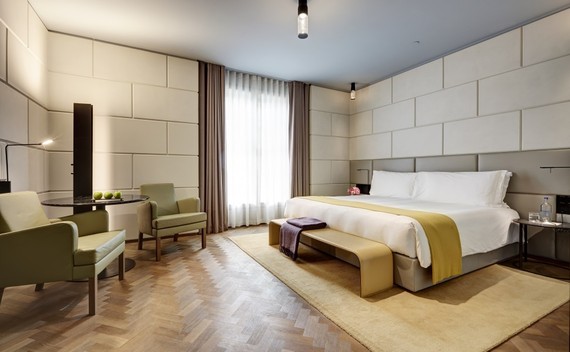 Since the 1970s the property has had its ups and downs, and in 2008 the hotel was shuttered. Alrov Properties bought the building, poured money into it, and transformed it into one of the most modern luxury hotels in the city's center, now with 160 rooms, high-tech meeting rooms, spa and a large lap pool.
David Chipperfield Architects have deftly managed to retain the grand historic public rooms of the 1860s and 1920s, while the new rooms (above) are done in sleek finishes of mahogany veneers, copper and stone, with large bathrooms and top-notch electronic amenities. Bringing in veteran hotel manager Anthony Lee (formerly of The Mayfair and The Connaught) shook things up after early reports of sluggish service and unimpressive food. Lee has brought Café Royal to where it was intended to be from the start, and he's always around for you to pester if it isn't.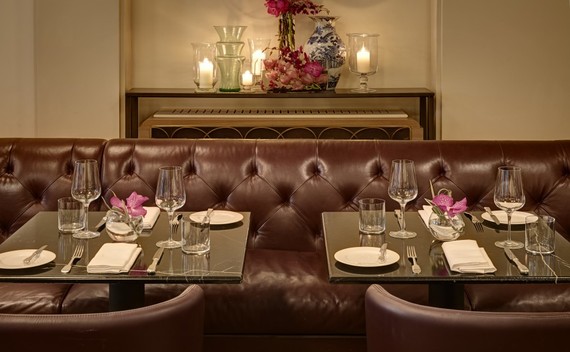 The main restaurant is named Ten Room, where executive chef Andrew Turner focuses largely on modern British fare under the influence of French tradition. Thus, you may begin with a Paris mushroom and truffle soup (£7) or a finely crafted terrine of foie gras and smoked magret of duck (£14). The dressed Cornish crab (£14) is the ideal way to begin a meal here in this wide, classy room with walls the color of café au lait and some of the most comfortable chocolate-colored banquettes in London.
There is a flavorful wild sea bass ceviche treated to chili, coconut and acidic lime (£13) among three raw items on the menu. Lobster Pompadour (£30) is something of a colorful throwback, full of English cream, butter and saffron, yet somehow not really very heavy, since Turner aims for lightness in his cuisine. Seared wild bass fillet came simply with olives and peppers (£30), and a grilled veal cutlet was equally simple, sided with a tangy-hot caponata (£28). Best of the dishes I had was chicken "Royal" with a confit of chicken leg, and a brisk, sprightly salsa verde, a dish that can serve one or two people (£24). The prices here are fairly modest and certainly lower than at competing luxury hotels.
There's a fine selection of French and British cheeses (£12), but don't miss the honey parfait with soft toffee and Earl Grey cream (£8) or, especially if you have an American sweet tooth, the chocolate brownie with caramel popcorn and Muscovado ice cream (£8).
Incidentally, this month Café Royal debuts a tiger-inspired art exhibition, to raise funds for the "Save Wild Tigers" global conservation initiative, which couldn't happen at a more opportune time.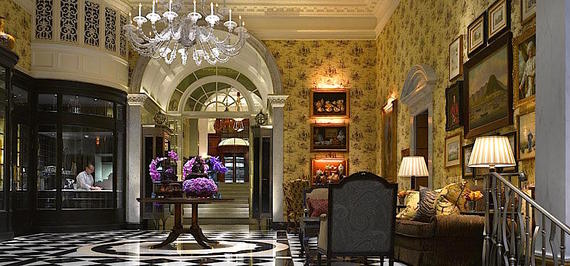 After a three-year closure the magnificently restored Savoy Hotel (above), on the banks of the Thames, is again as glamorous as it when Fred and Adele Astaire danced here. The hotel originally opened as a venue for Richard D'Oyly Carte's Opera Company, and with hotelier César Ritz and chef Auguste Escoffier onboard, the Savoy could claim eminence with the finest hotels in Paris at the time.
Post-war complacency and change of fashion brought The Savoy to the brink of irrelevancy, until 2005, when it was purchased by a consortium headed by Prince Alwaleed Bin Talal Bin Abdul Aziz Alsaud, with management by Fairmont Hotels and Resort. . Two hundred twenty million pounds later, the Savoy re-opened, and last year it celebrated its 125th anniversary, now with 268 elegantly appointed rooms and suites done in either Edwardian or Art Déco style. There is a spa, a 24-hour gym, and a private pool.
Just driving into its cul-de-sac entryway gives you a sense of why The Savoy was once a hub of celebrated, theatrical excitement, its walls lined with those stars who stayed here--Gershwin, Sinatra, Lena Horne, Charlie Chaplin, John Wayne, Ava Gardner and Humphrey Bogart. The Beatles came later.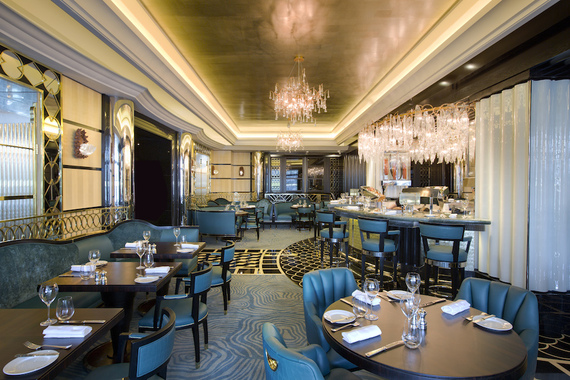 There are three restaurants at The Savoy, including the legendary Simpson's on the Strand and Kaspar (above), a glittering seafood restaurant named after the hotel's black cat sculpture, since 1927 seated at a table with 13 guests to ward off bad luck, after diamond magnate Woolf Joel chanced fate to dine at such a table in 1898 and was shot dead soon afterwards.
My wife and I dined at Kaspar, enchanted by its 1920s art déco design of black and gold and royal blue, its marble oyster bar, and satin-finish floor inset with stylized fish scales. Sitting at the bar or a table, the thing to do is to order a plateau of iced shellfish (£38-£48), or a platter of smoked and cured fish (two for £15, four for £22.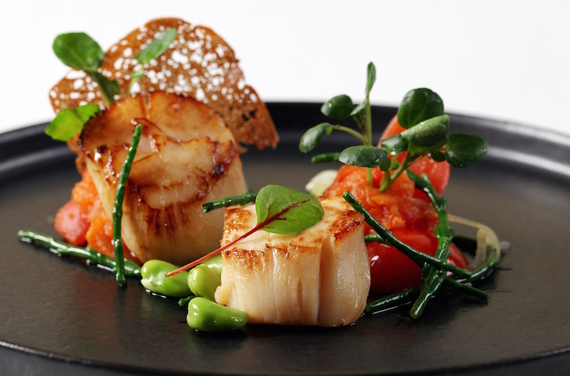 The excellent quality of the seafood here is due to its coming from British and European waters on a daily basis. For that reason we stayed with some classic dishes: Lobster Thermidor (market price), so easy to mess up with a cloying sauce, was delicious, the meat very tender, the reduction of cream and brandy perfect, served with buttered spinach, while plump Dover sole with a brown butter caper sauce--at a not unreasonable £38--was everything I seek in a British restaurant of this caliber.
The wine list is not huge but more than suitable for a seafood dinner, but mark-ups are high, often by a whopping 300% over retail.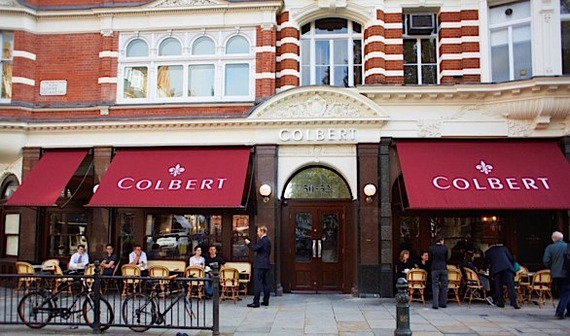 After a mere 90 years, the space that is now Colbert (formerly Oriel) on Sloane Square has expanded from one to three rooms to accommodate both a constant barrage of clientele and a ballooning number of art works, posters and photographs that take up every inch of wall space. It's popular before and after attendance at the Royal Court Theatre next door.
The owners also run the still fashionable Wolseley on Piccadilly, and, one London critic said Colbert is "so Chelsea it's almost a theme park," whose diners wear "tweed blazers with velvet collars, well-cut cords, autumnal scarves featuring cute animals just begging to be hunted." Cute, if not entirely accurate, for Colbert gets a cross section of Londoners and visitors from abroad, who come for all-day service daily from 8 o'clock in the morning to 11 at night.
Actually Colbert would easily fit into any corner of Saint Germain in Paris. The look is the same--tile floors, closely set tables, red banquettes, bentwood chairs, and art déco stylizations, a look that never grows old. Yet, it is all very new looking, without that patina of scruffiness that characterizes so many Parisian brasseries. The waiters are in long aprons and quick on their feet, and the wine list is moderately priced (for London), with nine Champagnes and about 30 each of red and white wines. There are several all-day egg items, including a generous portion of nicely runny eggs Benedict (£14.50).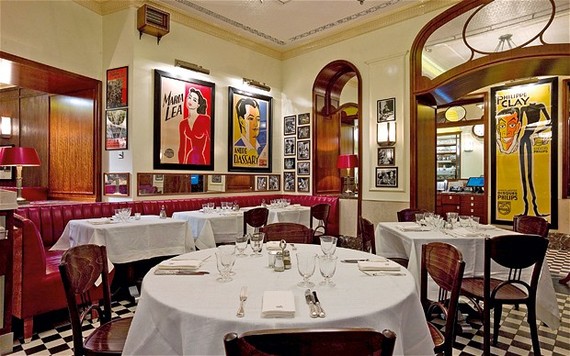 A toasted croque Provençal with grilled zucchini, eggplant, red peppers, tomato and goat's cheese was a bargain at £8.50, and large shrimp were nicely grilled, available either at £18.50 or £29.75 (many dishes are available in small or large portions). The hearty French classic cassoulet, which should be richly flavorful, was here anemic, with too little garlic and not enough fat (£16.75). Pommes frites were as good as expected (£4).
The bar is busy, the hostesses are gorgeous, and the people watching is wonderful, all at a pretty fair price. And you can pretend this is not Chelsea but Montparnasse, if you like.