We've been away for a couple of weeks, so there's been no home cooking to report on. But here's a food-related travel tip for anyone planning a visit to Lisbon.
Food-related souvenirs and gifts can be difficult to select. They're too big or too heavy to travel with (kitchenware). They're illegal (ham, salami, cheese, etc.). They're mistakes in the making (craft items that look great in situ but are unutterably tacky once they arrive home). Chocolate melts; other confections get sticky or stale.
But canned fish is none of those things. You may not think of it in terms of gift-giving - to others or to yourself - but in many places it can be just the ticket. It's small, not perishable or breakable, permissible to import - and more varied and delicious than anything you're likely to find in the US or most other countries. In France, you buy plump Breton sardines; in Italy or Spain, amazing tuna and anchovies. The right ones (read the label) are traditionally prepared: hand-packed fresh (not frozen) fish canned in good olive oil - or in at least one case, butter. They're worth buying for yourself, and they're worth buying as inexpensive but precious little gifts.
Jackie and I were in Lisbon last week and, along with Jackie's sister, stumbled into what is now my favorite place for canned-fish shopping: the Loja das Conservas at 130 Rua do Arsenal, not far from the great riverside Praça do Comercio (there's another branch at 62 Praça das Flores). The shop is affiliated with a consortium of tradition-minded canners and is notably stylish in its looks, with shelves devoted to the wares of more than a dozen canneries, a mural on the back wall showing workers doing their jobs, and a repurposed snack vending machine stocked not with tortilla chips and M&Ms but with cans of sardines. There's also a person-sized canning machine that, if asked, they will demonstrate. The salespeople know the history of each can - and they speak good English (and French and Spanish and who knows what else).
What to buy? It's easy to be seduced by beautiful can designs, and, whether old-fashioned or modern, great graphics are as good a reason as any to select one brand over another in a trustworthy shop like this. But you may wish to spend a little time reading what's in the cans too: There were plenty of sardines, tuna, mackerel and shellfish, of course, but also such things as roasted cod (bacalhau) and, of the greatest interest to me, eels (enguias). I'd never heard of either ending up in a can.
The several varieties of eel all came from the same company, Comur, which was founded in 1942 in an eel-rich part of the country and which began with a single product: eels in molho de escabeche (onions, garlic, tomatoes, olive oil, vinegar and other ingredients); the company remains the country's only eel cannery.
We bought some for ourselves and some for presents, which were gratefully received: our friends hadn't heard of canned eel either. The shop has nice boxes for presentation, but they also have pretty paper bags printed with an image of the cannery mural. The advantage of these is that they pack flat, and the individual cans can be distributed around your suitcase - much more convenient than trying to find room for a carton among the shirts and socks.
Canned fish is not only a surprising and delicious gift; it's also one of the more "authentic" presents you can bring back from vacation. And it will evoke that vacation for years to come - served with grilled bread, for example. I can hardly wait for tomato season to arrive!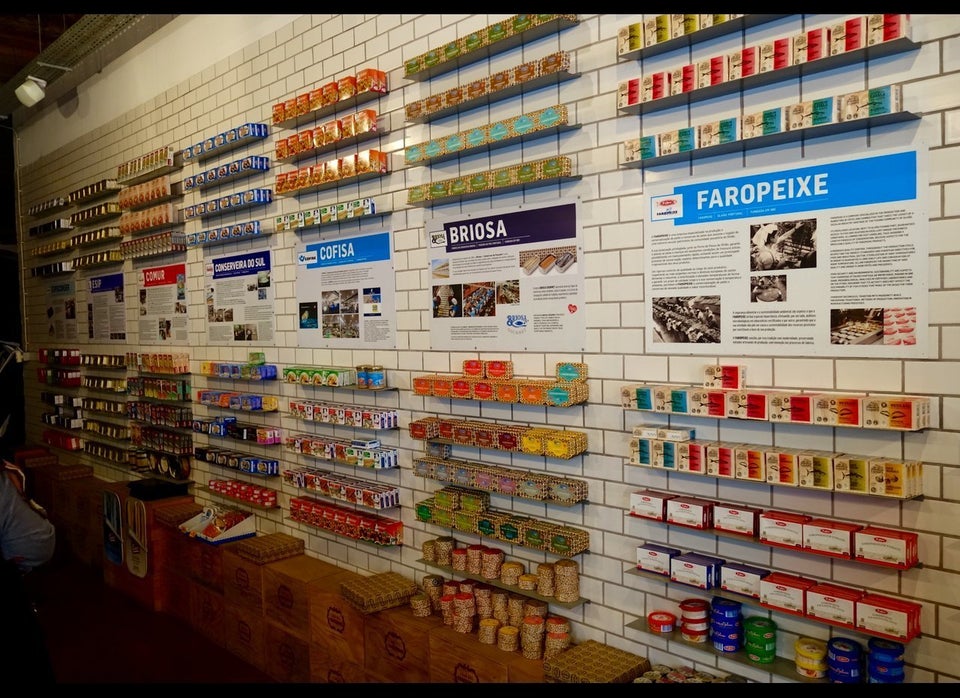 The Best Gift from Lisbon Comes in a Can