I was over-optimistic to think there would be a cooking post today. We just got back from a trip and, sure, I'm cooking dinner tonight, but I'll be too jet-lagged to write about it, not that it's likely to be anything you need to know about.
So let me describe a handful of things that Jackie and I ate while in London and Spanish Basque country, some of which I'll aim to cook in the future and some of which will just remain sweet memories. I'll limit myself to restaurants we'd never before visited and will give them in chronological order.
At the jolly new London restaurant Bernardi's (a real estate agent would tell you it was in the ever-chicer Marylebone neighborhood, but it's just off the gritty Edgware Road, so that's a bit of a stretch), the standout dish from the chef Sabrina Gidda was sea bream, wild fennel, green olives & potato. The olives were the buttery, gently flavorful kind, so they added a distinctive note without turning the dish into a visit to southern Italy. I shall try this one, with a different fish (such as the striped bass that swims in New York waters), but I'll be hard-pressed to end up with such a classy dish.
In San Sebastián, Spain, we had our sole three-Michelin-star meal of the trip at Akelarre, on a beautiful site high over the Bay of Biscay (if you go, take a taxi - it's about four and a half miles / 7.5 km from the city center, mostly uphill). The cooking of Pedro Subijana is creative and modern but with deep roots in the local cuisine. (That can describe so many of the world's greatest restaurants, don't you think?) Alongside the more fantastical tasting menus, there's a traditional menu and daily specials, and the dish I'll remember best was a perfect rendition of a dish that could have been made by Mr. Subijana's grandmother: Braised cardoons and artichokes in a ham-enriched broth. All the broths at Akelarre were fantastically deep and delicious, but this one really sang. I'll never be able to duplicate it, but next artichoke season I'll take a crack at a homier version, possibly using Swiss chard stems if I can't find cardoons, which I rarely see in the market.
After San Sebastián, we drove out to the country restaurant Asador Etxebarri, whose chef, Victor Arguinzoniz, has figured out a way to cook just about everything (including caviar, evidently) over charcoal. But this is no BBQ shack: smokiness is subtle and cooking is precise. Ingredients are of stunning quality, which is all the more evident with this relatively unadorned style of preparation. Here we ate far too much - the portions in the tasting menu are grotesquely large - but there was nothing we'd have wanted to do without. There's no point in trying to emulate these dishes, but here are a couple of photos: the prettiest, most delicious artichokes with little winter chanterelle mushrooms; and an ingot of fruity pumpkin with a sweet walnut paste hiding under the flowers and carrot tops (which make more of a visual than a gustatory impact).
Just off Oxford Street, back in London, is Piquet (also new; the name is a joking Frenchification of the chef's name: Allan Pickett). We had a fine post-theater supper there. It began with a snail pithiviers: a crisp puff-pastry dome filled with snails and (if I remember aright) little onions suspended in a parsley-green chicken mousse touched with bacon, all surrounded by a good old-line Madeira sauce - full of flavor and consistency but not rich or cloying. This will provide inspiration to make other kinds of savory pithiviers (wild mushrooms come to mind), though if some decent snails came my way I'd use them. We got the last order of this dish the night we were there; if you go, you might want to ask if you can reserve one, because it is not to be missed.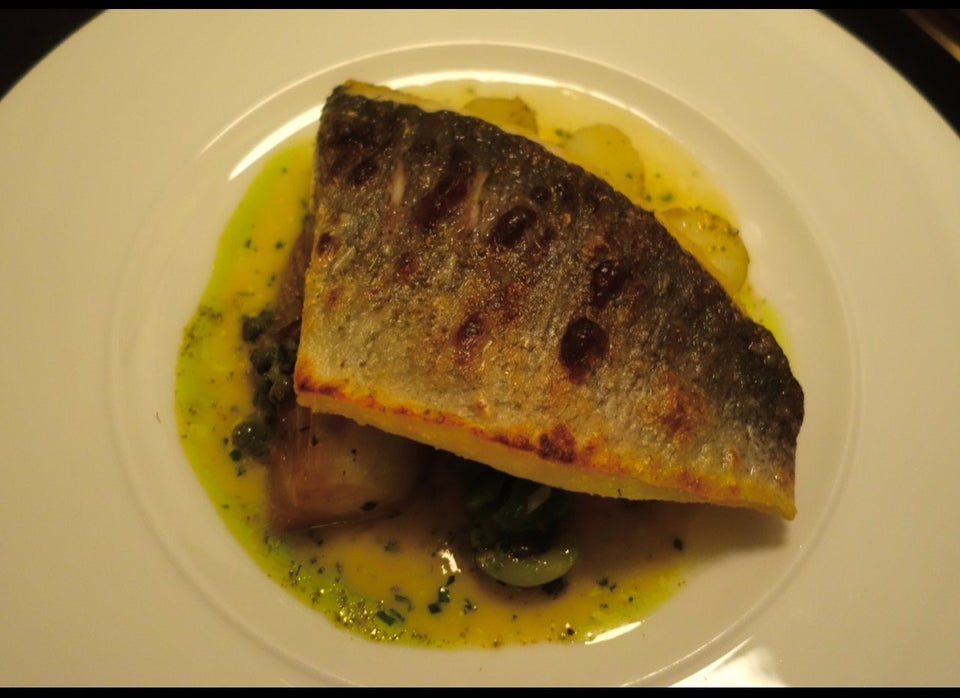 [Not] Cooking Off the Cuff: Back From Vacation, Just About