So, that happened. This week, Philadelphia played host to the 2016 Democratic National Convention, where the big issue of the week was party unification after a bruising primary fight between Democratic nominee Hillary Clinton and the man she dispatched, Vermont Sen. Bernie Sanders. But while Sanders' supporters have, to some extent, made peace with Clinton's nomination, one issue emerged on which Sanders supporters, in alignment with economic liberals, refused to back down ― the Trans-Pacific Partnership trade deal.
On this week's edition of "So That Happened," we discuss the way constant criticism of the TPP seized a place in the spotlight.
Getting the TPP in place, which would open up new trading avenues between the United States and Pacific Rim nations, has been a major project of the Obama White House and businesses. But it's come under no small amount of bitter opposition, especially as national figures like Sanders and Massachusetts Sen. Elizabeth Warren (D) have emerged as influential leaders on the left. And their skepticism as to whether the trade deal would work for all Americans has real merit.
For example, one area of bitter disagreement is over what's known as "investor-state dispute settlement." Like a lot of global trade agreements, the TPP grants corporations the right to challenge laws passed by member nations that are deemed to be too restrictive to trade in international tribunals, which have final say in arbitration. Liberals don't like this because the laws that are most likely to be tossed in the woodchipper are those that enhance environmental restrictions, labor rights and antitrust regulations.
While conservatives don't necessarily love those laws either, many of them dislike this arrangement simply because they have a basic, principled objection to international bodies interfering in America's sovereign affairs. And it's worth noting that there is no corresponding right for labor unions or environmental groups or humanitarian nongovernmental organizations to issue the same kind of challenges.
A more specific objection to the way the TPP has come together involves Malaysia, a linchpin partner in the trade agreement. The Southeast Asian nation is well-known on the world stage as being among the worst actors in terms of human trafficking and slave labor. Rather than use the TPP as the basis to force Malaysia to embark on much-needed reform, the State Department ― which previously ranked the nation as a "Tier 3" violator of human trafficking laws (a certification that would have prohibited it from being part of the partnership) ― conveniently reclassified the nation as a mere "Tier 2" violator, thus allowing it to participate.
So, the U.S. government withdrew a vital human rights "stick" and fed Malaysia a bunch of "carrots" it had not earned. And lest you think that not holding people accountable creates a culture of accountability, we'll point out that the U.S. Department of Justice just froze $1 billion in assets that Malaysia's prime minister embezzled from his nation's sovereign wealth fund.
Beyond the vocal opposition heard from those in the Wells Fargo Center this week, the TPP found its way into the news after ardent Clinton supporter and Virginia Gov. Terry McAuliffe badly fluffed his talking points, implying to an interviewer at the convention that Clinton ― after having switched from being a TPP supporter to a TPP opponent (in its current form) ― was going to switch back after the election. This touched off a frenzy of denials from the Clinton campaign, followed by a day of awkward walk-back from McAuliffe (who is very pro-TPP).
This made for an amusing twist in the horse race. But let's face it, it also revealed something else ― whenever you hear politicians that live comfortably at the nexus of corporate and political power offer promises to oppose the TPP, they are well and truly being as phony as a rubber nickel. And the only thing that gives them pause is the threat of citizen prosecutors, like the ones who showed up in Philadelphia, threatening to capsize their electoral careers.
That is why, despite what you've heard, they'll probably try to pass this thing in the next lame-duck session.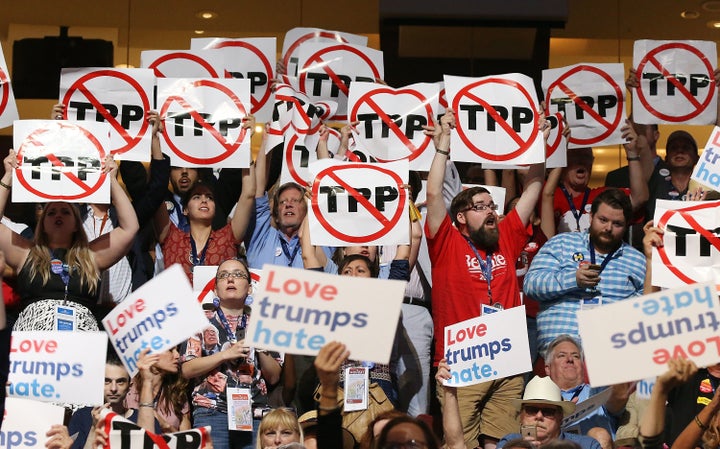 Also on this week's "So That Happened," Senate Minority Leader Harry Reid (D-Nev.) talks to us about Sanders' campaign and Donald Trump's tax returns, and we discuss the recent hack of the Democratic National Committee's servers ― and the looming specter of Russia's involvement.
"So, That Happened" is hosted by Jason Linkins, Zach Carter and Arthur Delaney. Joining them this week: Senate Minority Leader Harry Reid as well as Huffington Post reporters Akbar Shahid Ahmed, Christine Conetta, Ryan Grim, Mike McAuliff and Sam Stein. 
This podcast was produced, edited and engineered by Christine Conetta, with assistance from Zach Young.
To listen to this podcast later, download our show on iTunes. While you're there, please subscribe to, rate and review our show. You can check out other HuffPost podcasts here.

Calling all HuffPost superfans!
Sign up for membership to become a founding member and help shape HuffPost's next chapter