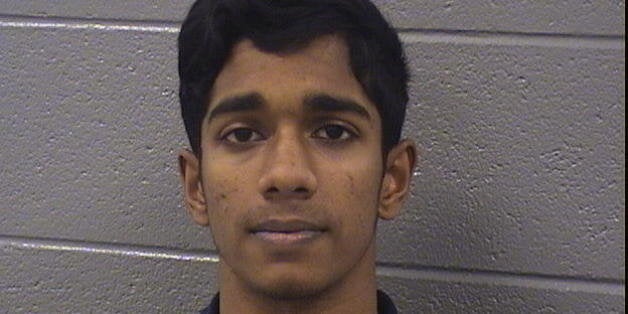 A judge ruled there wasn't enough evidence to proceed with a case against a college student accused of raping a woman while he acted out scenes from "50 Shades of Grey."
Cook County Judge Peggy Chimapas made the decision on Thursday. She ordered 19-year-old Mohammad Hossain released from jail and lifted a bond forbidding him from going to the University of Illinois at Chicago, where both he and his accuser are students.
"This doesn't mean this is over," Chimapas told Hossain, according to DNA Info Chicago. The judge noted that prosecutors could still try to secure an indictment against him from a grand jury.
Chimapas said the two photographs showing bruising on the accusers body and her testimony were not enough to take the case to trial.
At a preliminary hearing, the 19-year-old accuser said the sexual encounter in February started off consensual but then turned violent.
The woman stripped down to her underwear before Hossain stuck a knit cap over her face and tied her hands above her head, binding her to the bottom of a lofted bed, she said. Hossain tied a belt around her feet and covered her mouth with a necktie.
Then, the accuser testified, Hossain told her "I want to see you resist." He then hit her repeatedly with a belt, harder and harder each time.
Hossain then allegedly said "I want to see how much you can take" and "I want to see you cry."
The victim testified that he pinned her arms down and raped her.
But Hossain's lawyer, Joshua Kutnick, insisted the two were consensually acting out scenes from '50 Shades.'
"The two of you were role-playing the movie, correct?" Kutnick asked during cross-examination.
"I didn't see it that way," the accuser said.
Outside the courthouse, Kutnick proclaimed his client's innocence.
"It was clearly shown that this incident was consensual," Kutnick said, according to the Tribune. "It was two college students who were having a sexual encounter and that's all that it was."
Like Us On Facebook |

Follow Us On Twitter |

Contact The Author
Related
Popular in the Community