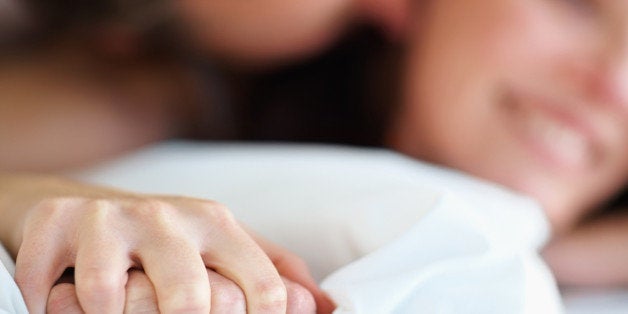 Sex is one of those taboo topics. You do not typically bring it up around your parents or in-laws during family dinners on Sunday evenings. You probably do not discuss this topic with co-workers over coffee (unless it's in dirty-joke form). Yet, somehow, it is considered important if you want to have a well-rounded, healthy, loving and HOT relationship with that someone special in your life.
That said, what I have found to be the main obstacle in being intimate is the kids.
Let me walk you through some of the parenting experiences that my husband and I encountered way back when.
When you have a newborn, your entire focus becomes that tiny, needy and ridiculously snuggly bundle. You wake up with the infant, nap with the infant, eat with the infant and even take bubble baths with the infant. You may recall that those were the activities you once loved doing with your significant other. What happened?
With that newborn around, intimacy fell by the wayside. First-time parents experienced a new kind of exhaustion that they had never experienced before. Sleep became the absolute priority.
Enter into the toddler years. Those cuties were everywhere! They ate (sometimes an entire meal) moving from toy to toy. By now they may have given up their very-much-needed nap and that meant so did you. At the end of the day, your house looked disastrous, food was everywhere and you had a mountain of laundry to tackle.
When that toddler finally passed out, you were just beginning your chores. And once again, exhaustion overtook you and intimacy was pushed lower on the priority list of to-dos.
Eventually, your child became school age. You were sad to see your little buddy go since you were used to your daily routine with him. There was a new feeling that came over you as a result... [Dramatic pause] You were elated! Elated may not be a strong enough word to describe your excitement. You had rip-roaring, mind-blowing, electrifying and all-consuming delight in having a little "me" time. Yes, life was good.
Finally you got some alone time with your honey and then guess what? It's quick and dirty and a few weeks later you found out you were pregnant again. Holy crap (and, let's not forget, utter delight)!
One could only equate a middle school child's ability to talk to that of a car alarm going off. It seemed like it would never stop. There was question after question and discussion after discussion. The kids noticed some body hair and pimples so there was the cleanliness discussion. They had determined that parents were stupid so that demanded the respect conversation. Each had a cell phone and access to the Internet which was an utter nightmare overall -- multiple conversations.
On top of everything, there were boundaries that your child now wanted you to comply with and somehow you were constantly breaking them. Chances were that the child never expressed what those boundaries were yet figured that parents should automatically be aware of them. We're all mind readers after all.
Those broken cassettes also followed you everywhere. They did not sense that when a bathroom door was closed you did not feel like having a heart-to-heart. They could not comprehend why you preferred that they did not fart at the kitchen table. More than that, they could not imagine that their parents wanted some alone time.
Flash forward to present day.
Parenting takes on an altogether different approach when high school age children come along. One might say it requires a cutting-edge level of concentration.
You will likely come across a plethora of uncharted territories. There may be cyber bullies, cheating boyfriends or even having your house toilet-papered for attention. Parenting a high school child is beyond difficult and demanding. It is downright all consuming.
These children are under an enormous amount of stress. They have legitimate homework and complicated research papers. They have fast-approaching deadlines and last-minute projects. What is paramount at this age, however, is not just the stress; it is the drama. Oh, the drama.
Once again, your child's life will take over your own. You will probably not be allowed to have much of an opinion on anything (actually you're definitely not allowed to). Your child's everyday situations and random moodiness are what will inescapably dictate your once perky being.
Sadly, intimacy will inevitably take a backseat. By now, parents are either too annoyed at their child's lack of respect or too scared because it is ten minutes passed curfew to even consider getting hot and heavy.
Children at this age do not really have a specific bedtime so you never know when they may wander into your bedroom. This is an unfortunate yet familiar conundrum we face throughout parenting. Hello pure and unabridged exhaustion.
With certainty, I feel it is safe to say that children are to (mostly) blame for lack of intimacy with your partner.
Whether it is the delicious newborn, the energetic toddler, the potentially stinky middle school kid or even the dramatic high school one, a parent is physically and mentally drained by the end of each day. Consequently, I'm not entirely sure why sex is considered a taboo topic when no parent seems to be having much of it. Unfortunately, there is only one word to describe that: bummer.