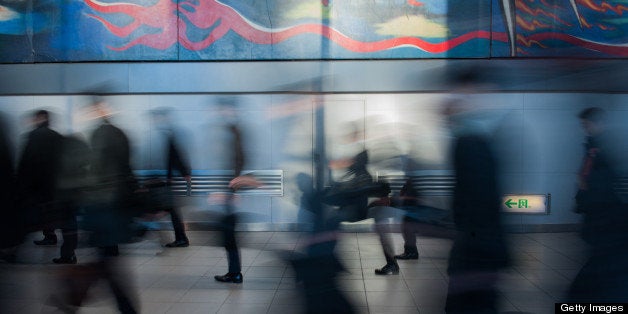 I pull myself out of bed at 6 a.m., feeling guilty and frustrated as my feet touch the carpet. The alarm first cut through my fog of sleep at 4:30 a.m., at which time I intended to dash off a dozen emails, pay the bills and draft a book proposal, all before a 6 a.m. shower and 6:30 a.m. breakfast for my kids. Instead of that pre-dawn productivity, however, I slept, and so my day is already behind schedule.
My lament for time echoes that of modern Americans: "There's not enough time!" Not enough time to complete our work. Not enough time to earn the money needed to cover our bills. Not enough time to play, to rest. Not enough time with our families, our friends, ourselves. Not enough time to cook, to read, to exercise, to study...
Consequently we demand faster technology, shorter waiting times, instantaneous food, all in the vain hope of creating more time. And in that desperate race, quality contends with expediency; pills substitute for rest; a pause for morning coffee equals spirituality.
I don't mean to critique our use of time merely for the sake of commentary (many of those who do so are attempting to sell that elusive holy grail called "Balance"), so much as observe it for the sake of insight. We live as though we are out of time. You might say, we live as though we are at the end of time.
Eschatology is the study of end times, the theological and philosophical word about last things. The eschaton is understood to be the end of the earth's history; in Christian tradition, the eschaton includes the Last Judgment and the start of eternal life. Our perspectives about end times -- both religious and philosophical -- impact our perspectives on daily life.
Modern American life, however, has conflated the end of time with everyday time. We are living each day in a panic as though it is the last day. We are scurrying through each hour as though it is the only hour for work or rest or play or relationships (or all of them at once!). We experience each moment as though it is a deadline, an end, a final chance for productivity.
We are not waiting for The End Of Time to live at the end of time.
The primary challenge of this chronological and ontological fusion is the loss of perspective. A snapshot of this loss is evident in the furious pace of news, delivered round-the-clock with unchecked commentary, offering immediate analysis but little (if any) possibility for perspectives that are yet-unknown as a news story unfolds.
For people of faith, the panic of living constantly at the end of time causes a loss of joyful perspective in particular. The end of time -- in Christian tradition, at least -- will be terrible and awe-full, to be sure, but ultimately it will be a sweet reconciliation of heaven and earth. The eschaton will be the joyful satisfaction of justice and the merciful resolution of humanity's division with God.
Living as though we are already at the end of time, however, there is no longer an end time to joyfully anticipate, no longer a new reality to hope for, no longer a transitional space that invites theological imagination. There is no longer time for faith-full perspective about our present time because we are living as though at the end of time.
The dissolution of our modern eschatological conflation will not be easily accomplished. The return of joy and time and imagination cannot be found in trinkets and grails. Yet while we strive to squeeze every ounce of efficiency out of our chronological limitations, the vital repair of our perspective on time awaits our collective attention.
REAL LIFE. REAL NEWS. REAL VOICES.
Help us tell more of the stories that matter from voices that too often remain unheard.