Several years ago, my friend Omar (a former dancer who, after winning the Varna International Ballet Competition at the age of 17, received a scholarship to the prestigious Vaganova Academy of Russian Ballet which led to a career with the Mariinsky Ballet) asked, "Honey, why you no want marry me?" It was difficult to explain to this passionate Cuban man that I didn't want to marry anybody. Still don't.
Why not? I'm one of those men that Professor Henry Higgins described as "a confirmed old bachelor, and likely to remain so." Small talk bores me. Nor do I enjoy being in crowds. Although I'm fortunate to have some very close and dear friends, I like to spend long hours alone.
It wasn't until I read a phenomenal book by Annelli Rufus (Party of One: The Loner's Manifesto) that I began to understand what it means to be an introvert. Suddenly a light went off in my mind as I realized, "That's why I was never comfortable in those kinds of situations!"
As I've grown older, I've become increasingly aware of certain personality traits I share with other introverts.
Too much stimulation can be exhausting.
I need time alone to recharge and enjoy a sense of peace and quiet.
Although I enjoy close, intimate, long-term friendships (some that have lasted for decades), I don't enjoy hanging out in bars or attending crowded social events.
When push comes to shove, I am my own best friend.
I recently had an opportunity to watch two dramas about single men unfold (one onstage and one onscreen). One story was new, involving a young man with substantial emotional baggage. The other was nearly 45 years old, yet still quite fresh in its portrayal of a swinging bachelor who can't bring himself to settle down. Both men were the subjects of intense peer pressure. However, while one was obviously an introvert, the other most definitely was not.
Written and directed by Michael J. Saul, The Surface begins with the perennially broke Evan Jones (Harry Hains) and his wealthy boyfriend, Chris Stentz (Nicholas McDonald), arguing about what kind of gift they should bring to their friend Michelle's (Samantha Bowling) party. Spotting a garage sale, Evan asks Chris to stop the car so that he can scope out the items on sale.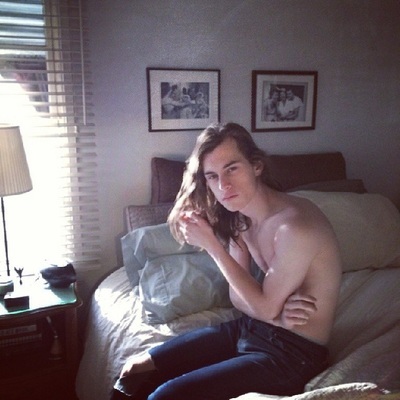 Harry Hains stars as Evan Jones in The Surface
While browsing through an assortment of curios and tchotchkes, Evan comes across a handheld 8-mm movie camera which the elderly seller, Harry Berg (Robert Weiner), encourages him to take home with two packages of free film. Harry even offers to help Evan edit the film that he shoots.
Orphaned since birth, Evan bounced from one foster home to another as he grew up. As a result, he has no real sense of family and feels alone, without any kind of support system. Chris, on the other hand, is a spoiled rich brat whose parents don't know that Evan has moved in with their son.
Following a road trip to Monterey with Chris, Michelle, and some friends (where Evan uses his new camera to film their activities on the beach), he returns home and goes to visit Harry, eager to learn how to edit and splice film. When he rings the doorbell, he is greeted by Harry's 43-year-old son, Peter (Michael Redford), who informs him that Harry has passed away.
As the two men get to know each other, Peter gives Evan several reels of old home movies that had been collecting dust in his father's garage. As Evan watches the footage (in which a young Peter and his closest friend were filmed by a doting father), he is fascinated by the intimate friendship shared by the two boys -- something he never experienced while living in foster care.
The fact that Evan has found a hobby (which means he's paying less attention to Chris) starts to add tension to his relationship with his wealthy boyfriend. After Peter hires Evan to clean his pool on a weekly basis and the two men start to spend more time together, Chris's insecurities start to erupt.
Evan's school project has focused on trying to edit the home movies Peter gave him into a short film that tells a concise story. When he invites Peter to attend the screening, the film unleashes some long-buried memories for Peter, who exits the auditorium in tears. Pissed that Evan thinks it's more important to check up on Peter than to enjoy the party he's thrown for him, Chris proceeds to get obnoxiously drunk and decides to break up with Evan.
With Jinny Chung as Amy and Kyle Patrick Darling as "Fish," Chris and his friends continue to enjoy an upscale Southern California lifestyle which does not require a sense of responsibility. However, for Evan and Peter, their emotions are not only far more intense, but evidence a much greater capacity for introspection.
What makes the performance of Harry Hains (Evan) so peculiar is his tendency to speak in a breathy near-whisper, which evokes memories of Jacqueline Kennedy's seemingly frail vulnerability. As a filmmaker, Michael J. Saul has an interesting way of playing with light, shadows, and underwater scenes. Here's the trailer:
When I first heard that the San Francisco Playhouse would be producing Company (Stephen Sondheim and George Furth's 1970 musical), I had three deep concerns.
When seen by an audience that had become masters at creating electronic barriers around themselves (and are obsessed with their smartphones), would this 45-year-old musical -- which once seemed shocking and almost revolutionary -- come across as a period piece today?
How would Jonathan Tunick's thrilling orchestrations hold up with a reduced musical ensemble?
How would the show's themes of loneliness, alienation, and fear of commitment play out in a city where many are convinced that the character of Bobby is probably gay?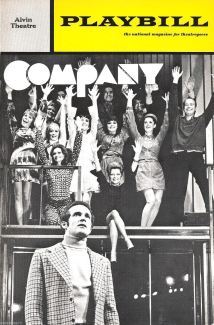 A Playbill for the original Broadway cast of
Company
In the original Broadway production of Company, Bobby was neither an introvert nor a homosexual. Instead, he was often the third wheel in many relationships; the single man who was always a good listener and whose friends were constantly trying to set him up on dates with available women. Back in the era of swinging singles, Bobby had no trouble meeting women or graduating from one flirtation and moving on to another affair.
In October 2013, The New York Times reported on a private reading of a revised version of Company for the Roundabout Theatre Company which featured Daniel Evans (Bobby), Michael Urie, Bobby Steggert, and Alan Cumming (tackling the role of Joanne, famously created by Elaine Stritch). Director John Tiffany (Once) had reconceived Bobby as a commitment-phobic gay man with several previous boyfriends who were more than willing to give him advice.
George Furth (who wrote the original book for Company) died in 2008. Intrigued by Tiffany's approach, Sondheim (who had been rewriting some lyrics and pieces of dialogue) noted that "It's still a musical about commitment, but marriage is seen as something very different in 2013 than it was in 1970. We don't deal with gay marriage as such, but this version lets us explore the issues of commitment in a fresh way."
Since that 2013 reading, there has been no news from the Roundabout Theatre Company about any production of a revised Company. With the U.S. Supreme Court's recent ruling on gay marriage, it's possible that the idea has either been shelved or that Sondheim's creative efforts have been diverted to a new project he's working on with David Ives (Venus In Fur) for The Public Theatre based on 1962's The Exterminating Angel and 1972's The Discreet Charm of the Bourgeoisie (two films by Luis Buñuel).
Sondheim is now 85 years old, Company is 45 years old, and even though the "Tick Tock" number has been eliminated from revivals of the show, there's no question that the clock is ticking. No one doubts that Sondheim's music has stood the test of time (the two-piano reduction of Company's score used by the San Francisco Playhouse is an absolute knockout). But what about the book? And what about Bobby? Bobby, baby? Bobby, bubbie? Robert, darling?
As directed by Susi Damilano (with musical direction by Dave Dobrusky), Company holds up surprisingly well. Keith Pinto brings a modern, almost hipster-like sensibility to the role of Bobby with Ryan Drummond offering a deeply bittersweet portrayal of his friend David during a key moment of male bonding.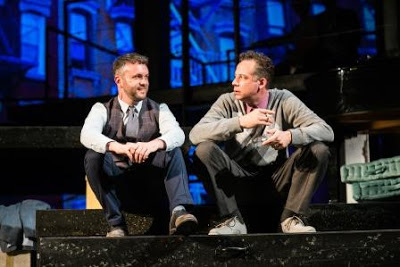 Robert (Keith Pinto) and David (Ryan Drummond) discuss
the pros and cons of marriage in a scene from Company
(Photo by: Jennifer Palopoli)
Among the women in Bobby's life, Velina Brown does a fine job as Sarah (the wife of an alcoholic who has learned karate but lacks the discipline to stick to her diet) while Nicole Weber is a deliciously Southern Susan. Abby Sammons is delightfully naive as Jenny, with Stephanie Prentice scoring strongly as the lustful ("When are we gonna make it?") and drunk Joanne.
A trio of Bobby's girlfriends -- Morgan Dayley as April (the dumb stewardess), Michelle Drexler as Kathy (the woman who has decided to leave New York), and Teresa Attridge as Marta (the woman who can't get enough of New York's diversity) -- do a splendid job of crooning "You Could Drive A Person Crazy" even if Attridge's voice seems a bit too harsh for her subsequent solo: "Another Hundred People."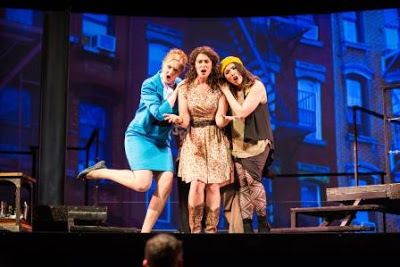 Morgan Dayley, Kathy (Michelle Drexler), and Teresa Attridge sing
"You Could Drive A Person Crazy" in a scene from Company
(Photo by: Jennifer Palopoli)
I had forgotten how much the vignette with Amy and Paul centered around Amy's fascination with the fact that her fiancé is Jewish. To her credit, Monique Hafen (who has previously portrayed several ingenue leads in San Francisco Playhouse productions) nailed Sondheim's tongue-twisting patter song ("Getting Married Today") in grand style.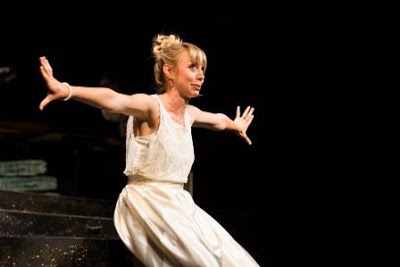 Amy (Monique Hafen) insists that she's not getting married
in a scene from Company (Photo by: Jennifer Palopoli)
Bobby's male companions include Richard Frederick as Larry, Michael Scott Wells as Peter, and Chris Reber as a remarkably vulnerable Harry. As strong as Keith Pinto seems onstage as Bobby, I couldn't help noticing the haunting presence of John Paul Gonzalez (who portrays Paul in this production). If anyone ever gets licensing permission to stage a revised version of Company in which Bobby is portrayed as a gay man, Gonzalez (who understudied the role for this San Francisco Playhouse production) could be an inspired casting choice.
Blessed with a handsome unit set designed by Bill English and Jacquelyn Scott and some beautiful projections by Micah Stieglitz, the San Francisco Playhouse's production of Company continues through September 12. Here's the trailer:
Calling all HuffPost superfans!
Sign up for membership to become a founding member and help shape HuffPost's next chapter