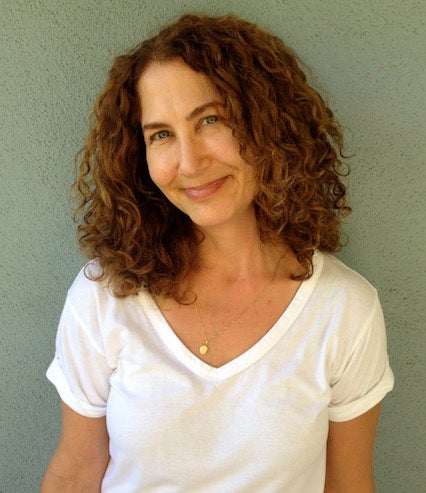 This is an interview with Judith Sekler, who works with an organization called A Thousand Joys in Los Angeles. It partners with schools in high-crime impoverished neighborhoods with high-risk children and families who are suffering the effects of trauma-related stress and violence, referred to as Adverse Childhood Experiences (ACE's). ATJ's school-based program Transform uses healing modalities including yoga, meditation and mindfulness to help students build confidence and control over their bodies and minds. Transform has been shown to help students better regulate their emotions, foster positive social relationships, focus on their studies, and set and meet goals.
Rob: What was your entry into yoga?
I was a poser: backbends, arm balances, leg-behind-head pose, all day long. Yoga was a gymnastic event, a battle of ego and endurance that I never won. Believing that pain was a by-product of my success, I pounded my body into my first hip replacement surgery at age forty-two.
Depressed and angry, I never imagined that time away from the mat would lead me to a true yogic path, one that has nothing to do with pose marathons. My primary practice became mindfulness meditation, where "doing yoga" meant cultivating nonjudgmental qualities like patience and compassion. To my amazement, a flexible mind and heart, not hamstrings, finally brought me a better quality of life. I felt more balance, and the simple (but not easy) meditation of living daily life came into focus. With it came a desire to help others, along with a newfound awareness of a community that I had paid the least attention to: those different than myself.
What originally motivated you to do this work and what continues to motivate you?
Social justice motivates me. At a time when racism, hatred, and the persecution of "other-ness" affects poor communities exponentially, healing practices like yoga and mindfulness cannot be reserved for certain people or zip codes. They are portable tools of self-care that can change one's life. Children don't choose to live with violence, or have citizenship status affect their families. "A Thousand Joys has found that there are gaps in providing the skills that individuals and families need to manage the effects of trauma and regain personal power and a sense of wellbeing." Part of my yoga is dedicated to helping fill that gap.
What is the most rewarding aspect of your teaching experience?
Definitely when kids share that they practice on their own! They say they do deep breathing when they're upset, or mindful walking to focus. One shy student told me he likes standing forward bend because it just makes him feel better. Teachers and staff appreciate a meditation pause in their day – kids call it a reset button.
What are some of the things your students have taught you?
My students opened my eyes to my position of privilege and judgment. I used to think that learning was an act of will or a gift of innate ability, and if neither was present then the student lacked drive. I had no idea what Adverse Childhood Experiences were, and that they flourished across town in communities I had driven past but rarely thought about.
Before I worked in underserved schools I had never seen kids who were dependent on subsidized meal programs to eat, or whose living situations were insecure and even dangerous. A student told me that she sleeps at her Auntie's now since her parents work nights and she only sees them on weekends. She left her homework at her "other" home. While discussing conflict resolution in a 5th grade classroom a student offered that she would just "go get a weapon." Another boy said the roof in his house has holes in it so he's cold and has trouble sleeping. He wanted to lay his head down on his desk and take a nap. I've had to open the classroom door during a rain because a boy's clothes were so dirty that his classmates complained it smelled too bad to concentrate.
It's easy to turn a blind eye toward what we don't know. I found true yoga just around the metaphorical corner and it's permanently shaken me out of my neighborhood of white privilege.
What societal factors are at play for the population ATJ works with?
The societal factors of racism, toxic stress, poverty and violence level damage on children who did nothing to deserve them other than being born. When President of the United States announced that he'd build a wall and deport undocumented citizens one elementary school that I work with created a "worry tree" that students pinned leaves on. The leaves carried messages like "I don't feel safe," "I'm scared my Mother will go to jail" and "I hope my teacher will be here tomorrow." When government policies mandate the identification and persecution of non-white people, children in our most disadvantaged and vulnerable populations who are already impacted by adverse childhood experiences cannot thrive.
Often we hear claims of yoga as a means to positively changing the world. What in your mind is the relationship between a practice of yoga and mindfulness and greater social change?
Yoga and mindfulness need to extend beyond the mat and the cushion and into everyday life. Physical yoga is wonderful, but it's not the whole practice. Spreading the tolerance and understanding we learn on the mat into the messy moments that divide us and create separation is where yoga makes a wider impact. From workplaces to social media, from dinner tables to how we drive, yogis need to embody openness and inclusion, and help bridge the gap.
What are some of your ideas about, or hopes for, the future of service yoga in America in the next 10 years?
Yoga is not a one-way trip; it flows out as well as in. Yet modern life and digital living come with a large dose of self-obsession, leading us away from an awareness of others' suffering. I would love to see yoga and meditation studios become less about different "styles" of practice and more about being centers for Town Hall meetings, community meditation sits, and speakers from universities and organizations devoted to diversity and socio-political shift. What better use for a pretty yoga space than practicing the mandate of social change?
Mental Health , Yoga , Yoga Service Council , Natural Health , Emotional Intelligence , Give Back Yoga Foundation, Mental Health Issues , Mental Illness , Service Yoga , Trauma , Yoga And Mental Health , Healthy Living News
Calling all HuffPost superfans!
Sign up for membership to become a founding member and help shape HuffPost's next chapter
This post was published on the now-closed HuffPost Contributor platform. Contributors control their own work and posted freely to our site. If you need to flag this entry as abusive,
send us an email
.