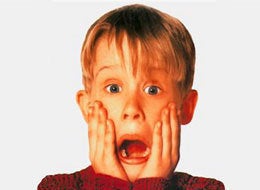 For either that short run or long haul to Grandma's, your parents', your brother's, your sister's, or wherever, most likely, you've been driving your family somewhere in the country playing at least a couple of the latest children's CDs that you bought the youngsters for the holidays. Oh, some CDs may sound all cute and angelic at first, but much like your children during particularly wretched tantrums, they can be evil incarnate. Sure, there's the upside -- the CDs bring reprieves from car drama, sibling squabbles, and demands for attention, and you feel less guilty playing them than DVDs on your vehicle's now standard issue, built-in video screens. Yes, that "music" keeps your kids moderately happy, distracted from committing the usual atrocities upon each other and family pets, and, most importantly, out of your face. Still, there you are, trapped in the driver's seat, hour after hour, bombarded by some of the worst sounds mankind has ever recorded. Who knows what could happen next...
When did children's music get so awful? It wasn't always as painful to listen to. Some historic recordings, though not exactly classified as "children's," have been cherished forever. For example, Judy Garland's 1939 classic movie, The Wizard of Oz, had a soundtrack that has appealed to multiple generations for decades. Not strictly "children's" music, a brand of "family pop" seems to have begun here with some scattered Bing Crosby singles as tagalongs. Music in films was aimed at families less successfully such as in Laurel & Hardy's pre-Wizard, operatic Babes in Toyland (aka March of the Wooden Soldiers, 1934) and Danny Kaye's maudlin Hans Christian Anderson (1952). But The Wizard of Oz's descendants were fun, family-oriented musicals such as Mary Poppins, Chitty Chitty Bang Bang, Willy Wonka & The Chocolate Factory, The Music Man (to a degree), Sherman brothers extravaganzas, and the queen of them all, The Sound of Music. Though these films included some overly-cutesy anthems, this brand of family music was durable. Walt Disney's animated features, like Snow White and the Seven Dwarfs, always bridged the generations with at least one family-focused sing-a-long. And there was that screwy score and those swingin' tracks that aurally back-dropped Looney Tunes and Fleischer Brothers cartoons.
Later, hand-in-hand with rock 'n' roll's growth, when a TV was in every home, and the Nelson Family's young Ricky weekly serenaded, not adults, but pre-teens and teenagers on The Adventures of Ozzie & Harriet, one could reason that this was a sort of older children's music that separated from the familial kind as it solidly asserted itself on the airwaves. On television, as the younger demo's tuneful tastes became more dominant and marketed to (displacing old school family fare such as The Jackie Gleason Show, The Red Skelton Show, and The Lawrence Welk Show), music, such as that of the Nelsons', continued in a loose lineage through The Monkees (1965-1968) that begat The Partridge Family (1970-1974), and eventually, cable's High School Musical 1-3, Camp Rock, and Hannah Montana. Though the '50s and '60s were filled with Peanuts (Vince Guraldi jazz), Dr. Seuss' How The Grinch Stole Christmas (jazz-tinged arrangements) and Rankin/Bass' stop-action TV specials (corny but lovable) that supplied holiday music for the whole family, cartoons featuring The Beatles, The Jackson 5, The Archies, and Josie & The Pussycats replaced them as the norm, and these children's shows tunefully catered to that aforementioned pre-teen (cross-marketing toys, thermoses and comic books along the way). As that age group established its musical dominance, toddlers certainly were not ignored since practically every "lesson" was delivered with a song (or at least something hummable) on PBS' Sesame Street, and the rest of Jim Henson's empire that eventually included kid-centric shows such as Fraggle Rock.
Children's music on vinyl proliferated and typically included soundtracks or music collections by dominant companies like Disney, plus those by the likes of David Seville and his beloved Chipmunks. Though there was now a clear divide between the music mom and dad liked and the recordings their children embraced, quality mainstream kids albums were marketed in an attempt to bridge the gap and entertain all age groups. Following "Puff, The Magic Dragon," the folk trio of Peter, Paul & Mary released Peter, Paul & Mommy (1969) and the very liberated Marlo Thomas (Danny Thomas' daughter and star of That Girl) introduced Free To Be You And Me (1971). Both LPs left big cultural footprints (especially the latter) mainly because they attempted to empower children, something unique to the genre. Equally smart children's albums followed, such as The Simon Sisters Sing The Lobster Quadrille and Other Songs for Children (1973) (recently reissued by Shout! Factory) that utilized the words of William Blake, Robert Louis Stevenson, Robert Burns, Lewis Carroll and Edward Lear. The field blossomed with the popular, Grammy-award winning In Harmony - A Sesame Street Record (1980) that collected performances by The Doobie Brothers, James Taylor, Carly Simon, Bette Midler, Al Jarreau, Linda Ronstadt, Dr. John, Kate Taylor, and George Benson. It was followed two years later by the Grammy-winning sequel, In Harmony 2, that featured Billy Joel, Janis Ian, Lou Rawls, Teddy Pendegrass, Kenny Loggins, and Bruce Springsteen. Intelligent children's records flourished, one champion of the field being the late Harry Chapin's brother, Tom. In the '70s, Tom Chapin's Make A Wish TV series put the folkster on a path he continues to this day, currently for the label, Sony Wonder.
Then the trouble began. Just when you thought Raffi's riffs for kids were about as soulless as the genre could get, Barney--that mega-successful purple dinosaur whose music was neither subtle nor innocent--came to conquer and crushed the competition. From the instant Barney & Friends appeared on PBS stations in 1992 (gestating in Texas since 1987), this surrogate parent/teacher/truant officer began OCD training our children on every subject imaginable as he had them goose-step about our living rooms to cruelly unimaginative melodies. Like The New Zoo Review on steroids, this giant, goofy dictator's show musically taught morals about every 24 seconds, though it mercifully, occasionally, also sang about things like apples and bananas--fruits that Barney probably would have preferred be identical. Success breeds imitation, the clones emerged. Thankfully, the dino of discipline is a bit more extinct with every passing year, and these days, when one says "Barney," one instead thinks of Neil Patrick Harris' horn dog from How I Met Your Mother. And let's just consider Barney the whipping boy for anything Veggie Tales-themed and move along without further incident.
Not so much inspired by Barney's ethics and demeanor than by his financial success, The Wiggles and a few other PBS-ers jumped-in to fill a growing demand for toddler-centric melodic entertainment. From Baby Einstein to Putumayo collections to the eternally worshiped Elmo, the musical genre of children's music has exploded over the last few years. Unfortunately, as the first paragraph implies, too much of it was insulting, cookie-cutter, corporate junk. On the other hand, this past year has seen an outbreak of genuinely imaginative children's music CDs such as those by dabblers Barenaked Ladies, Jack Johnson, and They Might Be Giants. Lisa Loeb's Camp Lisa entertained on a par with Justin Roberts' Pop Fly as well as The Sippycups latest effort. Probably, the best album came from Dan Zanes whose sophisticated arrangements on Nueva York inspired and didn't pacify. Also, thumbs up to Buck Howdy, Jason & The Scorchers' own Farmer Jason, and Laurie Berkner, her album Rocketship Run being a nice attempt at challenging the pre-school crowd.
And all this talk about all things hip brings us to the Godfather of Children's Music -- Kidz Bop! This is the beast that will never die without also dragging along the music industry into the abyss. As long as there are kids who want to hear kids sing (with the occasional adult, though this equation changes album to album), Kidz Bop will continue to rack up enough volumes to compete with the world famous Now series. The formula was genius, though not particularly original -- have kids (basically, don't forget that aforementioned adult) sing the latest pop hits, covering material by artists like Rhianna, Daughtry, Timbaland, Fergie, Black Eyed Peas, Nelly, Beyonce, Justin Timerblake, Green Day, Plain White T's, Fall Out Boy, John Mayer, Teddy Geiger, James Blunt, and obvious candidates such as Miley Cyrus, Gwen Stefani, Alicia Keys, Pink, Taylor Swift, Britney Spears, Kelly Clarkson and Smash Mouth. Kidz Bop also doesn't dumb down the production, which gets the parents hooked as well. This franchise is so ballsy, it branched into themed collections such as Christmas and the '80s, and has had its very own greatest hits assemblies. With Kidz Bop 15 to be released February 3rd, 2009, and with most of the series' previous outings selling millions of copies (some even charting in Billboard's Top Ten), this musical assembly line shows no signs of slowing down, and it probably will continue to help the industry by driving consumer traffic to stores and iTunes, spiking CD sales overall on the week of each new release.
Still, if you want to check out something original, something that will engage you and your children, you might want to try The Fuzzy Stones. Based on a fictitious family that cross-pollinates Monkees with Gorillaz, and Fat Albert and the Gang Of Four, this "animated" group from Cleveland, Ohio (complete with a lifestyle website), has just released its first album, Get It Together. Ohio's Cleveland Scene published an article on the project revealing how its creative team "...had a concept for a TV show/internet series they wanted to pitch to an outlet like Nickelodeon." Creator Brad Robinson added, "It's not just for kids, but for the kid in a parent. It might even be more for the kid in the parent than the kid!" In fact, that's the reason for The Fuzzy Stones' existence -- to supply music that both the parent and child can listen to together. Robinson kept that in focus as he recorded the album with drummer Eric Paul (Clem Snide), keyboardist Douglas "Truth" Smith (Van Hunt, Nikka Costa, the Original P, Millie Jackson), guitarist Pete Fitzpatrick (Clem Snide, Naftule's Dream, Tracy Bonham), bassist/guitarist Ed Sottelo (Cobra Verde), Robert Pollard/Guided By Voices producer and drummer/guitarist Todd Tobias, plus mutli-instrumentalist Peter Moore (touring, singing member of The Blue Man Group, leader of Count Zero and Think Tree). Additionally, Robinson's and his Fuzzy partner Michael "Bruzzie" Nassif's songs recently have attracted National Geographic regarding a project on the environment. Maybe the lesson here is if you don't want your children's music to suck, don't make it all just condescending kid stuff. In general, excellent, timeless music was created for everyone at every age. So, hopefully, albums by The Fuzzy Stones and most of the above-mentioned acts can serve as your musical options that will keep your driving habits safe (especially when going over bridges and the temptations they bring) during your family's holiday travels. It is, after all, still the season to be jolly, so let your kidz bop, let your stones be fuzzy, and God bless us everyone.
As a holiday treat, here is a streaming audio track by The Fuzzy Stones:
REAL LIFE. REAL NEWS. REAL VOICES.
Help us tell more of the stories that matter from voices that too often remain unheard.