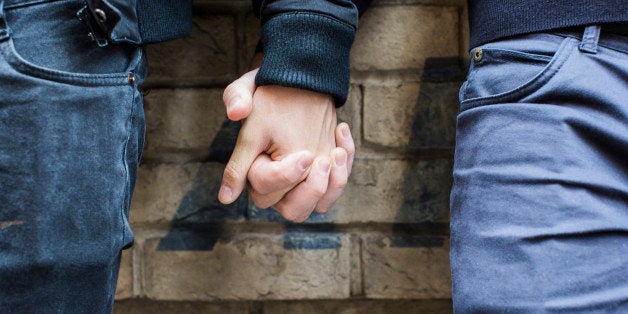 For a great number of people their sexual orientation does match their romantic orientation -- but not always. The LGBTQ+ movement has managed to conflate sexual and romantic orientation through the decades and yet this risks leaving many people confused about where exactly they fit.
The narrow definitions and conflation of identities have been so clearly shown by the treatment of aromantic and asexual people within the LGBTQ+ community. Aro and ace communities have been far better at recognizing different nuances of identities than the wider LGBTQ+ movement. The grey scale is a term in itself which clearly shows the wonderful world of complicated and personal identities. It is an acceptance that there are not just 'on' or 'off' switches with sexuality and romantic experiences. Yet ace and aro people face erasure regularly within the LGBTQ+ community. Conversations are designed around sexuality, the right to always have sex but excluding those who do not have the same desires. It is all about sex with members of the same gender. Queer spaces are so often simply pulling spaces, particularly when centerd around alcohol.
LGBTQ+ people do need places to fulfill sexual and romantic desires free from harassment but that shouldn't be the sole focus of spaces claiming to be for all identities. We also need to address our terms, not only is crying that we're for 'the freedom of love' incorrect as it erases trans people, but it also erases aromantic people which immediately says that this movement is not for them.
The shift to make LGBTQ+ politics respectable has risked abandoning many people who should be embraced into the community. The constant focus on presenting LGBTQ+ people as always in stable, loving, same gender relationships (especially marriages) and with children presents a very one dimensional idea of who belongs in this community. If you don't want a romantic relationship but just want sexual partners then there is the implication that you're doing harm to the reputation of the community. If you don't want sexual relationships with someone of the same gender then the implication is you don't fit in at all. Everything is designed around making LGBTQ+ people's presentation as acceptable as possible to cisgender heterosexual people.
This is also an issue for many who do not identify as asexual or aromantic. For instance: it is entirely possible to experience sexual attraction to one gender but romantic attraction to another gender. One may be heterosexual but that doesn't mean that are automatically heteroromantic. I myself am bisexual yet homoromantic (although because I experience romantic attraction exclusively to women then that means I often find far more acceptance in the LGBTQ+ community than other bisexual women I know because they are heteroromantic).
The LGBTQ+ world has become a marketing machine. Our images and PR campaigns whether it comes to marriage equality or floats at Pride have become carefully crafted over the years. Gone are the radical political elements that wanted to smash binaries and capitalism and in its place is the LGBTQ+ happy family presented in a very narrow and manipulated way.
LGBTQ+ organizations have become solely focussed on selling the Disney story: where two white, middle class cis guys or two cis girls fall in love, get married and have wonderful children. We've forgotten why we started this fight. It was not for cis, straight, white, middle class people to finally be able to tolerate us but for the complete liberation from narrow binaries and prejudices that dominate society. It was not just for 'gay love' but for people to be treated and recognized as human beings who deserve nothing more or less than total respect for their identities. It was for all those outside of the norms society tried to force upon us and that includes all of the variations of sexual and romantic attractions that are not solely heterosexual or heteroromantic.
Popular in the Community