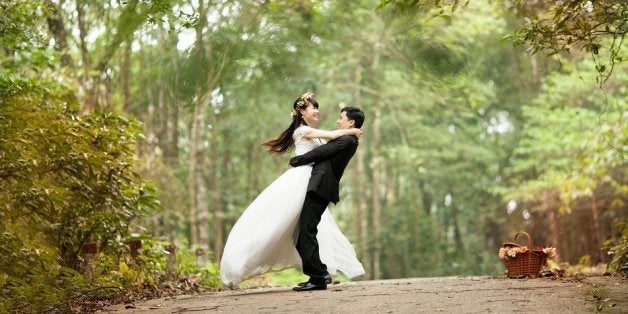 I was recently asked if I had any financial advice for 20-somethings. As I wrote out my thoughts, and reflected back on 10 years helping newlyweds make their wedding and honeymoon dreams come true without blowing their budget, I realized that a few smart money moves in one's twenties can be hugely impactful on future success-- especially marital success. Given that, the best financial marriage tips may be things you must do before you get married. Here are my six personal finance tips for anyone with marriage in their future.
Learn to Budget for Big-ticket Expenses
When you're planning for an expensive and important event like a wedding, it's imperative that you already know how to budget and save. So learn now. (If you're new to the concept of maintaining a monthly budget, learn the basics, here). You can actually have a lot of fun practicing how to budget for an extraordinary expense! Is there a trip you've been meaning to take? Or another big-ticket item you're dreaming of, like a car? Here's how to make that dream happen:
First, figure out how much your trip or item will cost, and determine how much you're willing to spend. That's your budget.
If you have some money already set aside for this item, subtract your savings from your budget. That's how much you still need to save, or your savings goal.
Divide the savings goal by the number of months to the purchase date. That's your monthly savings goal. Or, figure out how much you can afford to save per month and calculate your target date from there.
Ask your employer to divert that amount from your paycheck into your savings account each month until you reach your purchase date.
You may need to adjust your daily spending habits to meet your savings goal. The easiest and most impactful thing to cut out is the little daily expenses like morning coffee and eating lunch out -- they add up over time. Avoiding Starbucks and bringing your lunch to work five days a week should net you about $80-100/week!
(It's easy enough to make your coffee at home and cook extra at dinner so you have leftovers for next day's lunch.) For more savings, limit dinners out to once each week -- that's another $25/week or more in your savings account!
Another way to help your savings along is through the generosity of friends and family. Open a Plumfund ahead of your birthday, graduation or other gifting occasion and your loved ones will happily contribute gifts toward your special trip or wish.
Credit cards can be alluring in your twenties, and before you know it, you've racked up thousands of dollars in debt. You want to be extremely careful not to start your marriage with a huge credit card bill you can't pay off!
However there are advantages to having and using a credit card in your twenties. For example, you'll have a longer positive credit history, which can set you up for better mortgage rates when you buy your first home. The best way to use a credit card is to charge your regular monthly expenses, and pay the balance each month. Paying it off each and every month is crucial to avoid interest charges. Another compelling reason to use credit cards is to earn rewards that can help cut the cost of things like travel or even everyday expenses. For example, I have enjoyed free flights, discounted flights, and free first class upgrades with bonus points earned by opening an airline-branded credit card. Visit Honeyfund's blog for more info on how to use credit card rewards points for travel.
Max Your Retirement Account Contributions
Your mid-twenties is the best time to start your retirement account. You have time on your side now more than any other time in your life, which means you will get the maximum benefit from compounding, or the ability to earn more money on the earnings in your account. It's also the time in adulthood when you are likely to have the fewest expenses -- before you have a home mortgage, multiple cars, children, etc. Now is the time to contribute the maximum allowed to your 401(k), especially if your employer has a matching program. Compounding and employer matching are two opportunities for free money you may not have any other time in your life!

Earn More
Earning more income is a great strategy to help you meet savings goals and set yourself up for a solid future marriage. Take some time to do a career checkup. Ask yourself these questions: Are you in a job with upward mobility? Is it time to ask your employer about a promotion? Even if you aren't ready now, what are some things you could be doing this year prepare for a promotion later on? Are you due for a raise? Don't be afraid to ask your employer any one of these questions -- a raise or promotion often won't come unless you ask.
If you have some savings outside your retirement account, look around for some investments that can earn more money on your money. Savings interest rates are at historic lows so you might need to think outside the typical savings account. One example is a peer-to-peer lending program like Prosper, which can return 6 percent or better, depending on your risk tolerance.

Choose Wisely
Because you've taken the time to practice your financial skills before marriage, you should have a good sense of your money values. That is a critical first step to ensuring financial compatibility with your partner. One of my favorite kernels of wisdom from Kevin O'Leary's recent book "Cold Hard Truth on Family, Kids and Money" is that the person you choose to marry is the most important business decision you'll make -- so choose wisely.
When you find Mr or Ms Right, have fun taking on financial challenges and solving them together. The first will certainly be the wedding -- and there are endless ways to plan an epic wedding on a budget. At Honeyfund, we've helped nearly half a million couples hack their honeymoon by inviting friends and family to contribute to their once-in-a-lifetime trip as a wedding gift.
Once you're married and you've successfully navigated budgeting, saving and paying for your own wedding, you should be in a great position to take on your financial future together and have fun with it!
The key is to agree on your goals and work together toward them. My husband, Josh, and I like to make a date night out of our financial discussions. You know, that romantic time where you sit down to review your income, expenses, assets and debt and make sure you're on track to hit your goals? No, really! This is the top thing you can do to ensure you don't end up like 45 percent of couples who divorce over financial disputes, so make it fun. Open a bottle of wine, get out your favorite board game, and when your financial chat is over, enjoy the feeling of accomplishment while you have some fun together. You're ahead of the game.
About Sara Margulis, Honeyfund & Plumfund
Sara Margulis is the CEO and co-founder of Honeyfund and Plumfund. She writes about wedding gift etiquette, crowd gifting, entrepreneurship and women in leadership roles, as well as inspirational topics like financial freedom, corporate philanthropy and work-life balance. Sara and her husband Josh founded Honeyfund in 2006 after their wedding guests contributed more than $5,000 toward their honeymoon to Fiji. The couple launched Plumfund in 2013, expanding Honeyfund's crowd gifting technology beyond the wedding. Both sites offer 100 percent free options as well as the lowest processing fees in the crowdfunding industry. With 10 years personal gifting and etiquette experience, Sara's mission is to ensure that giving feels good.
Calling all HuffPost superfans!
Sign up for membership to become a founding member and help shape HuffPost's next chapter