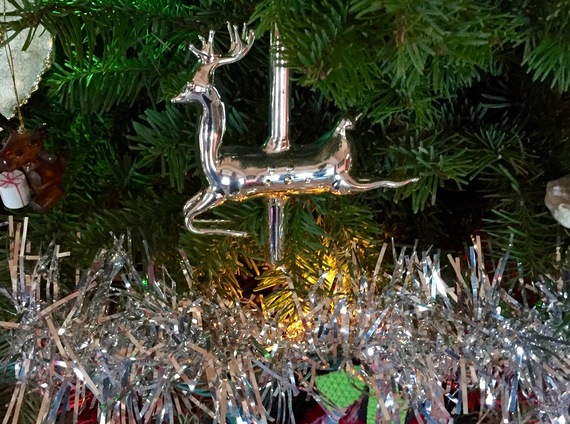 With Christmas only days away the stress of dealing with changing families looms. I am watching my friends deal with so many changes that the usual old fears of how to deal with psycho Aunt Mel at Christmas dinner has changed to "Will I see my kids this year? Now that I am single, where do I go?" It seems to be all around me. Whether the change comes from kids growing up, new babies being born, new in-laws in the mix, divorce, break-ups, loss of a beloved, I now realize that change is life. Change is inevitable. The truth is I can either let it bring me down, or I can embrace it and recreate my happiness around it.
So what do I do when tradition creates havoc for me? I ditch the old and bring in the new! It took me a while to understand that it just may be time to give old customs a new face. I have come to be that creature of habit where every Christmas is spent replaying rituals that I have set into place over time. From the exact time of the holiday meal, what is on the table, to who is eating that famous chestnut stuffing. It's true, I find comfort in keeping them intact. It is amazing how hard I will try to recreate Christmas's gone by! But the hardest years to do this are when someone I have loved is no longer here. It is like my psyche can't handle having these traditions without all of the players here. Yep! That's when it's really time to think outside the box! That's when I dare myself to have this Christmas look totally different from anything I have experienced before! Maybe I'll dump the turkey or ham dinner and have a scrumptious, fattening, sugar laden pancake brunch.  Hmmmm... what if I tell everyone who is coming they have to dress Turn of the Century or Steampunk or Star Wars? Oh wait! What if I don't have it at my house? Okay no. I can't go that far. I have come to realize I can either feel the sadness of what was, or I can feel the passion of what can be.
This year I may steal my friends idea. She and her kids do a themed meal. Last Christmas was the Beatles, where every dish had to relate somehow to a Beatles tune. The winner was a Jello Submarine! Our daughter married a Brit. I have loved learning how our son-in-law celebrates Christmas. We now have new yummy foods and get to share in his traditions of popping crackers and wearing crowns. And I know what Boxing day is!
True, it's not my Grandmother's Christmas anymore. It's not the same Christmas my husband and I celebrated every year. There are grandkids in the house, and new collies eating the ornaments and though Grandma may be rolling in her grave, we are not having turkey this year. But I can say this. This year it's my Christmas. I don't know what December 25th, 2015 will look like? But something tells me I know the true glory it will bring?
Calling all HuffPost superfans!
Sign up for membership to become a founding member and help shape HuffPost's next chapter