Many people typically see Presidents Day as a chance to honor great leaders or enjoy a three-day weekend. But this year, thousands of people are marking the holiday by protesting President Donald Trump.
"Not My Presidents Day" rallies are taking place Monday in more than two dozen cities, including Los Angeles, New York City, Chicago, Austin, Atlanta, Philadelphia, Denver and Washington, D.C.
Olga Lexell, 24, helped plan the protest at LA's city hall. The Facebook invite for the event spurred interest from other cities, and Lexell recruited volunteers in New York and Chicago to set up protests there. Most of the sister rallies were organized independently by grassroots volunteers and are focused on how Trump's plans affect their cities.
Lexell said LA residents are most concerned with "the immigration ban, losing our health care, deportation raids, anti-climate policies, sanctuary city funding and the wall that Trump thinks he's going to put up."
Protesters in the city shouted "Lock him up," echoing the anti-Hillary Clinton "Lock her up!" chant that was common at Trump's campaign rallies.
Thousands of people also rallied in New York, gathering outside Trump International Hotel and Tower to hoist colorful signs that defended refugees, condemned the president's Cabinet picks, and called for his impeachment. Families and individuals of all ages chanted "Not my president!" and "Black lives matter!"
Mercedes Vizcaino, 42, works in New York City and came to Monday's protest with a friend who is a science teacher.
"I think it's important to take a stand and not be complicit about what's going on in the country," Vizcaino said. "Democracy as we know it is being challenged. ... My freedoms that I've cherished and perhaps never thought about disappearing, right now I know they may be taken away."
Bryan Berge, an attorney for the city of New York, came to the protest with his two daughters, ages 5 and 3.
"[Trump's] policy ideas are very frightening and the people he listens to are ideological zealots who have no place in the higher rungs of government," he said.
Berge, 33, said he was concerned about how Trump's policies will affect his daughters' future.
"The risk of a debilitating trade war or an actual war is higher than it's been in many, many years," he said.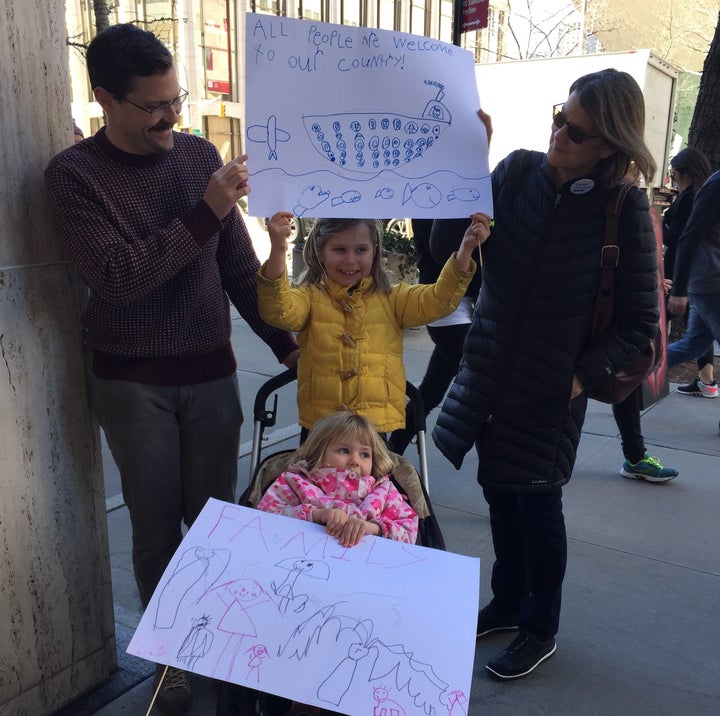 Richard Rumph, a retired New York City elementary school teacher, said he couldn't recall attending a rally before Trump took office. He joined in on Monday partly because he objects to Betsy DeVos, the education secretary.
"DeVos basically has no understanding of public education," said Rumph, 66. "She's going to push charter schools and public education is going to go down the tubes."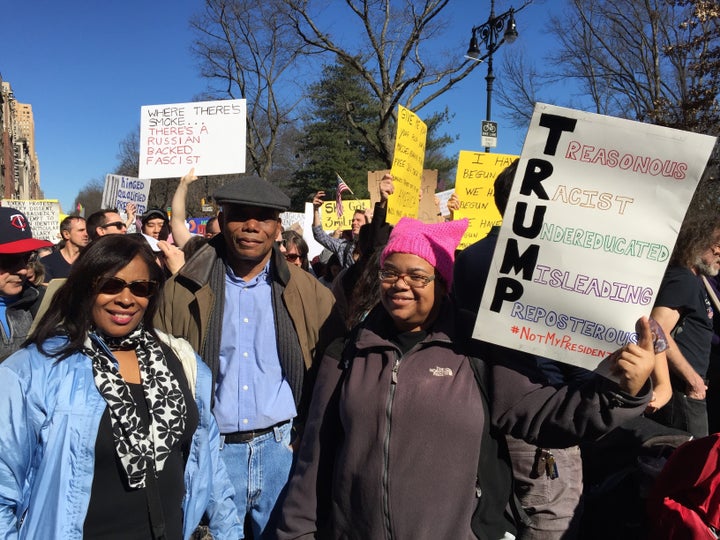 In Chicago, several hundred protesters rallied outside Trump International Hotel and Tower. People listed a number of concerns that brought them out to the protest — including immigration, funding for science and arts programs, reproductive rights and what they referred to as Trump's "immature" and "authoritarian" tendencies.
Bianca Castro, 15, had a day off school for Presidents Day and attended the Chicago protest with two of her friends. The three young women noted some of their classmates and friends — especially undocumented immigrants — feel a new level of fear under Trump.
"They're staying home. Some of their parents have been taken away or warned," Bianca said.
The "Not My Presidents Day" events are the latest in a wave of protests that have followed Trump's inauguration, starting with the women's marches on Jan. 21. After Trump imposed a contentious executive order halting refugee resettlement and travelers from several Muslim-majority countries, protesters rallied at airports around the country. Last week, the "Day Without Immigrants" movement inspired rallies and shuttered businesses nationwide.
"Pretty much all of the people who volunteered to help us organize turned out to be women," Lexell told The Huffington Post in an email. "Women are really leading the charge with the anti-Trump resistance."
Former Illinois Gov. Pat Quinn (D) was in the crowd in Chicago, gathering signatures for a local ballot initiative. He said the uptick in protests since inauguration was necessary in the Trump era.
"Freedom of assembly, freedom to protest, freedom of the press — these are all freedoms under attack by Trump," Quinn said. "We're going to resist authoritarianism. That's what Trump is — an authoritarian."
Trump tweeted last month that Americans have the right to protest, but soon returned to criticizing the rallies.
Lexell said Monday's protests had mostly been organized through Facebook and word of mouth. She planned the LA event with Heather Mason, one of her friends.
"I don't think either of us had ever organized any kind of protest or rally of this size before, but it just felt like something we had to do to have our voices heard," Lexell said. "Lately I've been afraid because of the overwhelming anti-immigrant sentiment he's building; I'm an immigrant myself, so that's terrifying to me."
Mason, 28, said she thinks Californians have a responsibility to lead the resistance to the administration's efforts.
"After Trump was elected I cried and was physically ill honestly," Mason said. "I felt miserable and depressed for days. And then I joined the Action Group Network and began brainstorming with friends as to what we could do to feel less useless."
Lexell added that for her, the only upside to Trump's win was that she'd gotten more involved in politics, donating to progressive causes and organizing with groups like the Sister District Project.
"My entire 'recent calls' list on my cellphone is all members of Congress, which is definitely new for me," she said.
This article has been updated with more details from protests.
How will Trump's first 100 days impact you? Sign up for our weekly newsletter and get breaking updates on Trump's presidency by messaging us here.
Support HuffPost
The Stakes Have Never Been Higher
Before You Go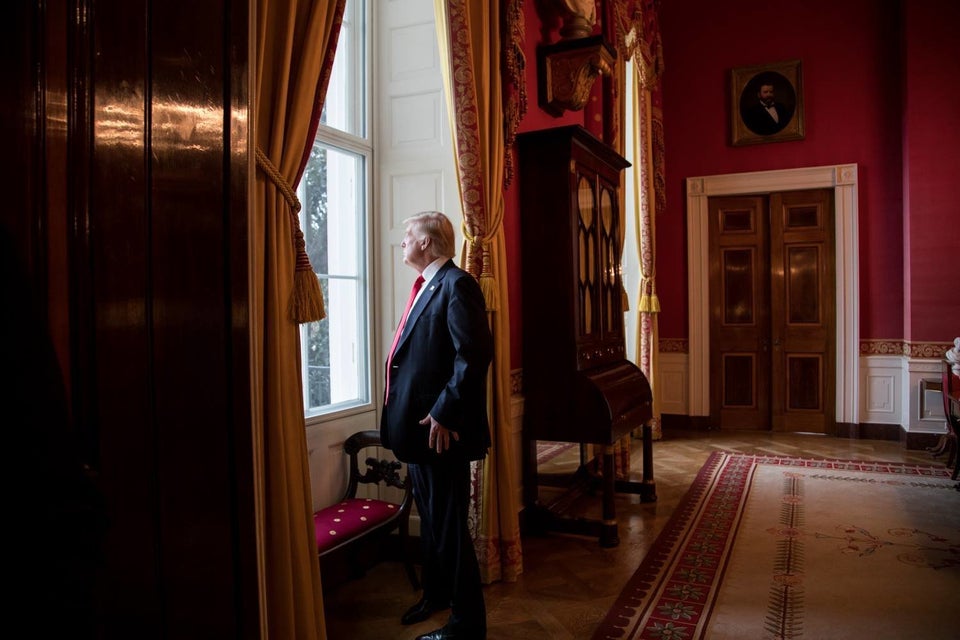 Trump's First 100 Days
Popular in the Community