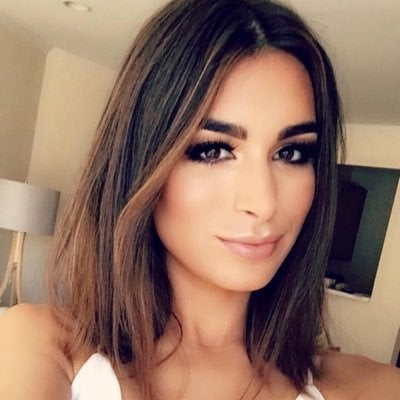 Do you gawk at the glam when you view Instagram? Do you admire lashes that seem lengthened for days, eyebrows darkened, near-shellacked, perfected and shaped? Do you note the contouring on everyone? ―and I do mean everyone. Even our POTUS contenders have been looking shade-y of late, while the Kardashians reign supreme as nouveau Stepford ladies leading the multi-tone charge on social media. Don't get me wrong - it's all sooo pretty, but not in the way we take for granted when we slab on gloss and pinch our cheeks for color. Today's makeup is about being ultra-polished, perfectly lined, plucked and brushed, from neck to forehead and back to T-zone. But the first step is being obsessive about the skin beneath the maquillage.
I decided to get as close to a Kardashian as is humanly possible from my NJ home (the last time being a short conversation with Kim's BFF Jonathan Cheban during a random run-in at The Shops at Riverside) and interview Ashley Iaconetti, 28, known to The Bachelor and Bachelor in Paradise (both of ABC) viewers as "Kardashly." More petite than the shapely Kim, Ashley has a face that would stop Kanye in his self-aggrandizing tracks. She could be mistaken for another sister of the clan, or for a first cousin, and she once did have the pleasure of meeting (and selfie-posing) with Mrs. West herself.
Known for being the most chaste on the sexually-thirsty franchise, Ashley (like many in their teens, including myself) has gone on birth control for the sole purpose of clearing & avoiding acne flare ups. She has been open about her past dermatological distress which is refreshing because all those other contestants seem so damned genetically blessed we want to smack them (well, I speak for some). I asked her if she would be willing to divulge her skin and makeup routine for readers.
I've written about Ashley before with regard to her emotional journey on The Bachelor franchise's shows (sleep deprivation + wine + producer manipulation = the most emotional women you've seen. Ashley has recently decided to capitalize on that by launching an Emotional Revolution campaign. Think Free to Be You and Me relaunched for Millennials). The thing is, it's been a bad week ―I have friends cheerleading Donald Trump and I needed to escape the maddening posts, detox and give my brain TLC by focusing on lighter topics (or heavier when I consider the term "pancake makeup" or that politics is entertainment in 2016). Whether you wish to pretend this is something you don't care about, there is still a large contingent who will admit to gobbling up the divine scoop on skincare and makeup. In fact, there are Facebook groups devoted to it and I'm in one. This is for you Beauty Alenes.
SW: So, what is your morning routine?
AI: I rinse my face with just water. Then I apply a quarter-sized amount of Clindamycin Phosphate lotion 1% SW: Can you give us 3 makeup tips, particularly what you do with your cheekbones, lashes & eye area. You don't seem to have bags or dark circles under the eyes but if you ever do, we would love a tip for that.
Latisse is a lash game changer. I've been using it for about 3 months now and I will never go back to lash extensions. My natural lashes look like extensions now. This is cheaper and far less time consuming than extensions. I apply Latisse to my lashes every third night. You can get it at your derm, med spas, etc. Recently I've been noticing dark circles. I recently discovered Benefit's Boiing concealer. I really like that. It doesn't look heavy and it's quite reflective. For cheekbones, I'm a huge fan of Becca highlighters and I use their highlight/lowlight pressed palette for my contour and highlight. I also just discovered Sigma's gel eyeliner with their special liner brush. I love using this for a winged looked, which is basically what I do every time I do my makeup.
SW: Any things you do in terms of your diet to help your skin?
AI: I drink a lot of water. Your goal should be about 5 bottles a day, but it depends on your weight. I get bloated and puffy early, so if I have something important coming up or will be on camera, I TRY to stay away from salty foods. This doesn't really work while we are filming Bachelor in Paradise when we eat Mexican food all day.
For more tips and the 411 on Ashley, check out her website which has its own Beauty section: https://byashleyi.com/