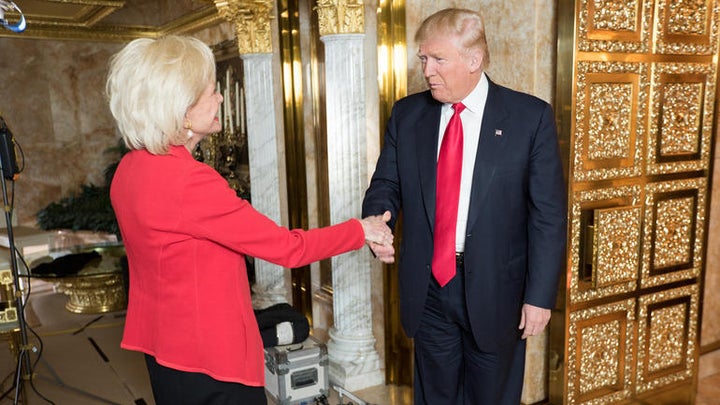 During his frightening "60 Minutes" interview Sunday night, November 13 — his first press interview since he became president-elect of the United States of America — Donald Trump:
Refused to rule out attempting to prosecute Hillary Clinton but said that he didn't want to "hurt" her or her husband.
Exhorted his supporters to stop attacking and harassing Latinos and Muslims.
Assured the American people that they have no reason to fear him and blamed "professional protestors" for the demonstrations against him in the street outside his Trump Tower apartment.
Promised he'd only deport 2 or 3 million "criminal" immigrants to start.
Said that women will always be able to get abortions by traveling to another state after Roe v. Wade is overturned.
Allowed that it would be OK if part of the wall he will build on the Mexican border is only a fence.
Noted that leaders the world over had acknowledged how powerful he is now by calling to congratulate him on winning the election.
Explained that he may—or may not—act presidentially, depending on the situation.
Said he will impose term limits on member of Congress, whose terms are set by the Constitution.
Complained that Washington lobbyists, despite his distaste for them, are the only people in DC available to advise him.
Revealed that he felt no awkwardness at all when he met with President Barack Obama, whom he has belittled, demeaned, and told lies about for years.
Confided that he really didn't like having to be the kind of person who berates, derides, and degrades his opponents but that he didn't regret his campaign behavior because it had been "necessary to win."
And CBS interviewer Lesley Stahl behaved as if these were the kind of statements and denials that any president-elect of the United States might make—or have to make—and seemed somehow reassured by them.
That is the normalization of dictatorship, fascism, and general thuggery by the press, and it seems to have already begun. 
REAL LIFE. REAL NEWS. REAL VOICES.
Help us tell more of the stories that matter from voices that too often remain unheard.