The best part of any sports movie is the inspirational speech right before The Big Game. Whether it's the Super Bowl or Little League, there's nothing a good, old-fashioned motivational speech can't fix! If watching the classic pep talks from these famous football films still isn't enough to pump you up, then maybe checking out some of the locations where they shot the movies will do the trick instead.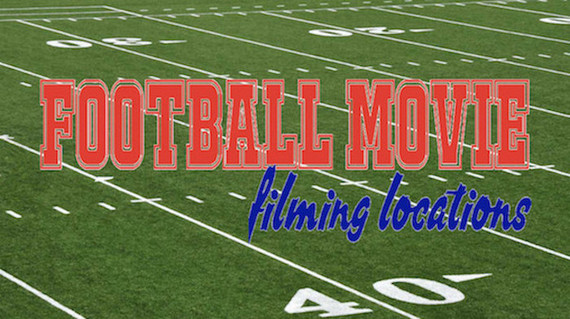 In the movie, which is (loosely) based on a true story, Coach Herman Boone takes his team, newly integrated and struggling to bond, on a run and then proceeds to give what is easily one of the top three inspirational sports pump-up speeches at Gettysburg National Military Park -- although reportedly, shots were filmed at Chickamauga & Chattanooga National Military Park, which makes sense because a lot of the movie was shot in Georgia.
You could visit Ohio Stadium, since Keanu Reeves' character, Shane Falco, was a former Ohio State QB who choked in his final game and was never able to go pro, or you could visit the Baltimore Ravens' home M&T Bank Stadium, also known as "Nextel Stadium" home of the "Washington Sentinals". Just don't expect any strippers-turned-cheerleaders.
If the NFL doesn't have enough drama for you, then inserting yourself into the semi-alternate universe of Any Given Sunday, where the AFFA league rules and you can see the fictional California Crusaders play at, ironically, Florida's Sun Life Stadium. The Orange Bowl and Texas Stadium, where the fictional Miami Sharks and Dallas Knights played, respectively, have been demolished. It's like they don't even care about the fake history behind the fields!
First, swing by Dorothy's House, and then after your agent shows you the money you can go treat yourself and your date to a nice meal at Paco's Tacos Cantina -- and be sure to sit by the fish tank like Jerry and Dorothy if you can swing it.
Attempt to recreate the experience of being a super popular Varsity football star by visiting some of the Austin filming locations for the high school classic. The Landing Strip Gentleman's Club is a great place to blow off steam when your controlling coach is being too tough, or if you're not into the strip club scene (but do keep in mind, these are high school boys we're talking about) you can always grab a burger at Top Notch Hamburgers. Whipped cream bikini and terrible fake accents not included.
If you're a fan of Adam Sandler movies (and don't think that he is, in fact, the devil) you can visit the real-life stadium that served as the home field for the South Central Lousiana State Mud Dogs: Spec Martin Stadium in DeLand, Florida. Or, if your husband leaves you for a voodoo priestess he met in New Orleans, you can always get advice on the best way to exact revenge at Marie Laveau's House of Voodoo.
Clear eyes, full heart, can't lose. Okay, that wasn't always the case for the Dillon Panthers, but you can pay tribute to the TV show by visiting the Panther's Field (Friday Night Lights TV Show) where some of the games were shot (in the early season when it was actually about football, at least). In fact, the reason the Dillon Panthers were even called the Panthers in the first place is because that was the mascot of the high school where they were filming.
Friday Night Lights (Movie)
The movie version portrays Odessa as a tiny little one-horse town, but that's not exactly the case: even back when the movie takes place, there were more than 250,000 people in the greater Odessa area. That adorable little downtown street from the first scene of the trailer is actually Manhattan, Kansas.
Of course, there's nowhere to better experience this iconic football movie than at Notre Dame Stadium (seriously, duh.) You can cheer on the underdog or just dream of hearing the crowd chanting your name as your beloved teammates carry you off the field (is that so much to ask?), but even spending even a few hours on Notre Dame's campus will give you an idea of just how much these fans love football. And make sure to say hi to Touchdown Jesus!
While this high school football movie takes place in Memphis, it was mostly filmed in Georgia, including (oddly enough) at Agnes Scott College, Decatur's women's college. But, (spoiler alert, but not really since this is based on a true story and we all know how it ends) the happy ending sees Michael Oher playing for Ole Miss at Vaught-Hemingway Stadium.
We can't be sure what the inmates at Georgia State Prison are up to at any given moment, but I guess there's a chance that Burt Reynolds is leading a ragtag team of prisoners in a high-stakes football exhibition game against the guards (we're pretending that the 2005 Adam Sandler remake didn't happen. Plus, two Adam Sandler movies in one list is a bit much).
Contemplate one of the saddest made-for-TV movies ever (seriously, think about how it was based on a true story and try to not cry) made with a thoughtful walk (we won't tell anyone if you shed a tear or two) along Lakeshore Drive near the John G. Shedd Aquarium.
Fumblerooski, fumblerooski! If you forgot just how dramatic pee-wee football can be, relive Little Giants at the field at John Burroughs High School in Burbank. Now, if only all pee-wee coaches could be more like Rick Moranis...
Popular in the Community