Lady Justice may traditionally wear a blindfold, but she certainly doesn't want it to look as if she were wearing one while getting dressed in the morning.
Assuming that Judge Sonia Sotomayor is confirmed to the Supreme Court, she will face many important decisions - including what to wear to work. And as is the case for another unexpected fashion icon recently relocated to the nation's capital, America will be watching.
Of course, U.S. Supreme Court justices have it a bit easier than First Ladies when it comes to their sartorial selections. Although the first chief justice, John Jay, wore imposing red and black robes - a nod to early colonial and English judges, but minus the heavy wig - the Court's color palate faded to black by at least 1800. Since then, all-black robes have been de rigueur, and few justices have varied more than the pattern of their neckties peeking out at the top.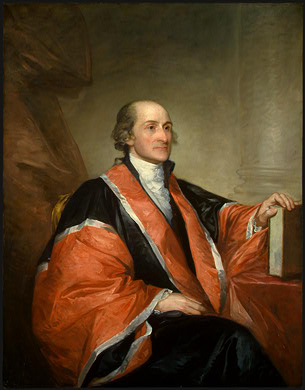 John Jay
One notable exception to the Justices' uniform dress code was former Chief Justice William H. Rehnquist. While attending a performance of Gilbert and Sullivan's Iolanthe, he so admired one character's costume that he returned to chambers and had four gold stripes added to each sleeve of his own robe. Nor was this an isolated instance of the Chief playing dress-up; he also kept an elaborate Native American feather headdress, a gift from his clerks, in his office. The current Chief Justice, John Roberts, has engaged in no such dramatic displays.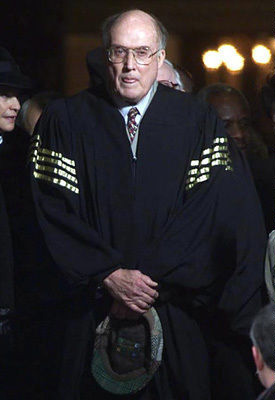 William H. Rehnquist
The first woman appointed to the Court, Justice Sandra Day O'Connor, experienced a somewhat different challenge from her judicial brethren. Black robes are simple unisex garments, but what about that little exposed triangle at the base of the neck? The gentlemen justices all wear standard shirts and ties, but women's choices are far more varied when it comes to professional attire. Justice O'Connor could have redesigned the neckline of her robes, elected to wear a scarf or necklace, or even added one of those sad floppy bows so ubiquitous around the time of her appointment in the early 1980s. Instead, she and Justice Ruth Bader Ginsburg ultimately chose ruffled white lace jabots, reminiscent of those still worn by many male and female judges in England and France. Elegant, yes, but surely there are more modern choices than an accessory our more fashionable Founding Fathers would have worn.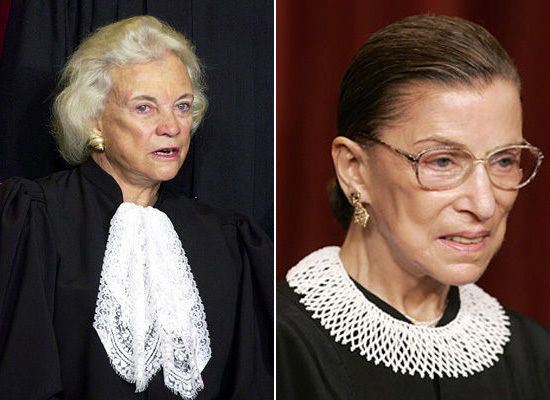 Sandra Day O'Connor and Ruth Bader Ginsberg
While federal law leaves the justices free to design their own robes, Judge Sotomayor will almost certainly follow tradition and pack her current collection of black robes for the trip to Washington - and not whip up, say, a hot pink version for the occasion. A certain soberness and uniformity in judicial dress underscores the message that judges and justices do not speak for themselves as individuals; they represent the rule of law and speak for the court. As our newest Supreme Court nominee has noted, however, the presence of a "wise Latina woman" on the bench puts a different face on the law.
In her new role, soon-to-be Justice Sotomayor will have thus the opportunity to craft a sartorial style that conveys not only gravitas but independence. Black may be her go-to color choice as both a judge and a lifelong New Yorker, but she also has a penchant for adding a flash of bright red, deep purple, or even acid green, as well as a fondness for bold earrings. Here's hoping that she has a moment to celebrate her historic professional achievement with a trip to her favorite jeweler - and not just to buy a pair of bipartisan pearl studs.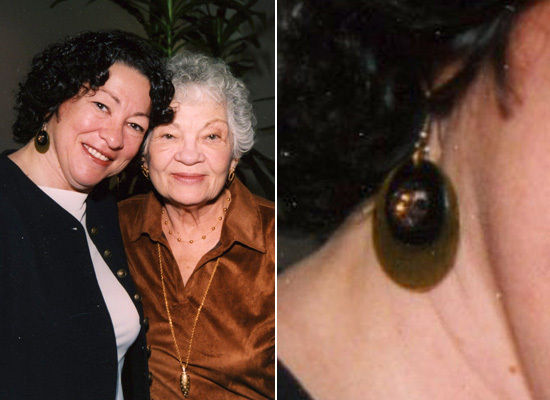 One of Sonia Sotomayor's pairs of earrings