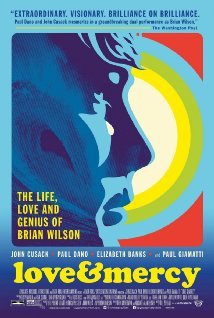 Do you need to have been a Beach Boys fan to go on the ride this film offers? It helps, but it's not at all necessary. Hardly anyone will not be familiar with the melody or lyrics of some of the Beach Boys' -- and their lead composer and arranger Brian Wilson's -- greatest hits: The "surfin" tunes (Surfin Safari, 1962; Surfin USA, 1963), California Girls (1965), Help Me, Rhonda (1965), Wouldn't It Be Nice (1966), Good Vibrations (1966), and many more. Dwarfed by the giants of the '60s (including The Beatles, The Rolling Stones, Bob Dylan, The Grateful Dead, Peter, Paul and Mary, and others) Brian Wilson's musical accomplishments, especially arrangements, are not well known outside the industry -- an historical omission this film aims to correct.
We witness creativity in motion as Brian Wilson, his brothers and cousin (Mike Love) struggle to get past the simplicity of their early work ("sunshine pop") to the more complex musical compositions and unique blend of sounds that Wilson labored, successfully, to produce. But we see a lot more, and that is what's unique and gripping in this movie, even though it is formulaic in its narrative of torment and triumph.
Wilson was not formally trained but was a relentless musical innovator. He was driven by his abusive father, Murray Wilson (played despicably by Bill Camp, chewing on his pipe and spewing narcissistic venom), as well as by his own intense competitiveness. But it was Brian's personal ambition to not settle for the pop sounds that made the group rich and famous, despite the resistance of his father, whom he fired as their manager, and the fellow Beach Boys.
But early on he started to develop a set of mental symptoms (we see depicted his obsessiveness, hallucinations, and paranoia) but cannot be clear whether these were drug-induced, or from a psychotic illness like schizophrenia or from severe trauma, or all of the above. Young Brian is played by Paul Dano, singing his own vocals and rendering the youthful artist's downward and inward spiral with extraordinary deft. But it is older Brain played by John Cusack who steals the film and our hearts. Rivaling Brian's father for the most hate-able person in the film was the deeply unethical and totalitarian psychologist, Eugene Landy, who ran Brian's life for years, played with gusto by Paul Giamatti. Rounding out the cast, and easy on the eyes, is Elizabeth Banks who rescues Brian from the controlling and exploitative hell that Landy fashioned in the name of treatment for his patient.
The director and producer is no minor character himself. Bill Pohlad gave us 12 Years a Slave, Into the Wild, and Brokeback Mountain. Incidentally, he also casts his son as Brian Wilson the young boy in the film.
At 121 minutes, the film could have used a bit more editing to compress it to perhaps 90 minutes, with less time spent in pools and recording studios. But all the time needed to deliver us music, madness and recovery is wonderfully spent. The chemistry between Cusack and Banks jumps from the screen; the story of how love saved Brian Wilson may be Hollywood but I was moved by it. You can see it coming but who cares as long as the bad guys are defeated, recovery from the torment of mental illness (and oppression) is realized, and love prevails.
Brian Wilson suffered a whole lot of not so good vibrations in his lifetime. But at the end of the film we get an actual glimpse of him, today, crooning "Love and Mercy," and we see how these sweet words make for very good vibrations.
The opinions expressed herein are solely my own as a psychiatrist and public health advocate. I receive no support from any pharmaceutical or device company.
Dr. Sederer's book for families who have a member with a mental illness is The Family Guide to Mental Health Care (Foreword by Glenn Close) -- is now available in paperback.
Calling all HuffPost superfans!
Sign up for membership to become a founding member and help shape HuffPost's next chapter