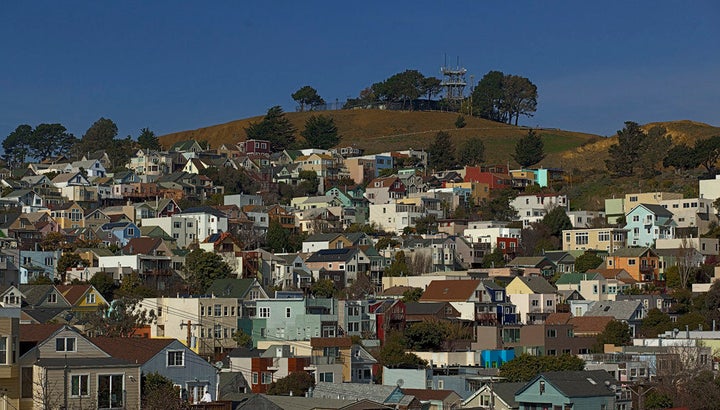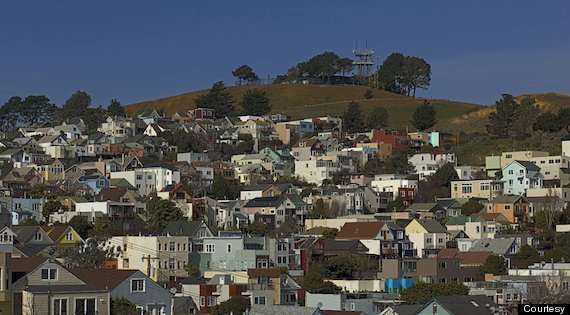 Bernal Heights is a unique San Francisco neighborhood, known for its progressive sensibility and the bald park on the top of its hill.
"When are we going to 'occupy' Bernal? " locals joked as the occupy movement spread to sites across the nation in the second half of 2011. So it was really no surprise when Occupy Bernal was born, the first neighborhood in San Francisco to form its own Occupy group.
Despite the park with the great view, however, they pitched no tents.
The organizers of the group came together to save long-time neighbor Thomas German, a 72 year old veteran of the U.S. Navy, from foreclosure action by Wells Fargo bank. Now, that spark has spread to a grassfire of foreclosure resistance that involves dozens of threatened homes on Bernal Heights alone. The movement is pressuring banks, especially Wells Fargo, which is headquartered in San Francisco, to declare a moratorium on home evictions and auctions and to instead come up with a fair deal for financially stressed homeowners.
Occupy Bernal, an autonomous neighborhood group that defines its own activities, considers itself an ally of Occupy San Francisco and the broader movement. It stands in solidarity with communities across the United States that are resisting the tide of foreclosures set in motion by the Great Recession.
The call for an Occupy Bernal meeting at the Bernal Heights Neighborhood Center (BHNC) struck a chord with Bernal residents and about 60 people showed up at the first General Assembly (GA) on December 21, 2011.
Among them was the famous San Francisco performance artist and sex educator Annie Sprinkle, who, with her wife, the artist Beth Stephens, are German's next-door neighbors. From all walks of life they came to contribute their ideas and passion to the goal of keeping their neighbors in the neighborhood. Everyone who attended agreed to confront any banks that had written predatory loans and contributed to the economic crash. They agreed to collectively take on those responsible for the foreclosures and evictions of their neighbors. Using near-consensus process, the GA formed work groups to focus on housing and foreclosure, protest actions, communications, coordination, outreach and education.
An affinity group of "Wild Old Women" (WOW) from nearby senior housing project, Coleridge Park Homes, had already started a nonviolent picket of the Bank of America branch at 3250 Mission Street, near 29th Street, to demand a moratorium on evictions and foreclosures, fair treatment of seniors on fixed incomes, and that the bank pay its share of taxes.
The WOWs quickly became the core of the Occupy Bernal action work group and stepped up their protests, staging a weekly picket of Bank of America at noon on Thursdays. The Bank of America branch regularly locked their doors in response to the seniors approaching with their walkers, canes and protest signs.
The Housing and Foreclosure work group of Occupy Bernal formed a Fair Deal subgroup to iron out the group's demands to the banks, and a Home Defenders group to canvas the neighborhood and meet the residents of the estimated 84 threatened homes on the hill, where more were appearing on the list every day.
"We visited 13 Wells properties," said Buck Bagot, a longtime community activist who went from door to door with this writer to speak with occupants facing bank action. "We are actively working with seven households. Six of them are now active in Occupy Bernal. Two had worked out refis with Wells, and two households didn't feel the need to work with us. We have one other foreclosee who is with Chase," said Bagot. "We're going out to knock on more doors this weekend."
Alberto DelRio is one resident who already received that knock on the door.
"The day before, I was thinking, is there anyone out there who really cares?" DelRio said at a recent meeting.

"I had been talking with loan counselors, lawyers. It all felt like more of an interrogation than help. Before I met my neighbors from Occupy Bernal, I was ashamed. I felt like I'd let my mother and my family down. Now I realize that although I made a mistake, Wells Fargo took advantage of me. Like they did so many other people."
For Del Rio and those of his neighbors facing foreclosure and eviction, the help couldn't come too soon.
Thomas German, born in Mobile, Alabama, in1940, had found employment as a die setter at the San Francisco Mint after serving in the U.S. Navy and rented a home in Bernal in 1967. In 1974, after living in the neighborhood for some years, he decided to purchase the home on Andover Street for $21,000. But although German obtained and held insurance for his home, the insurance didn't cover bringing the place up to code when a fire gutted the place in 2008. He also invested in a family business that later failed and Thomas never recovered those funds.
With the encouragement of loan personnel at Wachovia Bank, German borrowed on the equity he was told was in the value of the home at that time. Like millions of others, he signed a predatory loan agreement for an adjustable rate mortgage (ARM), because he thought he could surely repay the loan or refinance at a lower rate. His only income is a federal pension, limiting his Social Security benefits. Soon, German could no longer afford to make loan payments on his income. By 2008, his federal tax return noted home mortgage interest of $25,959 against taxable pension income of $31,3883; just paying the mortgage interest alone represented 81% of his taxable income.
Meanwhile, the very same day that Congress passed the bailout plan that would award Wells Fargo a $25 billion dollar bailout from the taxpayers of the U.S. - the largest amount awarded in a single bailout payment - Wells Fargo announced it would reverse its prior decision and buy out Wachovia for $12.7 billion by the end of 2008, forming the nation's second largest bank in terms of deposits. That same week, U.S. Treasury Secretary Henry Paulson issued a document revising the tax code to benefit some banks that buy other banks: a tax break worth up to $25 billion for Wells Fargo.
In contrast to Wells Fargo's bailout success, German applied twice for a loan modification under the Home Affordable Mortgage Program (HAMP) mandated by the U.S. Treasury as a response to the home mortgage loan crisis. Wachovia/Wells Fargo denied the loan modifications twice, once in June 2010 and again in November 2011.
Bagot contacted San Francisco Supervisor David Campos to arrange a meeting with Wells Fargo executives on January 11, 2012. At the meeting, Occupy Bernal demanded that Wells Fargo declare a moratorium on all evictions and foreclosures from predatory or for-profit Wells Fargo mortgage loans and negotiate a fair deal for every stressed home owner and renter in San Francisco. Wells Fargo representatives agreed to expedite cases of specific Bernal Heights residents mentioned during the meeting, but did not respond to the demand for the moratorium.
Washington and Maria Davila have been renting a home, whose owner lives in Las Vegas and is ill with cancer, that Wells Fargo scheduled for a foreclosure auction. In response, Occupy Bernal called for a protest at San Francisco City Hall as part of the Occupy Wall Street West nonviolent actions on January 20, 2012.
Before the protest could take place, however, Wells Fargo contacted Occupy Bernal to let the group know that they had postponed the auction. More than a hundred Occupy Bernal protestors and supporters headed downtown that day to celebrate the postponement of the auction. Maria Davila and other Bernal neighbors facing eviction spoke to the crowd.
"My foreclosure auction for today was postponed for two months, but this isn't enough, " said Davila on the steps of City Hall. " We must stop the foreclosures, for me, for my family, and for all of us in Bernal Heights."
During the celebration, however, the foreclosure auctioneer prepared to auction off other properties, which caused some confusion. A group of the protestors disrupted the event, which resulted in all scheduled auctions being postponed that day.
Since then, Wells Fargo has agreed to postpone only two foreclosure auctions for Bernal neighbors and has not yet agreed to a fair deal loan modification for any of the home owners or renters facing eviction or foreclosure.
The Foreclosure Radar database shows 24 area properties scheduled for auctions plus 28 more in preforeclosure as of February 1, 2012.
One well known San Franciscan who has sought the solidarity-power of Occupy Bernal is 'Archbishop' Franzo King, co-founder of the St. John Coltrane African Orthodox Church, a religious and cultural institution in the Western Addition community of the city.
King, who lives in the Bayview-Hunter's Point neighborhood next door to Bernal Heights, had asked for a loan modification which Wells Fargo denied. To obtain the loan modification, Wells would have to either forgive or defer some of the loan principal in order for a loan to work at 2% interest over a 40-year term and not have the monthly payments, including insurance and property taxes, rise above 31% of the Archbishop's gross income.
"The archbishop has the same problem faced by every Wells Fargo foreclosee with whom we work," explained Bagot.
"In a fair and affordable refinance -- paying what he can afford per month based on his income -- he still can't pay off his whole principal. And Wells will neither forgive nor forbear the amount of the principal that he cannot pay off."

While such a proposal to a lending institution may seem revolutionary or unthinkable, Occupy Bernal members believe that that if they stand with their neighbors and fight collectively, they may well be able to exert enough pressure on the banks that they will relent.
"In our meeting with them, Wells representatives said that they had forgiven $4 billion in loans nationally. Then why not for the people with whom we are working right here?" asks Bagot.
Despite billions in bailouts to banks, the United States government admits it has failed to protect home owners, as only one million home owners, rather than the four to five million anticipated, have been able to benefit from federal loan modification programs such as HAMP. In his recent State of the Union address, President Obama admitted, "I'll be honest, the programs we've put forward didn't work at the scale we'd hoped," and announced plans to extend HAMP - although only to those mortgage holders who have kept current on payments - as well as the formation of a financial crimes unit to expand investigations into the "abusive lending and packaging of risky mortgages that led to the housing crisis."
Big banks are seeking a $25 billion deal to limit their fallout from the crisis. California Attorney General Kamala Harris of California has gone on record opposing the deal because it doesn't help home owners most in need.
Meanwhile, the people who are the actual faces of this crisis sweat it out, day by insecure day.
German is still struggling to find a way to stay in his home. He filed bankruptcy to try to prevent foreclosure and eviction, which resulted this week in the stay being removed; he now faces a foreclosure sale probably within 30-40 days. He is elderly and walks with a cane.
Occupy Bernal has formed a support group to help him stay in the neighborhood, and set him up with Ed Donaldson, a counselor with the San Francisco Housing Development Corporation.
At an early Occupy Bernal meeting, Alberto Del Rio uttered the dawning realization: "They [Wells Fargo] promised us the moon."
Less than a month later, on the steps of San Francisco's City Hall, he was saying, "United as people together, we can show them that we're in control. They only think they're in control."
Take a look at the whole speech below:
Stardust, a.k.a. Will Doherty, is a San Francisco musician and activist and a founding organizer of Occupy Bernal. If you woud like to contribute as a citizen journalist to the coverage of political activities in your area, please sign up at www.Offthebus.org.
Popular in the Community