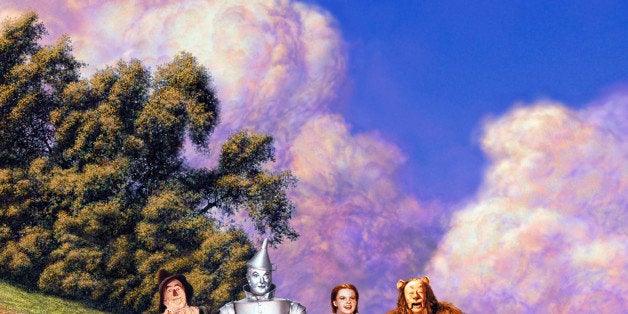 "From now on you'll be history!"
So says the Munchkin Mayor to Judy Garland's Dorothy. Foreshadowing? In my opinion that would be an understatement!
"Someplace where there isn't any trouble? Do you suppose there is such a place, Toto? There must be. It's not a place you can get to by a boat or a train; it's far, far away, behind the moon, beyond the rain...."
Those are the lines that lead into the song that has become synonymous with the then-16-year-old Judy Garland. They are the very words that helped catapult her into a life and career that surpassed mere celebrity into that rare (and nonexistent these days) realm of "legend."
When I was a young gay boy (in the making), The Wizard of Oz was my introduction to La Garland. That special night somewhere around Easter time (and, coincidentally, my fifth birthday), when my godmother sat me down in front of the TV set, was one of those rare and wonderful childhood moments that never leave you. Many people have similar stories. It is perhaps why I have always been opposed to the marathon showings of the film that have become a normal part of TV programming in the last 10 years. When I was growing up in the '80s and '90s, The Wizard of Oz was always an event -- and now, at 75, it still is!
For most films, hitting a 50th or 60th anniversary would receive little to no hoopla. However, where The Wizard of Oz is concerned, well, as the Wicked Witch of the West says with devilish glee, "Why, my little party's just beginning!" Seventy-five years after its initial release, MGM's 1939 film has been given another makeover, another re-release: For just one week audiences have been able to experience the marvelous land of Oz in 3D! (Actually, the re-release has been extended for several weeks in a few markets across the United States, albeit not in 3D.) Yes, the men and women at Oz's Wash & Brush Up Co. have been working twice as hard to polish up what is in all probability the most beloved and most watched film ever made. Warner Bros. crafted all of this in time for the Blu-ray release on Oct. 1, 2013, a limited edition of 220,000 boxed sets.
It would seem that Oz fans are split down the middle when it comes to a 3D rendition of the beloved film. Most cling strongly to the old adage, "If it ain't broke, don't fix it!" It raises the question: Does The Wizard of Oz, a film that has been captivating moviegoers for 75 years, really need a 3D makeover? Many believe that the restoration was just a gimmick to milk more money out of the film's loyal fans and audiences, and sure enough, they have spent hundreds of dollars over the years on various VHS and DVD box sets, all boasting a new and improved land of Oz for your viewing pleasure.
Well, here's my personal experience. My husband and I attended a 3D screening of the film a short time ago, and as always, it did not disappoint. It was admittedly sparsely attended for a 9:30 p.m. showing; notably, not as many families were present as I had expected. There were several teenagers, but the majority of the audience consisted of gay and straight couples ranging in age from their 20s to their 50s. My one fear was that this 3D makeover would somehow undermine that innocence of a Hollywood gone by, but that was not our experience. The 3D effects work very well, especially in the high-action moments. The tornado that picks up Dorothy's Kansas farmhouse seems to spin out of the screen! The deadly poppy field almost blossoms before your eyes. Those winged monkeys swooping through the haunted forest do feel as though they are about to enter the theater. Margaret Hamilton's terrifying Wicked Witch of the West is even wickeder. The standout benefit of the 3D version, for me, was that it made me appreciate even more the lovable comic performance of Bert Lahr, though another favorite moment (I have several) is when Dorothy walks toward the camera before her big song; it seems as though you could reach out and touch her, but of course, this was the case before the 3D effects were added.
For the record, there was never anything one-dimensional about Judy Garland or her performance as Dorothy Gale, nor about any of her performances in her film career, for that matter. Those who saw her in concert and live on stage always maintained that the star had the incredible ability to make each person in a room full of thousands of people believe that she was delivering her performance to him and him alone. She always gave you the sense that you could reach out and touch her. She would chat with audiences from the stage as if they were old friends or dear family members. They would shout out song titles from her repertoire for her to croon or belt. She once said, "Well, we've got 'Over the Rainbow,' but that's the end of the act!" But in 1939 that song was just the beginning for Judy Garland.
Miss Garland and The Wizard of Oz have very much been in the public consciousness over the last year and half thanks to several Oz-related works and projects. Disney's Oz the Great and Powerful offered what I consider a highly imaginative and very entertaining prequel to the classic 1939 film. Director Sam Raimi, and especially the artistic department, tried very hard to recapture that "land that we heard of once in a lullaby." On the other side of the spectrum, there's the tabloidy and insidiously fictionalized, half-dimensional musical play End of the Rainbow, which played in New York and Los Angeles. Its portrayal of Judy Garland could best be summed up by the Tin Woodman of Oz: "No heart! All hollow!" Perhaps Warner Bros. could drive away that miasma of a show by continuing to run The Wizard of Oz in movie theaters. If for no other reason than that, this re-release of The Wizard of Oz is crucial to the preservation of Garland's legacy -- "Ah, that's what she was really about."
We all know the urban myth about Judy nearly losing her signature role of Dorothy to child star Shirley Temple. In all honesty, this is something that has been blown out of proportion over the last several decades. But it does make for good copy and good drama and adds to Hollywood mythology and showbiz lore -- something that Garland herself would become all too aware of in her lifetime.
It is not urban legend that the Arlen/Harburg tune "Over the Rainbow," Garland's signature song, was in fact cut from the film early in previews, after much protest from MGM executives. "They said it took up too much time with this fat little girl singing it," Garland would quip to Oz co-star Ray Bolger on her 1963-64 CBS series. The star held the song in great regard and gave the CBS TV executives a good "what for?!" when they suggested that she parody it on her TV series. Let us keep in mind that these were the same men who forbade her to sing "Battle Hymn of the Republic" following the assassination of JFK because, they explained to Garland, "in two weeks no one would even remember who John F. Kennedy was!" Uh, yeah, right! A few shows later comedian Carl Reiner would inform the 4'11" powerhouse, "Lady, you'll live to be 80, and they'll still say" -- pinching her cheeks -- "'Dorothy! Oh, Bubala!'"
So what is the everlasting appeal of The Wizard of Oz? The answers are probably as long and as endless as the yellow brick road itself. It starts with the often-forgotten and unsung hero L. Frank Baum. Without Mr. Baum's classic American fairy tale, there would be no MGM film, and that's just the simple truth of it. He wrote to please his children and wound up touching the child in all of us. Mr. Baum was the J. K. Rowling of his day, firing up the imaginations of children worldwide, who sent the scribe imploring letters begging him for more stories about Dorothy Gale and Oz. Mr. Baum is finally getting his due with a comic rendering of his life via Bluewater Comics. But without question, Garland's performance takes a lot of the credit. Crucial to that performance was the direction that the young actress received from one of the films directors (there were four), George Cukor, who told her to remember that she was just a little girl from Kansas. That being said, the film is an ensemble piece, and everyone involved worked tirelessly and from the heart.
Of course, part of the answer lies in the film's old cliché: "There's no place like home." However, for so many displaced LGBT people who don't fit the mold and/or are not understood by their families, it is perhaps more about the family that Dorothy finds in Oz, those individuals whom she meets and befriends during her journey through Oz to the Emerald City. Her companions are different, unusual and unique, and yet she loves and protects them just the same, no matter how many fireballs she has to dodge or how many winged monkeys are ready to fly in and carry her off, and they return that love in full measure. Still, in the end, she wants to go home and is forced to choose between the two. In Baum's book Dorothy gets to have it both ways, as she returns to the land of Oz (which is not just a figment of her imagination as it is in the film) on several occasions and eventually lives there with her Aunt Em and Uncle Henry, "over the rainbow."
As a Judy Garland tribute artist, I can tell you that no matter what else I do my act, "Judy Garland Live in Concert," nothing ever really tops the section of the program when "Judy" talks about Oz. With some prompting from my stage manager, "Judy" hesitatingly inquires, "Do you really want me to talk about Wizard of Oz?" The question always inspires a hearty, resounding "yes!" Most audiences know the stories about the randy and rowdy munchkins who tugged at Judy's skirt, and some know that Judy's three companions nudged her out of the group and into the background as they danced down the yellow brick road. Still, the tales always get a laugh. Audiences love to join in on a singalong rendition of "We're Off to See the Wizard." Everyone always seems to be waiting for that moment when "Judy" sits down to sing "the song." It's a very gratifying and rewarding moment, and it has little to do with me: It's all about their love for Judy. That one song takes them back to that moment when they first saw the film. Like its star, The Wizard of Oz is timeless.
Earlier this month two new books and a graphic novel about the film hit the stands. Bluewater Comics released L. Frank Baum: The Creator of The Wizard of Oz. Also released was The Wizard of Oz: The Official 75th Anniversary Companion by William Stillman and Jay Scarfone. This tome is an update of their previous pass with John Fricke for the film's 50th anniversary. Not to be left out, Mr. Fricke himself wrote a new book, The Wonderful World of Oz: An Illustrated Guide to the American Classic. Mr. Fricke once related to me that at a Judy Garland concert sometime in the late '60s, Judy asked her audience, "What else would you like to hear?" A small voice muttered something from the audience, but Garland could not hear, so she asked, "What song did you want to hear, darling?" The voice of a young child, now more audible, said simply, "Yellow Brick Road." Ever obliging, Judy replied thoughtfully, "Oh!" And with no orchestration to back her up, she began to sing, a cappella, "Follow the yellow brick road! Follow the brick road! Follow, follow, follow, follow, follow the yellow brick road!" After a short pause, she exclaimed, "Yes, I was Dorothy!" eliciting an "oooh!" and "aaah!" of delight from the crowd.
Of course, there's nothing past-tense about it. Judy Garland was, is and always will be that Dorothy. I truly believe that that is part of the lasting appeal of the film. There will always be a little bit of Dorothy in all of us, longing for adventure, eager to escape the sepia Kansas of our everyday lives, but in the end always wanting to go home, whether we are gay or straight. And whether it's the family we were born into or our chosen family, the ones who love us, who impart their wisdom and give us courage, are our home. And whether you're gay or straight, there is no place like home.
Calling all HuffPost superfans!
Sign up for membership to become a founding member and help shape HuffPost's next chapter