As one wades through the literature of theatre, it's easy to get used to characters who could be deemed "the usual suspects." Beginning in the 16th century, the commedia dell'arte created a group of stock characters that could be found in most of their comedies.
The servants and clowns include such characters as Arlecchino, Brighella and Pedrolino.
The masters (or elders) are almost always old men whose vanity and stubbornness has gotten the best of them.
The lovers are often children of a male character in the masters group.
Tragedies usually feature a villain and some combination of physical harm, mental stress and great loss for one or more victims. Sometimes (especially in opera), there is a female virgin with a predilection for madness.
No matter how many permutations of these types one experiences, it's always refreshing to encounter a play in which the protagonists are not the stock characters found throughout literature. Whether they are the storytellers or the reason for the story, their presence is surprisingly welcome.
As part of a rolling world premiere that includes productions at the Actors Theatre of Louisville's 2011 Humana Festival of New American Plays, the New Theater in Coral Gables, Florida; B Street Theatre in Sacramento; Actor's Express Theatre in Atlanta; Mu Performing Arts of Minneapolis; Manbites Dog Theater in Durham, North Carolina; Theatre Confetti in Philadelphia; First Floor Theater in Chicago and Artists at Play in Los Angeles, San Francisco's Crowded Fire Theater recently presented the Bay Area premiere of Edith Can Shoot Things and Hit Them at Thick House. As part of the National New Play Network's invaluable Continued Life Program, CFT's production of A. Rey Pamatmat's dramedy has been directed with exceptional sensitivity by Desdemona Chiang.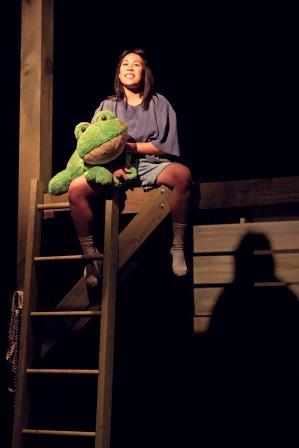 Edith (Nicole Javier) and her stuffed frog in a scene from
Edith Can Shoot Things and Hit Them (Photo by: Pak Han)
This is the story of three lonely and confused teenagers coming of age in rural Middle America in the pre-Internet early 1990s. Edith (Nicole Javier) is a precocious 12-year-old Filipino-American girl whose huge stuffed frog (Fergie) serves as her confidant and constant companion. An exceptional student, she has been preparing an excerpt from Engelbert Humperdinck's 1893 opera, Hansel and Gretel, for an upcoming recital. A bit of a tomboy who is fairly adept with a bow and arrow, Edith likes to climb up to the rafters in the family's barn and has become quite proficient with her BB gun.
Edith lives with her 16-year-old brother, Kenny (Wes Gabrillo), in a farmhouse with no adult supervision. Since their mother died, the children's father has been absent (supposedly for professional reasons), but supports his offspring by transferring funds into an account that Kenny can access through an ATM.
As bravely as Kenny tries to cope with being the man of the house, he's still a teenager in desperate need of a parent to lean on. A budding mathematician with strong skills at solving Rubik's cube puzzles, he's become quite inventive at stretching every nickel as far as he can. Some expenses, however, are more troublesome than others, especially when his father is late transferring funds. Gas for the car in which Kenny drives Edith to and from school must be paid for up front (along with groceries and other household needs).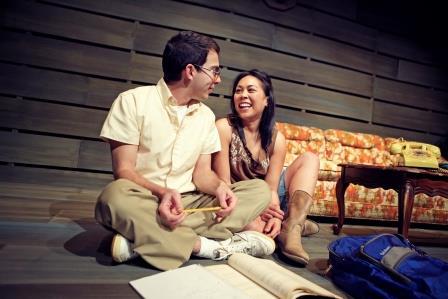 Edith (Nicole Javier) takes a liking to her brother's boyfriend,
Benji (Maro Guevara), in Edith Can Shoot Things and Hit Them
(Photo by: Pak Han)
Kenny's best friend from school is Benji (Maro Guevara), a pampered teen who barely knows how to boil water. The two boys are interested in a lot more than just studying together. In fact, Benji has taken to looking up terms to describe some of their extracurricular activities (blow jobs). Unfortunately, when Benji's tightly-wound mother finds a love letter her son has written to Kenny, the shit hits the fan. When she kicks Benji out of their house, he happily moves in with Edith and Kenny.
Meanwhile, as Edith insists on protecting the two boys by standing watch with her BB gun, things go horribly wrong when an unidentified car enters the driveway. After the terrified Edith shoots its driver (her father's current girlfriend who was close to becoming Edith and Kenny's new stepmother), the sharpshooter gets sent to a private girls' school by her guilt-ridden father.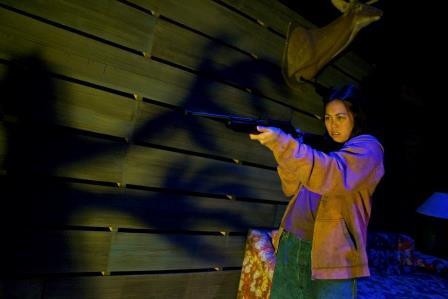 Edith (Nicole Javier) takes aim at a fearsome intruder in
Edith Can Shoot Things and Hit Them (Photo by: Pak Han)
Using a handsome unit set designed by Deanna L. Zibello (and built by the Bay Area Children's Theatre), Crowded Fire has done a beautiful job of staging Edith Can Shoot Things and Hit Them. Although Pamatmat's writing is often hilarious, it can turn surprisingly sober - as in the scene when Kenny delivers some stern parenting to his father over the phone (reminding him that after leaving Kenny in charge of the house and his kid sister, he's the one who has neglected his responsibilities). Feeling newly confident with the knowledge that his father wants to meet Kenny (and empowered with his new sense of worldliness), Benji tells his jockish older brother who keeps bullying him that "You're not really a man until you can take it up the ass."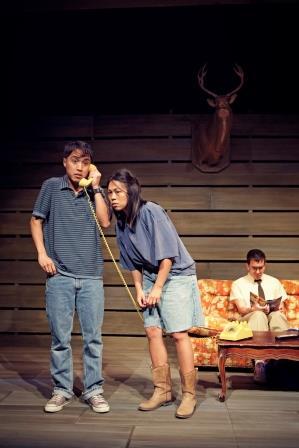 Ken (Wes Gabrillo) talks with his distant father on the
phone as Edith (Nicole Javier) listens in and Benji
(Maro Guevara) reads in Edith Can Shoot
Things and Hit Them (Photo by: Pak Han)
Edith Can Shoot Things and Hit Them covers a lot of ground, from teen angst and young love to coming out; from underage gun use and the need for basic survival skills to the wisdom of creating one's own family when one's parents fail to stick around. Crowded Fire Theater's engaging production leaves audiences admiring the strength of Pamatmat's three teenagers and the power of his writing. The three-actor ensemble is particularly strong, especially Wes Gabrillo's portrayal of Kenny.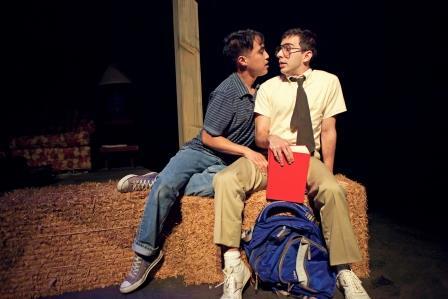 Kenny (Wes Gabrillo) and Benji (Maro Guevara) in a scene from
Edith Can Shoot Things and Hit Them (Photo by: Pak Han)
For some playwrights, the lure of a long title like A Funny Thing Happened on the Way to the Forum, How to Succeed in Business Without Really Trying, The Persecution and Assassination of Jean-Paul Marat as Performed by the Inmates of the Asylum of Charenton Under the Direction of the Marquis de Sade or Oh Dad, Poor Dad, Mamma's Hung You in the Closet and I'm Feelin' So Sad is hard to resist. But for Jackie Sibblies-Drury, the title of her play (We Are Proud To Present a Presentation About the Herero of Namibia, Formerly Known as South West Africa, From the German Südwestafrika, Between the Years 1884-1915) proved to be a mouthful during an interview for its London production.
Recently staged by Molly Aaronson-Gelb in a co-production by Just Theater and Berkeley's Shotgun Players, We Are Pleased To Present exposes theatregoers to a horrifying and little known piece of African history as seen through the eyes of several young, idealistic actors who are trying (partially through improvisation) to find a way to present this material to an audience.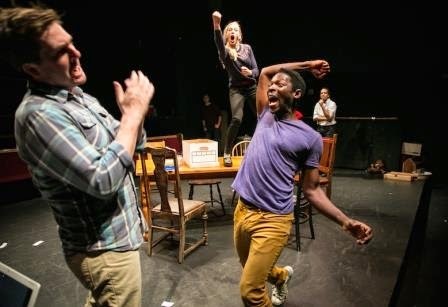 Patrick Kelly Jones, Megan Trout and and Rotimi Agbabiaka
in a scene from We Are Proud to Present
With a cast of six actors (Rotimi Agbabiaka, Lucas Hatton, Kehinde Koyejo, Patrick Kelly Jones, David Moore and Megan Trout), Drury's play is constantly shifting gears as three white and three African American actors take on a wide variety of roles. Drury thinks her play "ultimately ends up centered on America and how our concepts on race become confused. Inescapable and confused."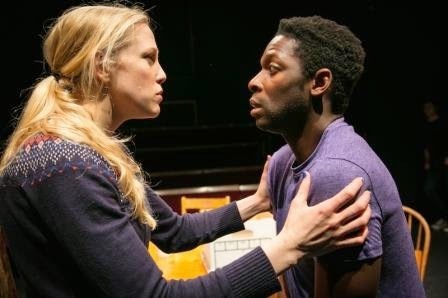 Megan Trout and Rotimi Agbabiaka in a
scene from We Are Proud to Present.
With an ensemble struggling to digest the brutal genocide they are just learning about, Drury offers audiences a chance to see what the creative process (with all its gaffes and missteps) can look like within the safety of a rehearsal room. Whether quibbling about how a line should be spoken or who should be more visible to the audience, as the scope of the Herero tragedy begins to sink in, the actors find themselves more deeply affected by the material than they expected to be.
I don't usually enjoy being a spectator at theatre games, but Drury's play builds to an intensity that leaves the actors (as well as the audience) both shaken and stirred. This is the kind of show which makes theatregoers acutely aware of the physical and emotional commitment an actor must make to a role, no matter how difficult the subject matter. By the end of Drury's 90-minute workout, the audience has received a lesson in tough love -- not just about a genocidal event in Africa's history, but about the emotional strength and dramatic skills required to be a genuine actor.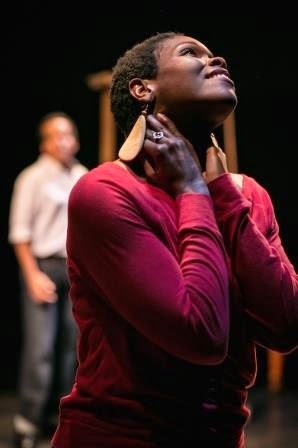 Kehinde Koyejo in We Are Proud To Present
REAL LIFE. REAL NEWS. REAL VOICES.
Help us tell more of the stories that matter from voices that too often remain unheard.