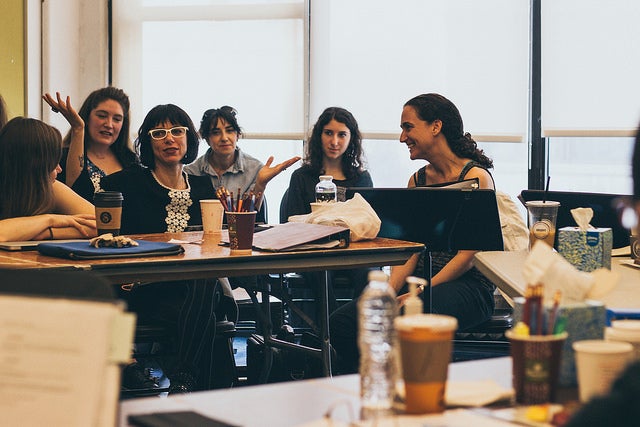 New Georges (Susan Bernfield, Producing Artistic Director; Jaynie Saunders Tiller, Managing Director; Sarah Cameron Sunde, Deputy Artistic Director) present the World Premiere of (NOT) WATER co-conceived by Sheila Callaghan and Daniella Topol, written by Sheila Callaghan and directed by Daniella Topol as part of Works On Water, a month-long, multi-disciplinary art event that presents multiple artistic perspectives on water in a global context, at the 3LD Art & Technology Center (80 Greenwich Street) June 6-30. Tickets ($20-$45) on sale at www.worksonwater.nyc or www.newgeorges.org. 
(NOT) WATER is Sheila Callaghan & Daniella Topol's epic exploration of their epic exploration of an element so epic it's taken a decade to explore: a large-scale, immersive theater piece that addresses humanity's relationship to water in the face of profound environmental change.
(NOT) WATER reunites Sheila Callaghan, Daniella Topol, New Georges and 3LD 11 years after their critically acclaimed production of DEAD CITY. Sheila and Daniella conceived of (NOT) WATER soon after, including designers in all their development processes so text and theatricality would emerge simultaneously. (NOT) WATER was created with an team of collaborators including associate playwright Liza Birkenmeier (2016-2017 Emerging Writers Group at the Public Theater; Playwrights Realm Writing Fellow) and a design team that includes Deb O (Massacre at The Sheen Center; Ubu Sings Ubu at Abrons Arts), Ari Fulton (Alligator with New Georges; The Widow of Tom's Hill at 59E59), Barbara Samuels (The Frightening at Abrons Arts; Caught with The Play Company), Broken Chord Collective (Eclipsed on Broadway; Bull in a China Shop with LCT3), and Cory Einbinder (The Service Road with Adhesive Theater Project), with science dramaturgy by Guerilla Science.
The cast features Rebecca Hart (10 out of 12 with Soho Rep; The Great Immensity with The Civilians/The Public Theater), Carmen M. Herlihy (Kingdom Come with Roundabout; Doctor Faustus with Classic Stage Company), Ethan Hova (The Wong Kids with Ma-Yi; Metrocards at EST), Polly Lee (Ken Urban's Nibbler with Rattlestick; Now is the Time with Little Lord), April Matthis (Fondly Colette Richland with ERS at New York Theatre Workshop; 2015 OBIE Award for Sustained Excellence of Performance), and Mike Shapiro (Charleses with The Tank/The Brick; Motel Cherry with New Georges/Clubbed Thumb at HERE).
As part of the bigger multi-disciplinary art event, Works on Water, (NOT) WATER will share its space with a new triennial of thematically-linked works of time-based visual and participatory art curated by a team that includes Sarah Cameron Sunde and Katie Pearl. 
Sheila, Daniella, how do you approach your respective work as a writer and as a director?
Sheila Callaghan: I show up to my computer with at least three beverages, one of which is caffeinated, and some sort of dairy product— gruyere if I'm feeling fancy, or plain yogurt and a cucumber. And then I design graphics for my fitness job for about three hours. Then I drink a lot of wine. Then I cry. And then I start writing.
Daniella Topol: First and foremost, I galvanize a community of thoughtful, innovative and courageous artists around the material. Together, we explore all facets and possibilities of the world, the characters, the action, and the theme. I like to give room for ferocity and courage while editing, pruning, sculpting and deepening.
You started working on (NOT) Water a decade ago. How did you begin working on the piece and how has it evolved?
SC: There's no way to talk about that without giving away the entire show, but I'd say we began working on it with some beloved actors (one of whom is currently in the show at 3LD), a space in New Dramatists, and the sense that at least if we failed, we would fail forward on behalf of an issue we cared about.
DT: Sheila Callaghan and I created DEAD CITY together which was such a full-bodied theatrical adventure that we felt empowered to make a new piece together. Sheila showed me this monologue she wrote in response to Katrina, which was deeply moving. We have spent the past 11 years exploring what we could do to change the conversation about the environment and who has access to resources and who doesn't. Those questions have inspired and haunted us ever since that time.
What are some the questions that came up during this process?
SC: Why do we keep doing this?
What is the point of theater anyway?
Should I get this bump looked at?
Does 'comedian' have one 'm' or two?
Am I an asshole if I buy a couch from Ikea knowing it will fall apart in five years?
Will my kid think I'm cool when he's a teenager?
Can I get my money back on those portable ballet flats I bought that are too big for me if I haven't worn them yet?
DT: The process has been quite Rabbinical actually! How do we create a piece that challenges people to truly consider the way that interact with water? How can we create a piece that isn't too small in scope but yet remains specific? We want the work to be rooted in the hydrology conversations of today (what do you do if you cannot trust your water supply, etc) and yet we don't want to create a lecture. What is the best way to utilize designers to capture the expanse and complexity of water in artful ways?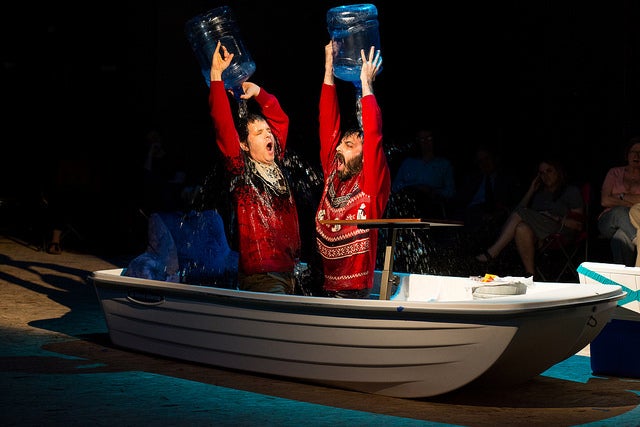 Can you talk about the piece being immersive? The design?
SC: Sure. At some point in the piece, the entire audience drowns.
DT: A dominant theme of the piece is exploring our relationship to water and our empathy of one another. So, we have constructed the set-up so everyone is in the round so they can see and deal with one another. They are asked to read newspaper headlines, sing, answer a phone, and engage in a long-meditation among other things. We want the audience to focus on being active - on feeling their role and presence in the room and in this community.
What is your personal relationship to water/how do you interact with it most/ what does it mean to you?
SC: Well, I drink it. I bathe in it. I made a show about it. I grew up near it. I'm living near it. I have it in my life in a way that I've been privileged to have.
DT: Since working on this piece, I feel very aware of the fragility of our wastewater systems in NY. How precarious it all is. I live with a small yet constant feeling of dread about our city and how much longer our water systems will hold out. Why do we all dare to live so close to the water and how much longer will we be safe?
At the moment, water terrifies me. I am a bad swimmer with a 4-year old who loves water. My husband takes her swimming a lot so she has gotten braver and braver. No thanks to me! I mostly just worry what will happen to her.
What types of art excite you?
SC: Basically stuff that takes giant risks, falls apart halfway through, and then by the end somehow teaches me something I didn't know about myself, the world, humanity, or maybe about a topic I didn't think I was interested in.
DT: Brave and ambitious work that dares to ask hard questions about our culture. There are many of those fierce artists out there right now -- Taylor Mac, Diana Oh, Dael Orlandersmith, and Lucy Thurber to name just a few. My passion for this type of art is very connected to the type of work I am producing as Artistic Director of Rattlestick. I look forward to finding opportunities to discover many new artists out there who are just beginning or are working in non-traditional ways.
Anything else you want to tell me?
SC: I would like to take this opportunity to thank the water nymphs for dropping their cups into the mouths of the coursing mountain streams so I could have clean water in a bottle any time I want.
Sheila Callaghan (Playwright)'s plays have been produced and developed by Soho Rep, Playwrights Horizons, Yale Rep, South Coast Rep, New Georges, Clubbed Thumb, Actor's Theatre of Louisville, The Flea, Woolly Mammoth, Boston Court, and Rattlestick, among others. She is the recipient of the Princess Grace Award, a Jerome Fellowship from the Playwright's Center in Minneapolis, a MacDowell Residency, a Cherry Lane Mentorship Fellowship, the Susan Smith Blackburn Prize and the Whiting Award. She is published by Playscripts.com, Samuel French, and collected works are published by Counterpoint Press. Sheila is an affiliated artist of New Georges and Clubbed Thumb, a member of the Obie winning playwright's organization 13P, an alumna of New Dramatists, and a founder of the feminist activist group The Kilroys. She is a writer/producer on the hit Showtime comedy Shameless. She was nominated for a 2016 Golden Globe for her work on the Hulu comedy series Casual and a 2017 WGA Award for her Shameless episode "I Am A Storm."
Daniella Topol (Director)'s world-premiere productions include Martyna Majok's  Ironbound (Rattlestick; Roundhouse; Steppenwolf's First Look, NY Times Critics' Pick), Jessica Dickey's Charles Ives Take Me Home (Rattlestick) and Row After Row (Women's Project), Cori Thomas' When January Feels Like Summer (EST/P73/WP Theater; NY Times Critics' Pick), Rachel Bonds' Five Mile Lake (South Coast Rep), Sheila Callaghan's Dead City (New Georges) and Lascivious Something (WP Theater), Rajiv Joseph's Monster at the Door (Alley Theatre), and Lloyd Suh's Jesus in India (MaYi and Magic). She is a board member of the Lark Play Development Center, a NYTW Usual Suspect, member of EST, a Women's Project Lab alumnus, and a New Georges affiliated artist.  In 2016, Topol was named Artistic Director of Rattlestick Playwrights Theater.
New Georges, founded in 1992, is one of New York City's premiere downtown theaters, a strategically small company with a national reputation as a hub and a launchpad for the most adventurous theater artists (who are women) working today. Through productions of boundary-pushing new plays, several varieties of play development programs, and our indispensable workspace, The Room, we support the largest ongoing working community of women theater artists in New York City and have launched an unprecedented generation of women playwrights and directors. Honors for New Georges, its plays and its people include 3 Obie Awards, The Lilly Award, the Susan Smith Blackburn Prize and the Kesselring Prize, and New York Magazine has called New Georges an "important, risk-taking organization."  Notable productions include Kate Benson's 2015 Obie Award-winning A Beautiful Day in November on the Banks of the Greatest of the Great Lakes, directed by Lee Sunday Evans; Marielle Heller's The Diary of a Teenage Girl, directed by Sarah Cameron Sunde and Rachel Eckerling; Eisa Davis' Angela's Mixtape, directed by Liesl Tommy; Jenny Schwartz's God's Ear, directed by Anne Kauffman; Heidi Schreck's Creature, directed by Leigh Silverman; Sheila Callaghan's Dead City, directed by Daniella Topol; and Lisa D'Amour's Anna Bella Eema, directed by Katie Pearl. New Georges has provided critical early-career opportunities to additional playwrights and directors who include Lucy Alibar, Rachel Bonds, Rachel Chavkin, Lynn Rosen, Rachel Dickstein, Maria Mileaf, Lila Neugebauer, Jen Silverman, Diana Son, Kathryn Walat, Tracey Scott Wilson, Anna Ziegler, Portia Krieger, and many more. www.newgeorges.org
REAL LIFE. REAL NEWS. REAL VOICES.
Help us tell more of the stories that matter from voices that too often remain unheard.
This post was published on the now-closed HuffPost Contributor platform. Contributors control their own work and posted freely to our site. If you need to flag this entry as abusive,
send us an email
.