As Larry Maguire, now CEO and President of Far Niente winery, remembers it, "Back in 1968 Napa Valley was mainly known for its prunes. Napa itself was a sleepy, old cow town."

Wine has been made in California's Napa Valley since Charles Krug opened a winery there in 1861, followed by 140 more by the turn of the century, but economics, infestations and the onset of Prohibition in 1919 effectively stopped expansion in its tracks. Only after 1933 did the wine industry slowly regain momentum, but it was not until the late 1960s that Robert Mondavi proved at his namesake Napa estate that California wines could compete with the best in France.

Today there are 450 vintners in the Valley, 95% of them family owned.

Maguire, who comes from northern California, had planned to go into the music business (he's still an avid guitarist) but instead joined the California wine revolution in 1983, becoming a partner in Far Niente, and later with sister properties Dolce, Nickel & Nickel, EnRoute, and Bella Union.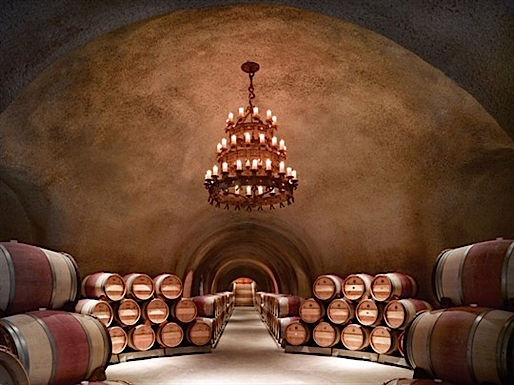 Far Niente dates back to 1885, but was abandoned during Prohibition. In 1979, Gil Nickel purchased the winery and vineyard, restored them (gaining a place on the National Register of Historical Places), built a complex of old caves (right) for aging purposes, and took on the original name of Far Niente, which in Italian means "without a care." The first releases came in 1982--Cabernet Sauvignon and Chardonnay, which are still the focus of Far Niente.

Nickel & Nickel is devoted exclusively to producing 100 percent varietal, single-vineyard wines, which has become a rarity in Napa when it comes to Cabernet Sauvignon. The En Route winery is located in the Russian River Valley, producing Pinot Noir. Bella Union makes--at least for the moment--a less expensive Napa Valley Cabernet Sauvignon blend. They also produce a late-harvest sweet wine called Dolce.

All the wineries are eco-committed and farmed organically, with Far Niente powered by a solar system called Floatovoltaic™ that allows for net-zero use of electricity and annually produces more energy than the wineries consume. I did a tasting of several of the company's wines with Maguire at a New York steakhouse, where they showed well with dishes like grilled quail, foie gras and rack of American lamb. I asked Maguire about the tendency of Napa Valley red wines to push the limits for alcohol, although Far Niente's rarely go above 14.5%. "If you have alcohol, you get power and weight," he explained, "which you feel immediately, and then on the mid-palate the acid is important to provide elegance in the flavor and finish."



That was the balance I tasted in the 2013 Far Niente Cabernet Sauvignon--an abundant vintage--whose structure was due to alcohol and tannins mellowed by oak and acid, so the dark fruit flavors emerged in silky layers.

As a producer of single-vineyard wine, Nickel & Nickel needs to express its terroir, so winemaker Darice Spinelli, with long familiarity of the various regions and soil compositions of Napa Valley, favors the well-drained, loamy soil of the western Rutherford bench of the Quicksilver Vineyard. The 2013 vintage provided ideal weather, with warm summer days and cool, foggy nights. At 100% Cabernet Sauvignon, this is a sturdy, generous wine ($110), with what they call the flavor of "Rutherford dust," and it won't be released until September, to allow its oak and tannins to calm down and the fruit to emerge.
The 2013 Bella Union Cabernet Sauvignon ($85), which is being released this month, includes a tiny bit of Cabernet Franc and Petit Verdot, closer to a Bordeaux blend, spending 16 months in barrel, and the fruit is more pronounced and a touch sweeter.

EnRoute Pinot Noir "Les Pommiers" 2013 ($65) had exceptional extraction of color, while the 2014 ($67), harvested earlier than usual, made for a voluptuous Russian River Valley style, in no way cloying or sweet like so many overripe wines by other wineries in the area. It was rich, had good mineral content, and the acids were essential in taming down the intensity of the fruit and tannin.

The key to making superior wines in Napa Valley is as much in avoidance as it is what is put into them. Too many seem made in the winery, rather than the vineyard; without great fruit, compromises must be made after the crush. What I find distinguishes the wines of Far Niente and its sister wineries is that they are identifiably theirs, the result of careful choice of terroir and working with the natural forces of each vintage. So many of their competitors' wines are indistinguishable and overwrought. Those of Far Niente are pricey because they've earned a reputation that justifies it.