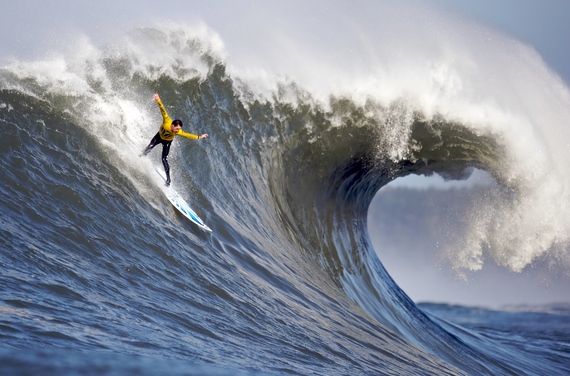 HALF MOON BAY, CALIFORNIA -- Despite a regulatory requirement to develop a plan to include women surfers, the organizers of the iconic Mavericks big-wave surf competition - staged most years on a deadly section of coastline here -- did not include any women in this year's contest, which took place on Friday.
This year, Nic Lamb of Santa Cruz, CA, won the event -- re-branded "Titans of Mavericks" by Cartel Management when it took over the event in 2014 -- taking home the $30,000 first prize out of $120,00 in total prize money. Second place went to Travis Payne, of Pacifica, CA, and third to Greg Long of San Clemente, CA.
Not competing in the event was another Californian, Savannah Shaughnessy of Santa Cruz. She was the only woman invited to participate this year, but as the seventh on a list of ten alternates to the 24 men named to compete.
Shaughnessy was the second woman ever named as an alternate to the event -- called "Men Who Ride Mountains" before the re-branding -- over its 15-year history. The first was Sarah Gerhardt, reputedly the first woman ever to surf Mavericks, named an alternate in 2000 but also not activated. Both women still surf the renowned break on their own, along with several other big-wave women forced to set up their own version of Mavericks, an off-the-media-grid competition in remote Nelscott Reef, Oregon. Held only twice, the event has no name recognition in the adventure sports community and none of the history, public infrastructure, or commercial support of Mavericks.
By contrast, the Mavericks event is well-known in the adventure sports industry for its extreme technical difficulty and deadliness. Calm much of the year, the break is the product of a sudden and steep wedge-shaped rise in the ocean floor that slams into a pronounced point just half a mile off shore at the northern end of Half Moon Bay. In winter, large storms from as far away as the Gulf of Alaska send massive swells southwest; when they reach this section of coastline -- only 30 miles south of San Francisco -- they focus their energy up the wedge, resulting in waves that explode in a few seconds from out of the deep to heights of 30 to 50 feet.
These waves, which displace megatons of water as they crest and collapse beneath a surfer's board, arrive in sets, with successive waves holding fallen surfers under the water for extended periods. Sections of these waves also crash directly into a football field sized maze of craggy rock, partly submerged and partly protruding, all around the point. Two surfers have died at Mavericks, one from a confirmed drowning and the other, whose body was never recovered, from a suspected drowning.
The inclusion of Shaughnessy this year and Gerhardt in 1999 as alternates for "Titans of Mavericks" is at odds with statements by organizers of the event who, in response to the demand by regulators in November, claimed that women surfers do not compete at a level sufficient for inclusion.
"At this point we haven't seen that kind of performance," Jeff Clark told the California Coastal Commission in November. As the local surfer credited with discovering and first surfing Maverick's as a teenager, Clark is the founder and public face of the event.
Clark had been as clear on the subject in an interview with the San Francisco Chronicle back in 2012. "We're not there," he said. "If in 10 years there are 10 or 12 women surfers who surf Mavericks, who knows?"
His candor with the Commission was apparently mitigated by follow-on comments in the same hearing from his wife, Cassandra Clark, also involved in organizing the event.
"Our intent is not to put aside a special class just for women," she told the Commission "but have the women go head to head with the men."
The Commission issued the permit despite the mixed messages from the Clarks, with a 7-4 vote on an amendment that they develop a plan to include women going forward. It never specified whether future permits would require integrating women surfers into the current competition -- as with auto racing, an increasing numbers of youth sports, and golf (almost) in the 1990s -- or if it would require adding a separate competition, with multiple women surfers competing against each other, as with other current surfing events and most major sports.
That either path for including women could be an option illustrates what may be the most interesting paradox of all about this extreme, dangerous sport: the challenges of big wave surfing are so physically overwhelming that the usual differences between men and women in terms of strength, size and stamina may be less important than experience, judgment, situational awareness and composure in the face of abject terror. This would help explain how the oldest competitor at Mavericks this year, Brazilian Carlos Burle, made it all the way to the final round at age 49.
Statements and actions by the event's organizers are not clear on which direction they would go, and the event's organizers did not respond to queries for this article. But the naming of Shaugnessy as one of ten alternates this year, a few weeks after the permit hearing, would indicate that integrated competition may be the preferred strategy, even if it means placement of only one or two women so far down a list of alternates that their actual participation in the event is unlikely.
If statements by the Clarks during the permit hearing pointed in different directions for such a plan -- and the naming of Shaughnessy tips the balance toward integration -- the likelihood of how earnestly the event moves in the direction of full integration may be foreshadowed by what another member of the event's selection committee, Shawn Rhodes, told the San Francisco Chronicle. "We don't want to open a door where all of a sudden we're the fire department and we're lowering the standards for women."
Surfers Girls: Don't Quit Your Dayjobs
In the meanwhile, game-time in the world of adventure sports is sell-time: visibility through TV and magazine coverage to potential sponsors translates directly into sponsorship money for women big-wave surfers to train, travel, improve, and compete. The livelihoods and out-of-pocket costs of almost all adventure sports athletes are underwritten less by prize money than by commercial funding from gear and outdoor lifestyle companies.
Unlike many of the men who competed in Friday's "Titans of Mavericks" and receive commercial support from such companies, Gerhardt, Shaughnessy and none of the other women good enough to compete at Nelscott Reef have been able to the attract the same kind of sponsorships. Rather, each supports herself and her surfing career with day-jobs. Shaughnessy reportedly worked three part-time jobs after college to support her big-wave surfing habit, and eventually gave up on sponsorship and went to nursing school last year.
Not that some badly needed sponsorship parity will fix the entire problem. A quick glance at the very few non-big-wave women surfers sponsored today - and many skiers, volleyball, tennis, and basketball players - reveals that when women adventure athletes are subsidized, it is more often for their looks than for their chops.
Which means that, at least for now, Shaughnessy - who surfs Mavericks well enough to qualify into the same pool of alternates that produced this year's second-place finisher - will be getting on with her nursing career and waiting for the world to catch up with her.
REAL LIFE. REAL NEWS. REAL VOICES.
Help us tell more of the stories that matter from voices that too often remain unheard.