I sit on a train destined for New York for the sole purpose of seeing a couple I have never met. Their home is across the world. I am not certain what they do for a living, how they met, what they do for fun, or what type of food they like. Yet, I am confident that I know their innermost thoughts and that we have more in common in how we confront our daily lives than many people I have known for decades.
Like us, they lost their son to a childhood cancer known as DIPG (diffuse intrinsic pontine glioma), a tumor in the brainstem that inflicts hundreds of kids every year. Our little boys were sick at the same time, and they lost their sweet Cooper two months after my son Michael passed away - both six years old.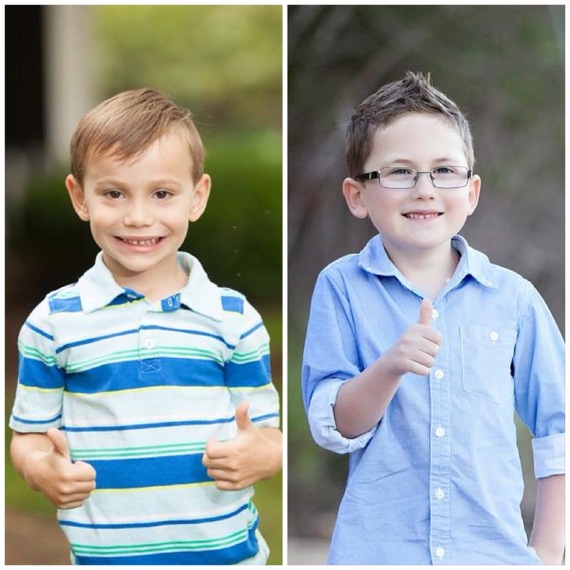 When Michael was diagnosed with DIPG, we entered a whole new world of which I was unaware. Of course, I knew childhood cancer existed. Our family had donated to institutions that helped those "less fortunate" with kids facing devastating illnesses. But my involvement was limited to an arm's length sympathy, admittedly because it never occurred to me that it would impact us. Then, suddenly, we were the "less fortunate."
With Michael's diagnosis, my mind and despair could not rest: Why him? Why us? And... what did I do to cause this to happen? When the life you know crumbles, it is hard to push aside your own misery to see the broader picture. After initially avoiding the Internet to shield myself from repeated reminders that DIPG had near zero percent survival, I ultimately dove in and opened my eyes and heart to the courageous families who shared their journeys. I found we were not alone, and I gained a whole new family. I saw countless other beautiful children who had been unexpectedly struck by this devastating disease. I learned what made each child so special: their humor, their artistry, their smiles, and their bravery. And I learned that watching any child face this cruel disease was just as unacceptable and horrific as it happening to my own.
From roughly 10,000 miles away, I watched with knots in my stomach as Cooper's symptoms worsened. I cried as I read his mother's vivid words describing the horrors of such an evil disease. I mourn alongside them, and I will forever remember their son along with so many other kids lost too soon.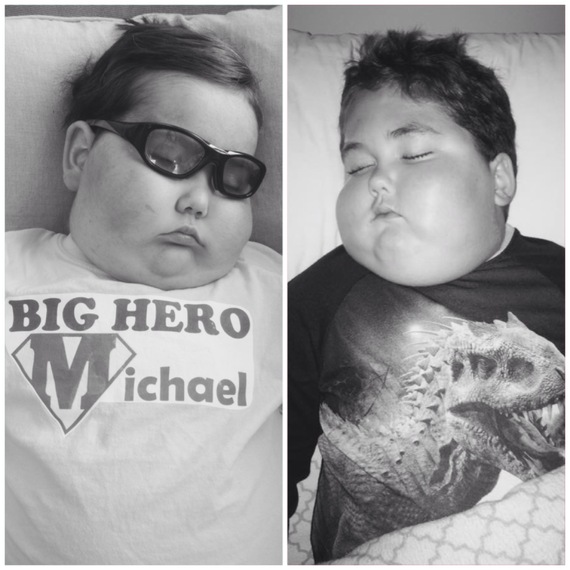 Every day, families bare their hearts and souls through Facebook pages, Caring Bridge sites, and other social media, where parents share their most personal hopes, fears, and pain. As a childhood cancer parent myself, it is natural that I feel forever connected with these families because we have walked a similar path of indescribable agony. To have such a safe and understanding community of support in the midst of the nightmare is in itself a great gift.
But there is another significant impact: thousands of people who have never had a child with cancer also feel a deep connection with these families. The kids they read about capture a piece of their heart. Friends of mine who followed my son because they know and love him now follow countless other children who are strangers. They often ask me if I saw the latest update on another child, with tears in their eyes because they are genuinely worried and because the power of seeing the details and the heart-wrenching pictures of these brave children's battles has actually changed them inside. Quite simply, their perspective on their own lives has been altered, and they cannot turn away from this community that needs them. I am forever grateful for those who had the courage to share their child's story and, by doing so, inspired me to do the same.
Through this dark journey, the ray of light has been seeing that the honest accounts written by so many families are building a bigger, stronger community of advocates for these kids who need us. Families who have not been touched by childhood cancer are now more aware. Please continue to follow these stories, support the families, and take action to support organizations fighting to cure childhood cancer. Lift up the parents and siblings of kids lost who are searching for a way to live without an essential piece of themselves.
I hope that these commitments will be lifelong and not momentary. I do not know which family is next going to walk into a hospital with their young child who has always been healthy but recently displayed unusual symptoms, and then walk out forever broken. But, I do know that it will happen to some family. Indeed, it will happen to too many families. We all should feel connected, concerned, and driven to make a difference on childhood cancer -- the leading cause of disease death for children -- because any family's life can change overnight as ours did. Though we have now seen the end of childhood cancer awareness month, we need the help and commitment by those not yet personally impacted all year long. We must work together because no parent wants to be the one who is one day wondering why more progress had not been made to give your child a chance of survival.