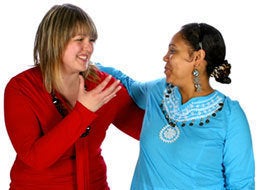 Most economists agree that an anti-recession program should achieve three goals: Pump money into the economy. Save existing jobs and create new jobs. And help those in greatest need.
All three of these signposts point to a large, fast-growing, but long-forgotten group of Americans who should be a major focus of emergency economic measures: the nation's 53 million single, separated, divorced and widowed women.
Unfortunately, the first round of proposals for an economic stimulus seemed to concentrate almost exclusively on projects to rebuild the nation's physical infrastructure and jobs that mostly employ men. While these are worthwhile goals, the stimulus should also include services that maintain the nation's social infrastructure and jobs that mostly employ women. These services and these jobs are especially important for women who are striving to hold their households together on their own.
These women are shouldering great responsibilities. They are earning their own livings, often at jobs with low wages and few benefits. About 10 million are single moms with young children at home. Many care for aging or ailing parents, grandparents and other relatives. While these women's busy and burdened lives make it difficult to participate in the political process, record numbers of unmarried women registered and voted in the elections this year.
Even before the recession, many of these women were economically insecure. Now, they are suffering even more than most Americans, and they need a helping hand to continue to fulfill their responsibilities at home and at work.
More than 40 percent of these women have household incomes of less than $30,000 a year -- much worse than the figures for married women and unmarried men. Single women are twice as likely as married women not to have health insurance, and also twice as likely to be unable to afford medical care last year as their married sisters.
With the recession, unmarried women have become more vulnerable than married people to layoffs, bankruptcies, and foreclosures. Women who have never married had an unemployment rate of 8.8 percent in November, 2008, compared to 6.2 percent for the entire workforce. At a time when most families are seeing their situations deteriorate, female-headed households are twice as likely as other families to suffer a 50 percent drop in their income, according to the majority staff of the U.S. Senate Committee on Health, Education, Labor and Pensions.
For women on their own in these difficult times, economic calamities can be one illness or layoff away. About 43 percent of single women spend more than 30 percent of their incomes on housing, compared to only 25 percent of married couples. Thus, these women are much more likely to face foreclosures or evictions. With a median net worth of only $12,900, unmarried women account for 40 percent of all bankruptcy filings.
Undoubtedly, unmarried women need economic assistance, and they'll pump the money back into the economy by spending it on the necessities of life. So how can an economic stimulus program include unmarried women?
Right now, the most frequently discussed ideas would mostly create and preserve jobs for working men, not working women. Yes, the nation should rebuild and repair our highways, bridges, roads, and public facilities of all kinds, as well as rewire our public schools.
But the economic stimulus should repair our social infrastructure as well as our physical infrastructure and include public services as well as public works. By helping state and local governments to avert layoffs and hire more teachers, school aides, childcare workers, homecare workers, and public librarians, an economic stimulus package could improve public services at a time of increased needs, while generating jobs that are likely to be filled by women, including those who support themselves and their children on their own.
There are many ideas that would be good for every working American, that would pump more money into the economy -- and that would be especially beneficial for "women on their own." Raising the minimum wage, increasing tax credits for low-wage workers, boosting the childcare tax credit, extending unemployment insurance (and making temporary workers eligible), and expanding healthcare coverage for children from low and moderate-income families -- all would help unmarried women survive in a sagging economy. Since unmarried women make only 56 cents and women overall are paid only 77 cents for every dollar that married men make, challenging this discrimination by passing the Paycheck Fairness Act would also increase working women's purchasing power. Some or all of these ideas might be included in an economic stimulus plan or in other legislation.
While the economic crisis may be the worst since the 1930s, the nation's social structure has changed dramatically over the past seven decades. Just as Franklin D. Roosevelt's New Deal boldly confronted the challenges of its times, we need a newer deal to help Barack Obama's changing America, with 53 million "women on their own," to recover from this recession.
Page S. Gardner is president of Women's Voices. Women Vote, a national nonpartisan organization that promotes civic participation by unmarried women.
Popular in the Community