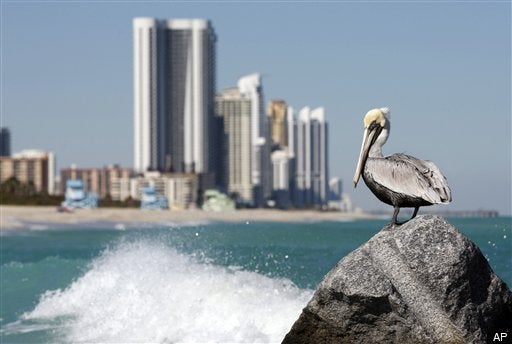 The last time I visited Florida was when my father died in 2002, and the time before that was when I moved my aunt up north from a retirement community. Call me "down on Florida" -- until two weeks ago, when my mate and I spent ten days in Miami, with a short side trip to Key West. I'm a little embarrassed at how badly I yearn to go back.
You've probably heard: it's not your grandmother's Miami, the hopelessly dowdy place our relatives went in the winter -- they only place they dreamed of going. What did Grandma know from winter vacations in Bali or Phuket or Goa?

If they were well-to-do, our bubbies stayed at the Fountainebleau or the Eden Roc; if they weren't, they found beachside motels or package deals. Anything to flee the winter cold and bask in the sun, which was about all there was to do there.
It's not that place anymore, nor the one made popular by the 1960 chick-flick, Where the Boys Are, about spring break up the road in Ft. Lauderdale. Is that even a reference point for young folks today? (I hope not, but take a look, for history's sake -- and rejoice that those days are behind us.)
Let this paragraph be the dainty scoop of sorbet between courses that cleanses your palette, that wipes away one taste and allows you to experience the next in all its sensory richness.
And open your mind to this Miami.
It's still a place to bask in the sun, and even when the annual Art Basel Miami Beach is not going on (the first week of December), there's far more to look at, listen to, and eat -- oy, the restaurants! -- than I'd imagined. And because of on-line websites that offer alternatives to hotels, finding shelter there in the dead of winter doesn't have to break the bank. Because Miami is such a hub of international travel, airfares are low and flights are plentiful.
We flew American Airlines for about $250 round trip from New York City, going directly to the airline, not Orbitz or Expedia. (I've found that refunds, changes and cancellations are easier that way.)
We found two fabulous places to stay, for about $100 a night, through my favorite new travel website, Airbnb. The first, a lovely studio apartment in a high-rise with swimming pool. Its patio overlooked Biscayne Bay, and it was four blocks from Lincoln Road in South Beach, a vibrant pedestrian mall with shops and restaurants galore, as well as a multiplex movie theatre and The New World Symphony, Frank Gehry's latest creation that opens for business on January 25.
The second residence was much more exotic, also through Airbnb. It's about three miles north of downtown Miami, an offbeat oasis by the Little River called Magic City Farm, where we stayed in a boathouse with a kitchen, built in 1918, and were awakened by roosters and enchanted by the owner's dogs and tropical foliage.
We rented a car through Thrifty ($500 for 10 days, keeping the price down by not getting the insurance, because we have insurance for our own car); and found plenty of places to eat that were first-rate and far from top dollar: Pasha's, Balans, the Mandolin Aegan Bistro, the Red Light, the Little Havana, and in the heart of South Beach, on Ocean Drive, the News Café , known for its delicious food, good prices - and because it was the place that Gianni Versace had breakfast before he met his violent end.
At one of the best independent bookstores in the country, Books & Books, based on Coral Gables, with branches in Miami and Miami Beach, we found a terrific little guidebook, Delaplaine's Guide to Miami Beach ($7.95).
We didn't stay in a hotel but we strolled through quite a few. They're more like museums of modern design, or stunning restoration, where you might be able to enjoy a meal. It's not hard to find South Beach's delightful Art Deco hotels. But don't miss a trip to the jaw-dropping Mondrian on 11th Street and West Avenue, and do go out of your way to visit the newly, astonishingly renovated Fountainebleau (a $1 billion job and worth every million), even though you'll never spend a night there (rates begin at $500-plus for a room without a view). One of the restaurants serves matzoh ball soup and sushi - something for everyone.
When we weren't eating and hotel-hopping, we feasted on culture. We visited the sui-generis Wolfsonian Museum; saw the Miami City Ballet at the brand-new Adrienne Arsht Center ($19 a ticket); viewed an exhibit of Bruce Weber's photos of Little Haiti at MOCA; and spent an afternoon in Little Havana eating and roaming through art galleries. One afternoon, we wandered through Miami's Design District, gazing at gorgeous furniture (brand-new and Art Deco French antiques), and high-fashion clothes and shoes.
And on our way to the airport to return home, we stopped off at the Miami Beach Convention Center for a mini-Art Basel exhibit, the Miami International Art Fair 2011, where we saw the work of artists represented by galleries in Miami, London, and South America.
Call me old-fashioned, call me ultra chic: I love Miami.