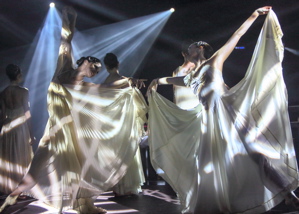 We have seen the future of dance, and it is fun! For two nights in June at XL Nightclub, in New York City, choreographer Marilyn Klaus's company, Ballets with a Twist, took viewers for a spin with its 21st-century take on an American tradition -- blasting the boundaries between high art and entertainment.
The evening opened with the women of the company in white satin dresses and sparkling crystal headpieces, shown left, swirling through pinwheels of light in a dreamscape created by lighting designer Sarah Sidman and music director and composer Steve Gaboury.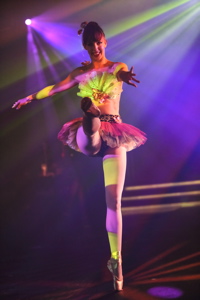 After this prologue, the group presented Cocktail Hour, Klaus's suite of ballets inspired by classic American drinks. Long-limbed Traci Finch was hilarious in "Roy Rogers," as she lassoed her partner, then whipped off virtuoso fouetté turns to the theme song from Rawhide. In "Mai Tai," right, Finch rode the waves of Gaboury's exotic, erotic Don-Ho-style accompaniment.
Dancing softly, but wielding a formidable technique, Erin Gallagher shaped quiet classical steps into a meditation on love and betrayal in "Gimlet," to jazz singer Nancy Wilson's rendition of the 1940s pop tune "You've Changed." It was impossible to even glance away, as Gallagher presented a beautiful woman who has loved and lost, tragically and with great dignity.
While the performers served up danced cocktails, XL's waiters carried trays of actual drinks to patrons at tables around the dance floor.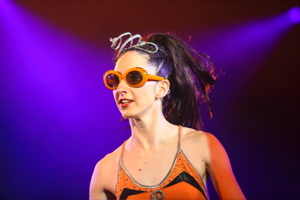 Onstage and off, the look was chic and smart -- the perfect setting for Klaus's mix of Hollywood glitz and New York polish. I half expected Fred and Ginger to glide in and take a turn.
There were casting changes from past appearances. Riveting performer Mika Fox has played the solos "Sputnik" and "Shirley Temple" as self-possessed post-modern bad girls. On June 21 -- the second XL show -- spitfire Kimberly Giannelli, left in "Sputnik," gave these roles a merrier twist. Igor Konyukhov brought gracious athleticism and understated humor to the dueling classical pianists of "Scotch on the Rachmaninoff,"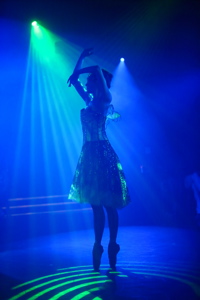 and Leah Gerstenlauer, right, was the latest specter flitting through the shadows of "Absinthe," a tribute to the green wormwood-flavored liqueur associated with hallucination, addiction, and 19th-century Paris.
It's impossible to say which of designer Catherine Zehr's glorious, wildly embellished costumes was most spectacular. The appliqued hot-pink dots bubbling around the "Shirley Temple" skirt, iridescent black lace on the bright-green "Absinthe" bodice, and crystal-embroidered frills hiding under the white "Martini" tutu put these costumes on the short list. One of Zehr's signature techniques is layering differently colored and textured fabrics -- orange, red, and rust for "Roy Rogers" or fuschia, pale green, cream, and black for "Mai Tai" -- producing complex colorations that are as subtle and alluring as nature's hues.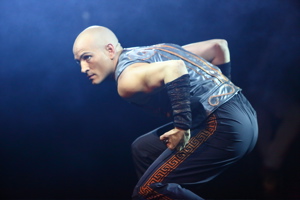 More stand-outs: Aengus Ortiz, left, powering through the high-energy "Brandy Alexander," to the trumpets and drums of clashing, growling martial music by Gaboury; Dorothea Garland, as luminous and fluid all evening long as her "Martini"; Michael Dominguez's musicality in "Holy Water." Emma Huibregtse was serene in the prologue, and Klaus's Kentucky Derby nod, "Mint Julep," trotted out elegant Cynthia Dragoni and sleek Stephanie Wolf, along with four little girls who played the part of prancing ponies. Later in the program, the children charmed in the role of mini-stagehands.
Jessica Black, below right, dazzled in the evening's rousing gospel-style finale, "Holy Water," below left.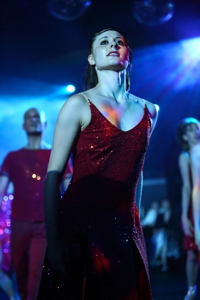 Black played the lead as a woman possessed, physically and spiritually. Throughout the evening, the dancers paid homage to the care Klaus devotes to training and coaching them, as she marries the body's technique with the soul's expression--and has a good time doing it.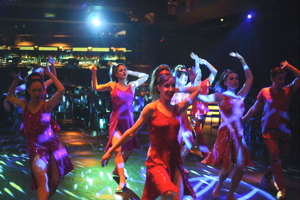 Photographs by Joseph Zummo. For more photos, go here.
Related
Popular in the Community