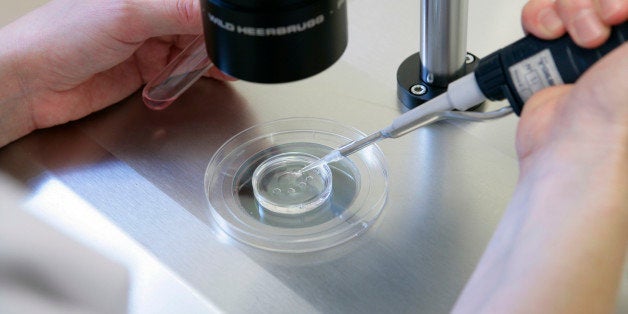 Over the past 25 years, IVF -- the technology, the science, the success rates, the process -- has dramatically changed. Yet physicians and patients who are facing infertility are not letting go of older techniques and are often taking on unnecessary risks in pursuit of starting a family.
Today's infertility patients are overwhelmed with information from unwanted advice to Dr. Google; they struggle to find the right doctors, programs and treatments to help them overcome their individual medical and health challenges. By the time they reach a reproductive specialist, they are often dazed and vulnerable and resort to techniques they have heard worked in the past. It's understandable given the stress of the situation, but this approach ultimately increases their risk of complications and compromises their chance of success.
One of the primary complications from fertility treatments is multiple gestations and deliveries -- twins or more. I love kids and have a few of my own but despite what we see in the media, one healthy baby at a time is the ultimate goal of our field of medicine. In fact, when it comes to IVF, success should never be defined as "getting pregnant," it should only be defined as the delivery of ONE healthy baby.
Since beginning my career in the late '80s, working alongside U.S. IVF pioneers Georgeanna and Howard Jones, I have watched science and innovation lead to increased IVF delivery rates, but at what cost?
While fertility treatments are responsible for less than 2 percent of all deliveries in the U.S., they account for nearly 20 percent of all multiple deliveries. Those multiples come with substantial health risks to mother and child including 7 times the risk of extreme prematurity, 4 times the risk of a NICU admission, double the risk of preeclampsia and many more.
Multiple gestations coupled with the associated health risks inspired industry leaders to find new techniques to make single embryo transfer just as successful as multiple embryo transfers and the good news is -- we are there!
Just a few years ago, the process of deciding which embryos to transfer back to the uterus was largely based on appearance or what's called morphology. Many patients have come to call this the "embryo beauty contest." To offset the risks of choosing the wrong one, two or more embryos were often transferred back to the patient. This treatment paradigm remains the most prevalent in the U.S. today despite significant evidence and innovation supporting single embryo transfer with genetic screening.
Single embryo transfer is a new and successful paradigm shift which includes extended embryo culture, blastocyst stage biopsy, comprehensive chromosome screening (a process that allows selection and transfer of the most viable embryos), and endometrial synchrony. This paradigm is making the promise of one baby at a time a reality for many patients, providers and employers. Caveat Emptor: this new paradigm is not routine everywhere yet. Some will choose to lead the way, others will be slow to change, and many still will turn a blind eye to the evidence.
Research just released in October at the American Society for Reproductive Medicine's Annual Conference shows that 71 percent of patients who have had a child via IVF, resulting in either singletons or multiples, reported that if they could do it again, they would opt for a single embryo transfer. Hopefully, the unavoidable complications and compromises of the past are moving behind us thanks to this new paradigm of infertility care.
Related