Before and after I book a Walt Disney World resort vacation, I always check the resort's website, as well as other Disney websites such as wdwinfo.com and allears.net, to see about any changes, closures or refurbishments that may be taking place during my visit. This way I can avoid any change of plans or being disappointed should an attraction, method of transportation, restaurant or shop be closed while I am visiting.
Although there are constant changes happening at Walt Disney World like MyMagic+ and the recent remodel of The Contemporary Resort Hotel's restaurant, The California Grill, there have been some significant changes at the Resort that may affect your vacation.
To start off, in May of this year, the New York Post broke the news about how wealthy families were hiring individuals and companies to act as "tour concierges" at the Disney Resorts by utilizing Disney's Guest Assistance Card (GAC). Disney has taken steps to correct this in an attempt to bring order and fairness to the program. As of October 9, Disney has replaced the Guest Assistance Card and introduced the Disability Access Service (DAS) Card.
"Unfortunately, our current program for providing access to attractions for Guests with disabilities has been abused and exploited to such an extent that we are no longer able to effectively sustain it in its present form," said Meg Crofton, President, Walt Disney Parks and Resorts Operations, U.S. and France. "After careful consideration, and with the needs of our Guests with disabilities as our foremost concern, we are modifying the current program so that we will be able to continue to serve those Guests for who the program is intended."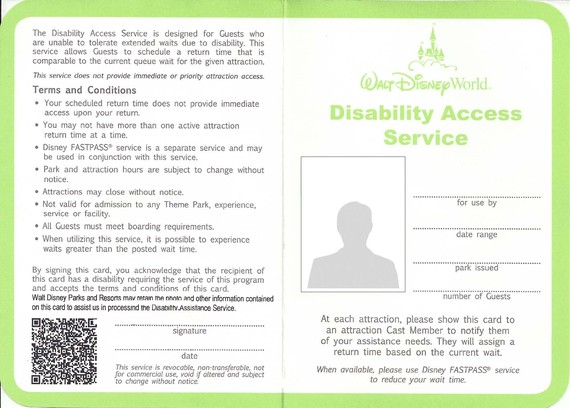 According to Disney, "The DAS Card is designed to accommodate guests who are not able to wait in a conventional queue environment due to a disability (including non-apparent disabilities). A Disability Access Service Card will be issued at Guest Relations main entrance locations and will offer guests a return time for attractions based on the current wait time. As soon as the Guest finishes one attraction, they can receive a return time for another. This service can be used in addition to Disney's FASTPASS Service and Disney FastPass+ service." Guests will need to register for a DAS Card and have their photo taken. The DAS Card will be valid for 14 days from date of issue and will be valid throughout the resort which it was issued.
If, for some reason, a DAS Card does not meet your needs, simply visit Guest Relations and a Cast Member will work to provide the appropriate assistance.
In addition, Disney is also providing designated "quiet" areas for families that require a break from the stimulation of the Park, as well as offering a "Guide for Guests with Cognitive Disabilities." Families on Make-a-Wish and Give Kids The World Trips or traveling with children who have life-threating illnesses, will still have front-of-the-line access. Guests whose disability is based on the use of a wheelchair or scooter will not need a DAS Card.
Next up, another new policy that has been instituted at Walt Disney World is a dining reservations policy. Once again, to curb guest abuse and to ensure that everyone who visits Walt Disney World has the same opportunity to enjoy the Park to its fullest, Walt Disney World has expanded its current dining reservations policy from just a few of their most popular sit-down table service restaurants to one that includes every table service restaurant on property.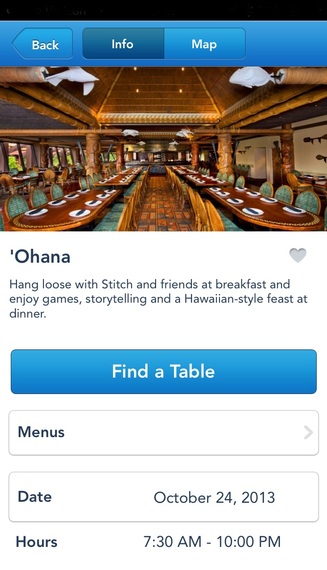 When Disney allowed guests to make dining reservations 180 days out from their arrival date, and before any cancellation policy was put into place, some people would not or did not want to plan their vacation that far in advance. To cover all their bases, they found that they could make multiple same-day, same meal period dining reservations either at multiple restaurants at one park, multiple parks or a combination of parks and resort hotels and then just show up at the one that was most convenient for them at that time. Consequently, their other dining reservations were being held, for up to one hour, at the other restaurants before they were released to waiting guests. Now, this may not seem like a big deal, but if you were one of those people who planned in advance you would find that, more than likely, you either were not able to book a desired restaurant for your trip or could not get the time that you preferred due in part to these multiple bookers.
First Disney tried to curb this by having their system recognize a guest's name and email and restrict it to only one reservation. However, the system was not without its flaws. A modified guest name, different email or even moving the times up or back a bit would allow multiple dining reservations. Then in October 2011, Disney added another layer to the process, they required a credit card guarantee at select character and signature dining restaurants. Although your credit card would not be charged (unless it was required) should you not cancel your reservation 24-hours prior to dining your card would be charged a penalty of $10 per confirmed guest. According to Jim Hill, "WDW eateries like Le Cellier Steakhouse at Epcot and Chef Mickey's at Disney's Contemporary Resort have been experiencing nightly no-show rates that often range from 20%-40%." Now you can understand why this became an issue.
Starting October 31, Disney will add the cancellation policy and the $10 no-show fee to all table service restaurant reservations. Disney will send you an email reminder about upcoming reservations well in advance of the reservation. You must cancel your reservation by 11:59 pm the day before your reservation, however if you have extenuating circumstances, it's best to call Disney Dining at 407-WDW-CNCL and they will make every effort to accommodate your needs. According to DisneyFoodBlog, in addition to calling Disney Dining, you can also cancel dining reservations through the My Disney Experience app on your mobile device or visit Guest Relations at any park or resort.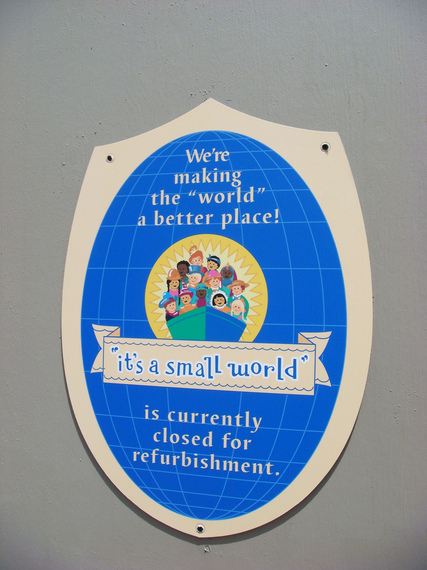 Photo: Rob (partyhare)/Flickr
Lastly, there are a few attractions that, from now to the end of the year, are currently down or will be going down for refurbishments. They include:
In The Magic Kingdom, Peter Pan's Flight will be down until November 13 and it's A Small World will be down from December 2 through December 12. Big Thunder Mountain Railroad will be down only for one day on November 5. Beginning on December 20 the "Celebrate A Dream Come True Parade" will be replaced by the Christmas parade. Prior to the 20th, the Christmas parade is only seen during "Mickey's Very Merry Christmas Party." In Disney's Animal Kingdom, Kali River Rapids will be down from December 2-13.
At Disney's Hollywood Studios the "Honey I Shrunk the Kids Playground" will be down until November 19 and the "Lights, Motor, Action Extreme Stunt Show" will be down November 18-22. Disney's water parks will be closing for their annual refurbishments. Typhoon Lagoon will be closed from October 27 through December 21 and Blizzard Beach will be down from December 22 through March 15.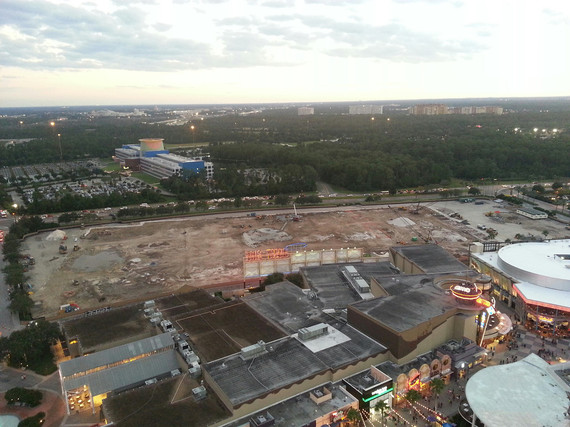 Photo: Daniel Gunter / WDWNT.com
If you are heading to Downtown Disney, due to the ongoing Disney Springs construction, make sure to give yourself plenty of time to get in and out of the area. Parking lots H, I, J and K will be closed and the section of road between the AMC Theatre and Disney Quest will be closed until fall 2014. In addition, the Pleasure Island Boat Dock is closed until November 8, 2013.