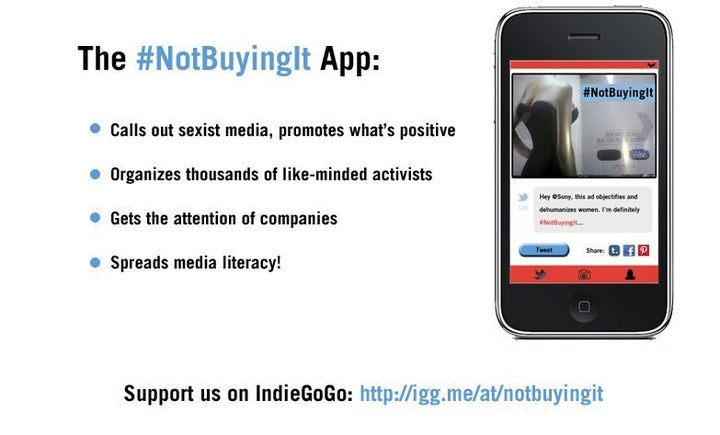 When it comes to portraying women fairly and accurately, advertising doesn't have a great reputation. We've written about many of the worst offenders (see here, here, here and here), but now there's an outlet for those outside the media to hold Madison Avenue accountable.
MissRepresentation, the organization and advocacy campaign behind the "Miss Representation" documentary, is currently producing and soliciting funding for an app called #NotBuyingIt, which will allow users to photograph, map and share advertisements that belittle or objectify women. According to Elizabeth Plank at PolicyMic, "[I]t will kind of be like a centralized, peer-reviewed, crowd-sourced complaint department for all companies that boldly continue to use sexism to sell their products."
As of March 21st, the #NotBuyingIt Indigogo page had raised over $13,200 towards development costs. The page states, "Sexism sells because it's what's being sold. We deserve more and better options. And with this app we will show the media that there is a way to make money without demeaning more than half the world."
Twitter users worldwide currently use the #NotBuyingIt hashtag to publicly call out sexist advertisers. The MissRepresentation site keeps track of how many #NotBuyingIt tweets a company has received -- GoDaddy is currently the worst offender, with 7823 tweets to date. The app will centralize users' complaints, offer an interactive map of sexist print ads and billboards and convey information to both the offending companies and local officials.
#NotBuyingIt is similar in many ways to Hollaback!, an app that helps individuals document and publicize instances of street harassment. Powered by a non-profit organization and movement called iHollaback!, the app allows users to upload images or text about their experiences with street harassment, as well as the incident's location. iHollaback! also encourages people to be "better bystanders," offering support to anyone experiencing street harassment. The organization currently spans 62 cities in 25 countries, according to the Hollaback! website.
So, will the #NotBuyingIt app create a similar community? The folks at MissRepresentation say yes. Imran Siddiquee, director of communications and social media at MissRepresentation, told PolicyMic: "There are, in truth, millions and millions who want gender equality and don't want to see sexism in media. We want this app in all of their hands — giving them a chance to easily express that perspective, be heard and to do so with the knowledge that they are not alone." Read more about #NotBuyingIn over at PolicyMic.
Would you use the #NotBuyingIt app? Comment below, or tweet us @HuffPostWomen!