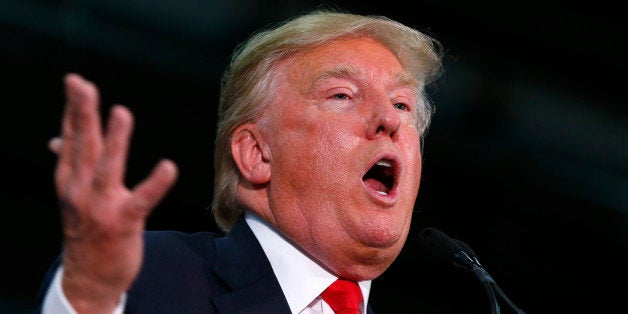 On Wednesday afternoon, U.S. Senator John McCain (R-AZ), a two-time presidential candidate, was asked on CNN what he thought of Donald Trump refusing to participate in Thursday night's presidential debate. His first answer went as follows:
"Anyone who is running for office and gets to pick who the moderator is, that's the destruction of free press as we know it."
Of course McCain is right. And of course FOX NEWS is rightly backing up Megyn Kelly, the original target of Trump's baseless complaints, and going ahead with the debate. But the issue surrounding Trump's ducking of the debate goes further. And McCain sounded it out:
"I think part of it is to blame on the media - they've basically given him a free pass. He calls in on the Sunday talk shows. He decides which programs he's on and which he isn't. He's able to fill the room and take all the oxygen out of it at the same time. So the media, in their desperation to have him on all the time to increase ratings has probably given him the confidence that he can decide to have a veterans event."
I wrote about this a few weeks ago, quoting Matt Bai's remarks on Meet The Press when he threw the penalty flag on all of the media. Bai's criticism was along the lines of McCain's remarks, and his ultimate conclusion was that he and his journalism brethren's breathless coverage of Trump over a period of months had done a "great disservice to the country." I agreed.
But Thursday night's debate offers the national media -- especially the cable television outlets -- a shot at partial redemption. They can decide to ignore Trump's choreographed sideshow altogether (Trump is scheduling his event at precisely the same time as the debate begins). The networks can cover the debate and discuss what the candidates say about each other, about the issues, and about Trump. They can insist, in unison, that they will not be nakedly manipulated on at least this one night. The non-FOX NEWS networks are of course competing with and also often disagree with FOX NEWS and its philosophy and approach to information dissemination. But all of the major networks still maintain that a large part of their programming is actual journalism and news reporting. Being magnetically pulled over to Trump's orchestrated distraction as if they are powerless to make another choice will be another "huge" public capitulation.
A good sign came Wednesday afternoon from outside the media arena, when Paul Rieckoff, head of Iraq and Afghanistan Veterans of America (IAVA), announced: "If offered, IAVA will decline donations from Trump's event. We need strong policies from candidates, not to be used for political stunts." Not long afterwards, Senator McCain echoed those remarks: "I wish he were not using a veterans event as a way to further his own political agenda."
So if U.S. veterans like McCain and Rieckhoff -- who fight for their fellow veterans all the time -- can take a stand on principle and give the straight-arm to what is clearly another contrived Trump publicity stunt, can't a group of television journalists take a stand, too? Can't they agree to forgo the ratings race for one night and show the candidate who's disrespected all of them this week that they will not be marionettes on a billionaire's string? There's a big world out there to cover. There's plenty of important stuff to sandwich between commercials instead of another segment on the star of The Apprentice. Don't let the inmate run the asylum. Take a stand, together, on behalf of every one of you who's been pushed around for the last six months. Bump Trump. Cover the debate.
Calling all HuffPost superfans!
Sign up for membership to become a founding member and help shape HuffPost's next chapter