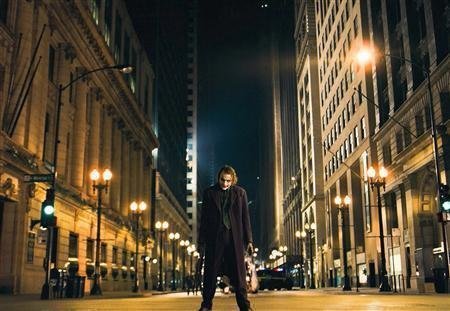 The Oscar nominations were finally announced this morning, and, as soon as Forest Whitaker said Frost/Nixon, alphabetically passing up The Dark Knight, I knew that, unless the Academy subscribed to Comcast's idiotic system of alphabeticization, they had turned their backs on the Batman. Bummer. I was beginning to root for him.
So after this and this and this, here are your (or their) best picture nominees:

The Curious Case of Benjamin Button
Frost/Nixon
Milk
The Reader
Slumdog Millionaire
What does this mean? As I wrote last January, since the Academy finally settled on five best picture nominees in 1944, there have only been six years when there wasn't a top 10 box office hit among the nominees: 1947, 1984... and the last four years in a row: 2004, 2005, 2006 and 2007. This year, unless Benjamin Button can make another $50 million without getting swamped in the process (it's currently at $103 million), that'll probably be five years in a row. Stunning.
In the past I didn't quite know who to blame for this divide between supposed popularity and supposed quality. The Academy? The studios? Moviegoers? But not this year. The Dark Knight was a critically acclaimed, monster box office hit with tons of buzz. In terms of domestic, unadjusted dollars, it was the no. 2 movie of all time. Yes, it was about superheroes, and no superhero film has been nominated before; but before Lord of the Rings no fantasy film had been nominated, either. The rule sticks until something breaks it. This year? Didn't break. And it was the year to break it. We're not talking about crap like Spider-Man 3. We're talking about a pretty good movie. One of the five best of the year? Maybe. I'd take it over Frost/Nixon and The Curious Case of Benjamin Button anyway. Don't know about The Reader yet. Read it, but haven't seen it. (Psst. It's about the Holocaust.)
Besides, in the past, the Academy has nominated some popular but fairly suspect films for best picture. Love Story? The Towering Inferno? Three Coins in a Fountain? Ghost? It's hardly a body to hold its nose.
Feel free to read more here as they come.

Calling all HuffPost superfans!
Sign up for membership to become a founding member and help shape HuffPost's next chapter