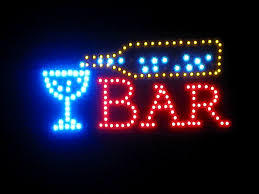 The rocket fuel of weed and whisky. A plastered man says, You know, if they smoked a joint in the lunar module when they first landed on the moon, it would have been a real buzz Aldrin.
You are a lunartic, I say, showing him the door.
Another guy's jaws are grinding like a millstone. Should I mix diet coke with his vodka instead of the real thing? One dude with a whiff of pot on his breath orders five drinks for his friends and forgets them all when I ask him to repeat. Everywhere, there are half-eaten slices of pizza. I see a little water bong being passed, that violates the rules. I crash the sense of peace and freedom and yell, Booze is our mission!
All night long, I'm troubled by many a nervous laugh, added to the end of orders. Gin and tonic (nervous laugh). Budweiser (nervous laugh) Long Island (nervous laugh). Buzz go the phones. Fix go the eyes. Strung out on ME. This must be a golden age for therapy.
I'm reminded of a jacket left behind in the lost and found box. A pocket search reveals a small tin decorated with a painting from the Renaissance. Popped open, drugs, pills, colors. Xanax, Percocet, oh, and this one, Viagra, a performer. In the old days, the contraband in pockets revealed the pop counterculture. But Big Pharma won the war on drugs. They took it mainstream.
These days, does anyone have a nice glass of warm milk before going to bed at night?
Calling all HuffPost superfans!
Sign up for membership to become a founding member and help shape HuffPost's next chapter