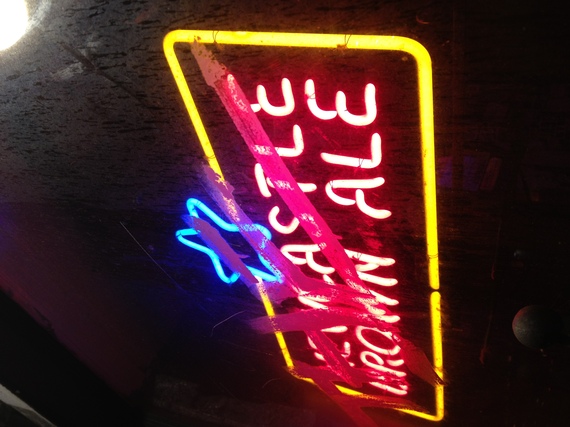 (above) A SIGN OF THE TIMES
Literary type -- Tramodol came in. He looks good in a suit. He handed me a copy of Don DeLillo's, White Noise. "Read it," he said, strongly. What are the side effects of reading this? I wondered. On another occasion, old OZ, with a screwdriver in his hand and a conservative haircut, handed me the greatest hits of the Marquis de Sade. Read it in the bathtub, he said, while mangling a straw with his chubby digits.
Fantasy Sports -- Note the stone face. He could be Big Brother from 1984. His tyranny is sports. From his stool, his gaze fixes on the TV, mind control. Some boring baseball game. He repeats the same sentences over and over again. Something about the San Francisco Giants. I ask him what else he likes besides sports? Sometimes I watch Star Trek, he says. His liver is a black hole. I think of Bones -- He's dead, Jim.
Stella, this guy shouts, Ste--lla! Trust me, he's not the image Tennesee Williams had in mind for Kowalski. What do you think this is? I bark. The Actor's Studio? I pour him PBR instead. I hate to see good lager wasted on amateurs. Call it -- the method.
Juke Box Selection -- past Last Call on a dead Tuesday night, one guy left, he's at the juke box. Bohemian Rhapsody. Scaramouche. Scaramouche. It ends. And comes on again. He played it twice. At closing time. For himself, no friends. I'm just a poor boy nobody loves me. He's at the juke box again. I arrive in time.
Are you going to play Bohemian Rhapsody again? I ask.
I thought about it, he says.
Freddie is dead, I say, turning off the box.
And he leaves, quite sad.
Another One Bites the Dust.
REAL LIFE. REAL NEWS. REAL VOICES.
Help us tell more of the stories that matter from voices that too often remain unheard.