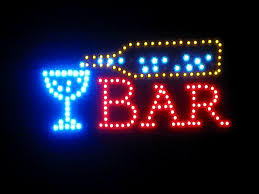 Arriving from beyond, it is Bill. He died a year ago. He sat on the same stool every night until sports killed him.
Baseball, football, basketball, NASCAR -- all four took his soul. It's all he lived for. He swapped caps depending on the season. Once, I switched the bar TV during a ball game to Turner Movie Classics. Casablanca was on, he screamed, get that sh** off! I switched to NASCAR, Lap 776. Play It Again, Sam, over and over and over and over....
Sports had an operatic effect on Bill's voice. He pitched the high note whenever a home run sailed out of the park. The register peaked like Pavarotti's climax when a touchdown spiked the end zone. Glass trembled on the shelves.
Poor refs were Bill's favorite hate. Purple colored his face on a bad call. His blood pressure soared like a fifty-five yard field goal. To calm him down, I learned the ref signals of football. I folded my arms - delay of game - when he was drunk, calling for another Jack Daniel's, his sixth. When he got out of control, I turned on my voice box, pulled my wrist, and said - Holding, Number 7, Jack Daniel's, 5-yard penalty - and proceeded to escort him out the door. He fumbled his way down the street.
His brother came up from Texas wearing a Cowboys uniform to take care of Bill's business. He ordered a beer on the same seat his brother sat upon. And we watched old football video waiting for the quarterback to throw a Hail Mary.
REAL LIFE. REAL NEWS. REAL VOICES.
Help us tell more of the stories that matter from voices that too often remain unheard.