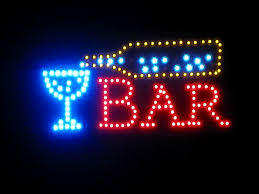 You can get rich in vice, says Jimmy, an expert in the adult entertainment industry, bleach department. He cleans up spills at the local strip joint. His conversation veers diagonally, and when he says, I love tennis especially what's his name, him with the big serve, big forehand, he'd be good in a tennis porno flick.
You know it's too late for civilization when tennis and pornography get mixed up in bar talk. Way too late. But it's not over yet. For Jimmy jabbers on about 'double back-handers' and '40 - love' as if playing in a tennis orgy for middle-aged swingers. I imagine it, right there and then, while standing vacant-eyed behind the bar.
There is a faint whiff of Clorox. The grim tennis metaphor is not shot, however. Two sets are playing doubles on the stools. An argument. Two men against two women -- Trump is the ball flying back and forth.
Jimmy whizzes on but I've left the court of his presence and wandered into this new convo, thinking about the name Trump and how headline writers of the tabloid cult will fire off ink bombs if the White House is rebranded, the Trump House.
THINGS THAT GO TRUMP IN THE NIGHT.
TRUMP TO PLAY THE TRUMPET AT TRUMP HOUSE BALL.
TRUMP-ROMPS IN IOWA
and now I am back, present and correct, and Jimmy is saying, Hey man? let me tell you about tennis ace, Bjorn Borg. He was Swedish and...
I put ABBA on the jukebox and listen to "MONEY MONEY MONEY" until I just can't take it anymore!
Calling all HuffPost superfans!
Sign up for membership to become a founding member and help shape HuffPost's next chapter