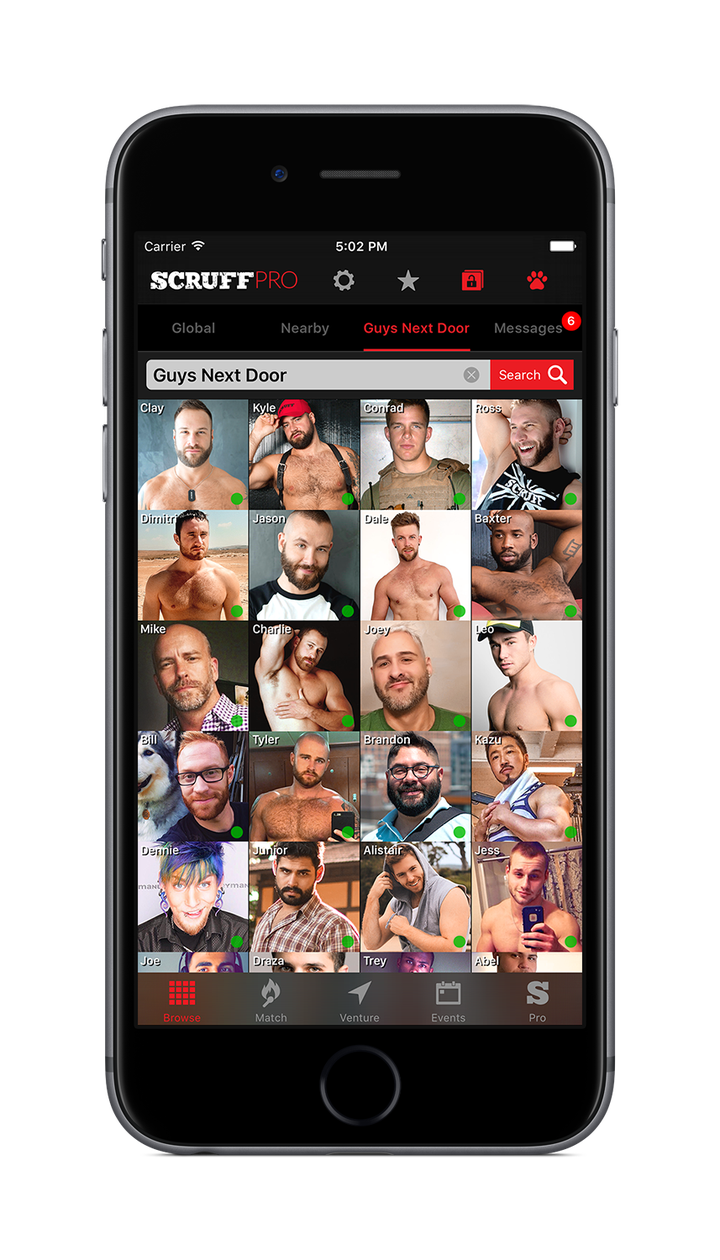 Gay hook-up apps are a lot like Facebook. Most of us are on them at some point (or all the time), even if we can't stop griping about what a waste of time they are.
But apps like Grindr, Scruff and Tinder aren't the problem ― it's certain people who use them. For once, I'm not talking about the ones who ask those clichéd questions so many have grown to hate: Looking for? Horny? Into? Hung? Frustrating as they can be, these guys at least know what they want. They're like the ones who compulsively share XXX pics of their XXL manhood. Neither will likely satisfy the romantic idealism of anyone hoping for more than "fun," but at the very least, they won't waste our time.
Which brings us to what, for many, is the true bane of their hook-up-app existence: The Unattainable Guy – and not because he's such an incredible catch. If anyone truly gets between the grid and short- or long-term satisfaction, it's this one. Over the course of my several years on the apps, I've noticed he comes in assorted forms, all described below. Unlike The "Catfish" Guy, who might not be an actual guy at all, The Unattainable Guy is all too real – and he's all over the grid.
Dear readers: If you see yourself in any of the following app archetypes, it's never too late to change your ways. Who knows? Maybe it'll actually improve your own Grindr/Scruff/etc. existence along with everyone else's.
1. The Validation Seeker: He's the app equivalent of the bar queen who brags about how many boys he kissed last night. Quantity over quality… or anything else. He leaves the distinct impression that he approaches guys/swipes right just to see how many of them will respond/swipe right, too. He'll rarely actually talk to any of them. He's like a social media addict who obsessively courts Facebook "likes" and Twitter/Instagram "followers" and uses them to measure his/her personal worth. The more, the merrier he might be, but everyone involved ends up sleeping alone.
2. Mean Boy: He's the one most likely to list restrictions (No oldies, no fatties, no fems, no blacks, no whites, no Asians...), anything to make himself feel superior to everyone he's rejecting. Even if you make it past his velvet rope, he'll find ways to make you feel inferior, too.
About a year and a half ago, a work colleague introduced me to a guy who snubbed me to my face while gushing about me behind my back. He went on to have a one-and-a-half-night stand with a very good friend of mine, to whom he revealed his (and Mean Boy's) dating mantra: "Treat 'em mean, keep 'em keen." Yep, he actually said that, and he eventually put those words into action with my poor pal.
Alas, I don't play that dating game. "The more you ignore me, the closer I get," Morrissey sang on his biggest U.S. solo hit. Great song, but I can't relate. Neither pining nor stalking has ever been the best use of my time.
3. The "Polite" Responder: For some reason, some guys insist on being rejected outright. No response doesn't send a clear enough message, so they follow up with question marks until you block them. Defeated but still defiant, they add a familiar request to their profiles: "If you're not interested, just block or say so. It's only courteous."
Oh, the beasts these Mr. Manners have spawned. Personally, if a guy ignores me, unlike Morrissey in the aforementioned hit, I move on to one who doesn't. But not so fast. Just because he responds, doesn't mean he's interested. A lot of them are just being "polite," offering curt, blase responses to your follow-ups without making any discernible attempt to keep the conversation going.
I once called out someone on it and asked him why he responded if he wasn't interested. He said it wasn't me; it was his exhaustion from work. It apparently depleted his energy and ability to offer an online tone that couldn't be interpreted as gruff and slightly annoyed. So why was he on Grindr and not in bed at 11pm then? I'd rather be ignored.
4. The Compulsive Chat-er: On the plus side, this one might be blessed with the gift of gab. It's always nice to bypass sexual positions and penis size, but if smallish talk isn't going to lead anywhere, shouldn't you at least be near an open bar? Even though he's probably the one who approached you and may actually live only blocks away, it's near impossible to score a date or even a hook-up, because he's all talk, no meet.
5. Bored/Boring Guy: Hey… How r u… What's doin… Where you at… If communicating in three words or less is your thing, here comes your man. He's not really looking for anything. He's just here because he's got a phone and functioning WiFi, and there's nothing better to do. Good times, right?
6. The Pic Collector: Like I recently told one suitor requesting XXX pics, if you're dying to see a big black c—k, Google "big black c—k."
7. Mr. Catch Me If You Can: For me, this guy is the most frustratingly unattainable because he's so good on paper. He's typically handsome, quick to respond (and not in that detached "The 'Polite' Responder" way), engaging, and he's often online, which would seem to indicate availability.
Don't get it twisted, though. He may be seemingly free and presumably "looking," but he's not available. He's never available. So busy, he keeps reminding you, though he's rarely too busy to be on the grid. Grindr may very well be the only place in the world where someone who's working part-time at a backpackers hostel while looking for a full-time job has a more jam-packed schedule than someone who runs a Fortune 500 company.
8. The Ghosting Gay: He's the one who actually meets up with you, maybe even goes on a date with you. He might even call out your name during sex. He acts like he'd love to see you again and might even tell you to stay in touch, breaking the unspoken "NSA" rule. But after his clothes are back on, he disappears from your life as abruptly as he entered it, possibly blocking you once he's safely out of sight.
On the rare occasion that you do hear from him again, he's probably only seeing if you'll respond (see "The Validation Seeker" above) before the ghosting begins. And if you reach out to him first, he might respond once, maybe even twice (see "The 'Polite' Responder" above), before the ghosting begins.
You may see him weeks, months, a year later. If he doesn't pretend he's never met you, he might actually go home with you, beginning the ghosting cycle all over again. An accidental hook-up is as good as it'll get after the first one. He'll never be a dependable f—k buddy, much less a friend with benefits, because that would require him to stay in touch, and he's just not that into you.
9. "Wired" Guy: While he's typically a nocturnal animal, this one lurks during daylight, too, particularly if you live in a tourist-heavy city. He's drunk on life, love, whatever controlled substance he can get his sweaty, shaky hands on. He's pretty easy to spot because he mangles simple words and sentences in ways Autocorrect/Predictive text could never dream of, and his profile is typically suspiciously bare.
The good news is that if you're too busy sleeping or living your offline life to catch your window of opportunity, you'll probably never hear from him again.
REAL LIFE. REAL NEWS. REAL VOICES.
Help us tell more of the stories that matter from voices that too often remain unheard.
BEFORE YOU GO