Lately, I've noticed a curious trend. While digital invitations have made it easier than ever to reply to a party invitation, guests have become increasingly relaxed about showing up to the actual event.
What is it about the convenience of an electronic invite that makes one forget about common courtesy?
Don't get me wrong - I think the application of technology on event planning is brilliant. For hosts, it has made the overall process of organizing any kind of event significantly more efficient with customizable invitation design, Google maps, simple guest list uploads (and downloads), as well as interactive features like photos, video and community. New companies like pingg.com have even made digital invitations aesthetically pleasing and, thankfully, advertising free.
What I have a problem with, as an event planner, is the slow demise of basic etiquette when it comes to responding to and attending social engagements. Events, whether big or small, take time to organize from sending out the invitations to creating the menu to arranging the entertainment. There is a tremendous amount of work that goes on behind-the-scenes to ensure that the event experience for guests is seamless. Ironically, the biggest effort goes towards elements of the event that need to be appear to be effortless.
So, is it any wonder that planners, after all that work, feel frustrated when their guests are noncommittal about their R.S.V.P's?
There was a time when manners seem to play a defining role in one's character. It just wasn't socially acceptable to treat formal engagements with our modern day blasé attitude. Perhaps it was the formality of a printed invitation that required guests to pay a certain amount of consideration to the event itself. Or, perhaps the physical act of mailing a reply card back to the host was reminder enough that attendance was important?
To further deliberate on the topic, I turned to Lisa Hoffman of Ceci New York, a world-renowned graphic designer (who has won awards for her bespoke wedding invitations) to get her thoughts on soliciting the ever-elusive R.S.V.P.
Hoffman points out that R.S.V.P. comes from the French phrase, "Répondez, s'il vous plaît," which simply means, "Please reply." These four letters should be enough of a signal to guests that the host needs to have an accurate headcount to make arrangements for the event.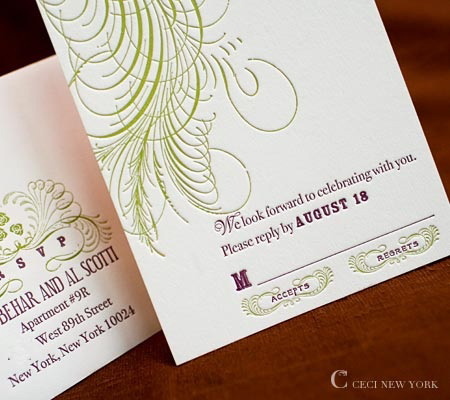 Below, Hoffman shares her simple guidelines for how to R.S.V.P.:
R.S.V.P. is printed on a response card:
- fill in and reply by the date indicated and return in the enclosed envelope. Make sure you include the full names of you and your guests.
R.S.V.P. is on invite but no separate response card included:
- send a personal handwritten response to the host to the return address on the mailer envelope.
R.S.V.P. by phone number:
- call and make sure to speak to a person - answering machines are typically unreliable.

R.S.V.P. by email:
- it's totally acceptable these days to save time money (and a tree) to accept or decline electronically through email.
Regrets only:
- this means reply only if you cannot make it. If your host doesn't hear from you, they are expecting you to show up.

No reply requested:
- Not typical and remember, it is always polite to let someone know your intentions!
In terms of actual attendance at an event, guests should remember Hoffman's four golden rules (which are based on proper etiquette):
1. Changing an "accepts" to a "regrets" is only admissible in the event of an illness or injury, a sudden inescapable business conflict (that your boss won't allow you to get out of in risk of losing your job) or a family emergency. If something like this should happen to you, notify your host right away.
2. Changing a "regrets" to an "accepts" is considered doable and always a possibility but only if it will not mess up your host's plans. Check with them as soon as you know to see if they can accommodate you.

3. Canceling because that "better" offer came along is never OK. Stick to your original plan - better things will come your way in the future.
4. Being a "no show" is unacceptable. If you said you would be there, let your hosts know they can always count on you. Anyone who receives an invitation has an important obligation to attend.
Follow them to ensure your name never gets dropped from the guest list!
Tell us your thoughts! Why do you think it is so hard for people to RSVP to an event or to stick to their commitment to attend?
A seasoned event planner, Celia Chen is the Founder and Editor-in-Chief of Notes on a Party, an online magazine about entertaining that celebrates Events from the Inside Out™. For a behind-the-scenes look at VIP events and tips on party planning, visit http://www.notesonaparty.com.

Related